Address: 304, Yuheung-ri, Daedae-myeon, Goseong-gun, Gyeongnam
The beautiful Daega Reservoir has seen lots of development recently, with a newly constructed exhibit made like iron-clad ships, a book café, and kayaking competitions!
Flowers & Family Pics
Alice and I came here back in 2018 during my first trip to Goseong. We played the guitar up on the gazebo and ate Korean corn dogs. Now we come here married with Noah!
Here you can walk around lotus flowers in a sheltered area of the reservoir.
A wooden bridge cuts across the lotus plants.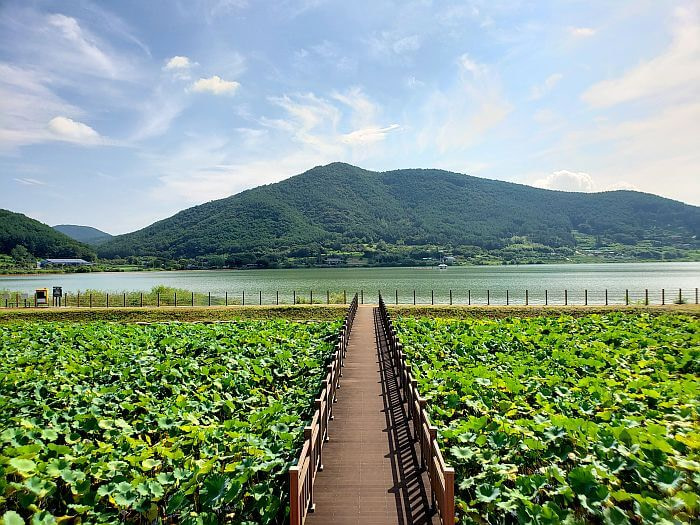 Primarily yellow lotus flowers were blooming on my recent visit. If you look closely you can see a baby turtle to the left of the closeup of the flower.
The gazebo is a nice place to have a snack, or play the guitar as we did before.
While the lotus plants and flowers rise above the water's surface, the lily flowers and plants rest on the surface of the water.
This visit with the blooming lotus and lily flowers is from August 30, 2021.
The lotus pads can get quite big.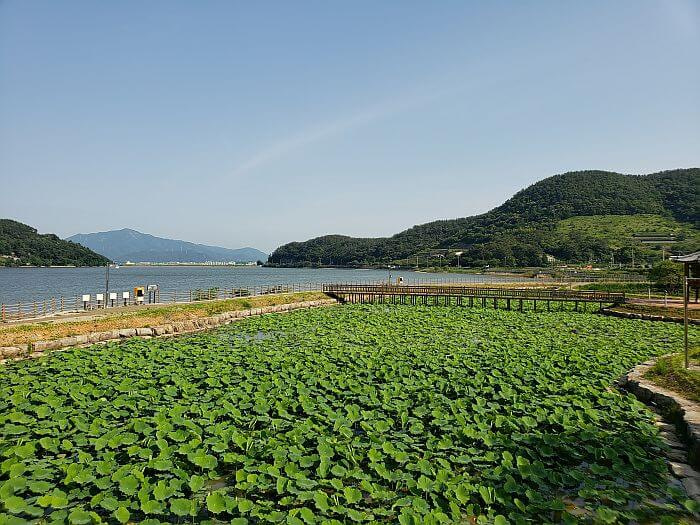 Boardwalk Along Daega Reservoir
There is a nice boardwalk along the reservoir. The walk is about 1 kilometer one way. This agricultural reservoir was built in 1945 and has a maximum depth of 15 meters with a length of 346 meters.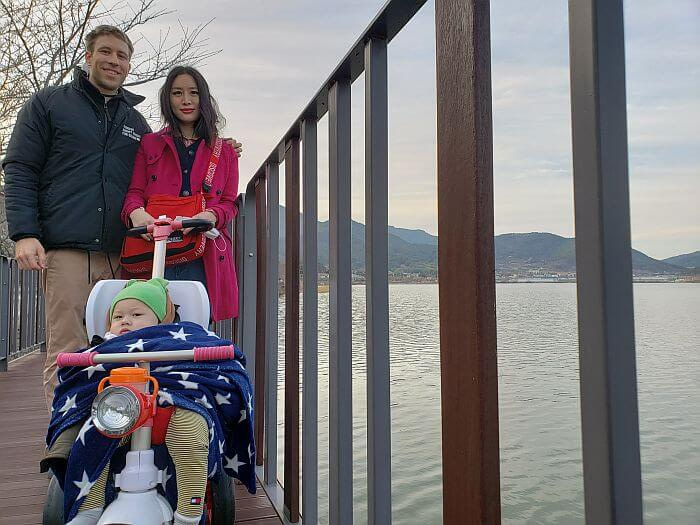 There are lights for strolling at dusk, too.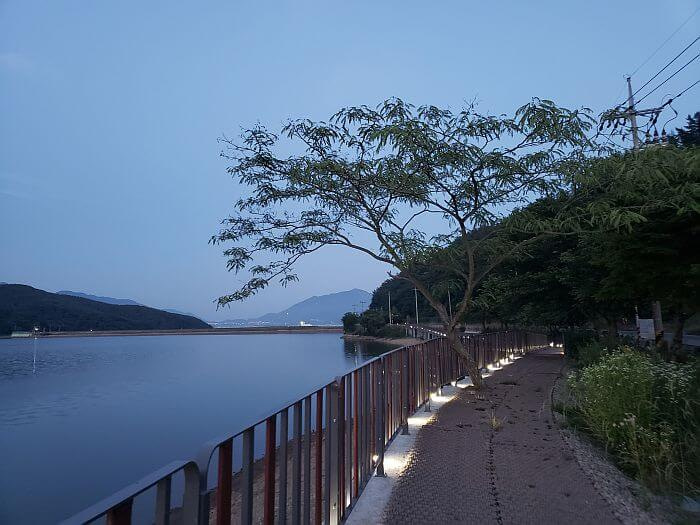 Je Jeong-gu, "Friend of the Poor"
In April of 2021, they completed building a memorial hall for a great man of Korea's modern history. This Goseong native was Je Jeong-gu (제정구).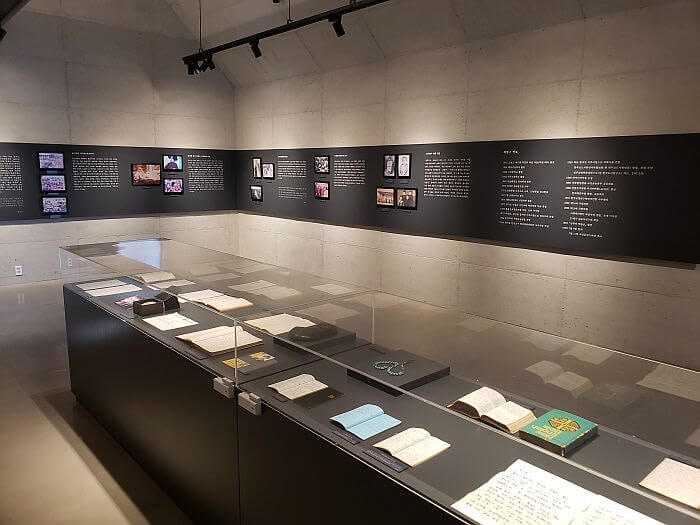 Je Jeong-gu dedicated his life to the poor, developing a movement for human rights and protecting the right to live. Referred to as "friend of the poor", he passed away in 1999, and was awarded the National Medal of Honor.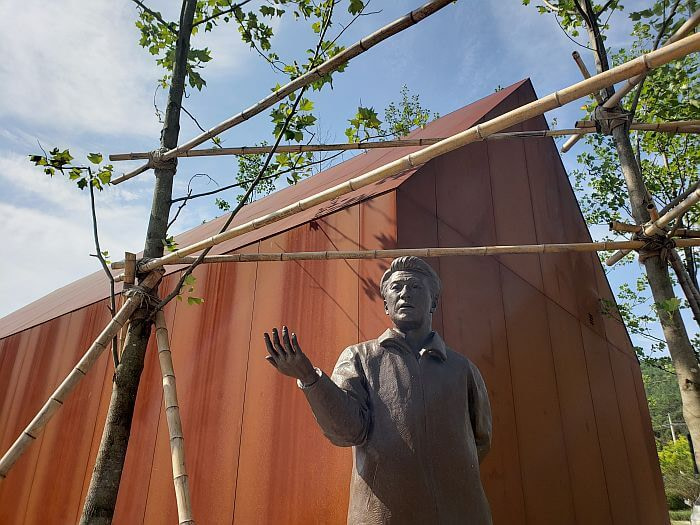 This structure has officially won the 2021 Presidential Prize in Social and Public Sector at the Korea Architecture and Culture Awards!
The building material is that of iron-clad ships and has not been colored. The steel sheets are said to be weather-resistant and rust for only 5 years, after which they are self-maintained by the rusty film, cutting costs.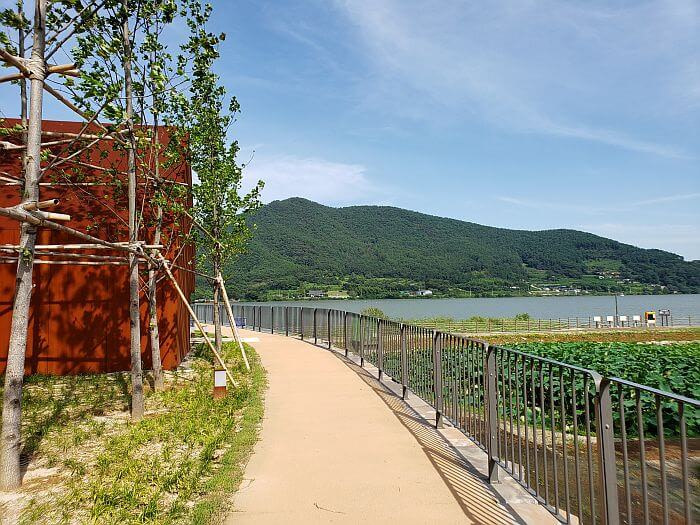 Noah checked it out but had to be bundled up.
2021 Water Sports Competition
The National Canoe Competition brought top athletes from all over Korea to Daega Reservoir on September 2-6, 2021.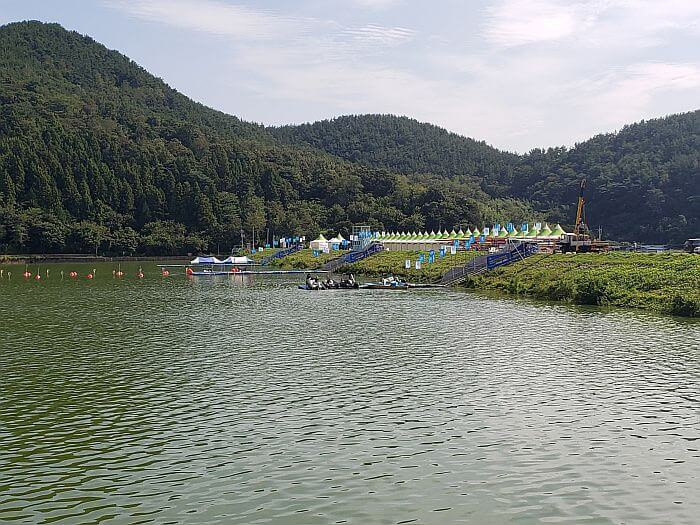 In previous years, Daega Reservoir was a popular fishing spot. That has now changed as the law forbids it here now.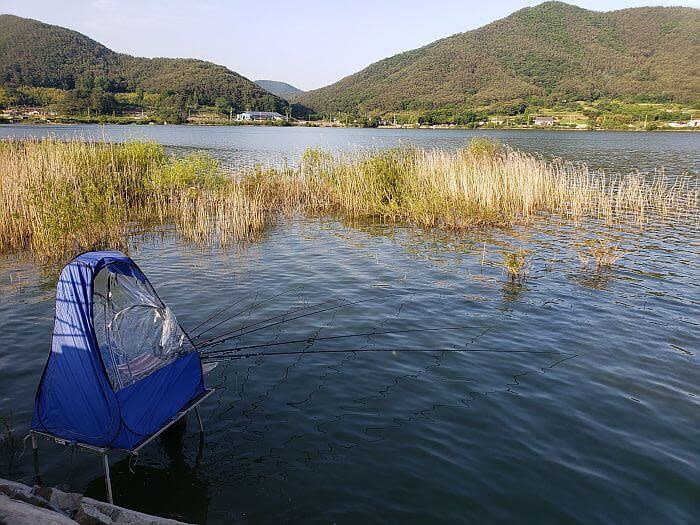 As the date of the competition approached, a long row of tents were set up along the shore.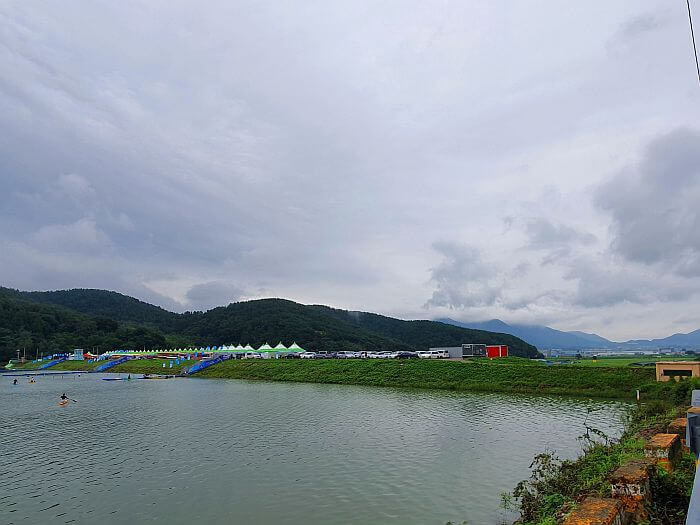 About 350 athletes from middle school to adult were part of the competition.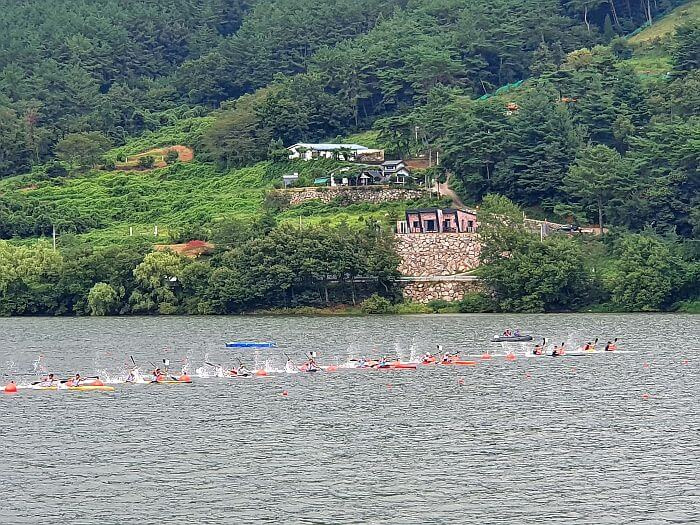 While Koreans use the term "canoe" to refer to what appear to be both canoes and kayaks (though I am not 100% sure), it was fun to watch whatever they were racing and splashing down the lanes.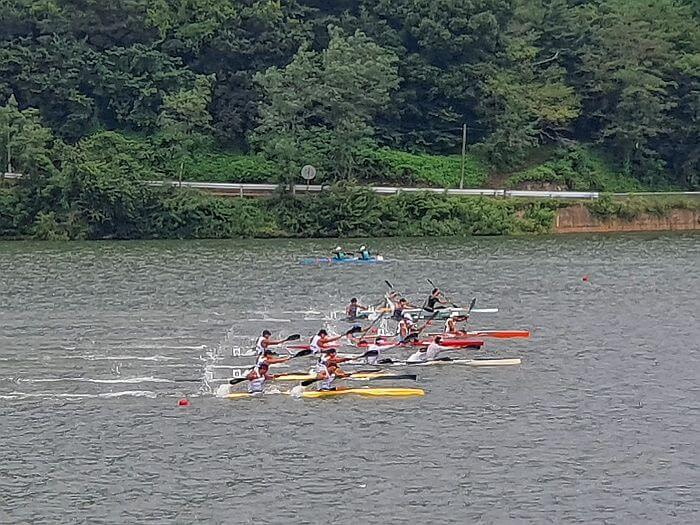 Water activities are gaining a lot of momentum in Goseong these days. It will be fun to see how things develop!
Book Café and Meeting Rooms
In addition to the memorial hall, the steel structures also contain meeting rooms available to the public, and a book café. It's a nice quiet and reflective atmosphere.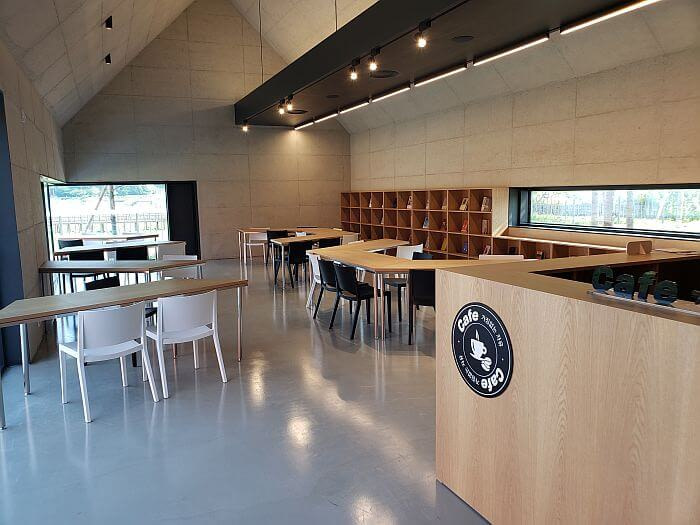 There are a couple of other cafes next to the park. One is Daehuijae.
Daega Reservoir is a great park to take in the rural landscape and aquatic flowers while getting some exercise and being inspired by one of Korea's memorable people.