Goseong in Gyeongnam Province is 200 sq miles (516 sq km) with some attractions requiring driving on mountain roads. I put these itineraries together based on things like proximity to each other and what I would recommend for people visiting Goseong. I consider these the highlights of things to do in Goseong, but there is certainly more!
If you need help with an address for any of the places, just shoot me a message. And I have a few more itineraries to add to this page when I get more time.
Island Trails, Dinosaur Footprints & Sangjogam Park
BEST PUBLIC DINOSAUR FOOTPRINT AREA
Sangjogam Park is perhaps the best public place in Goseong to see natural dinosaur footprints, and it's famous for it's beautiful cliffs. Enjoy coastal trails and a glass-bottom lookout over the water.
Island Trail and Glass Bottom Cliff Lookout
Island Trails, Dinosaur Footprints & Sangjogam Park
At Sangjogam Park, you can see what I think is the best place in Goseong to view dinosaur footprints, and the place is so beautiful that my wife and I took our wedding photos here. Be sure to take the time to walk out to the area with the caves.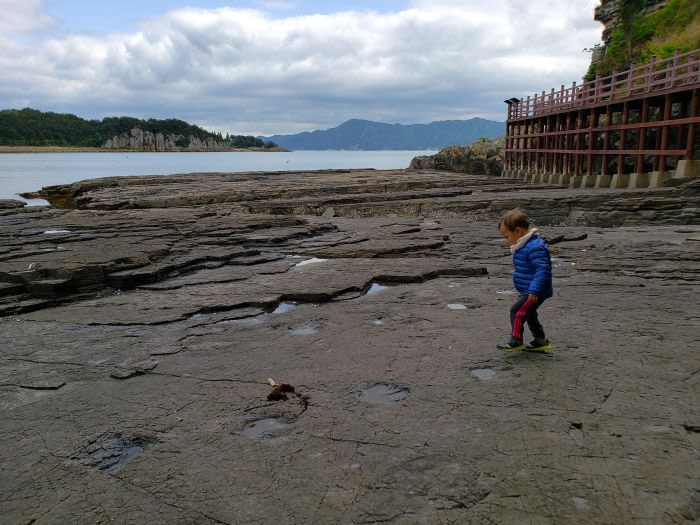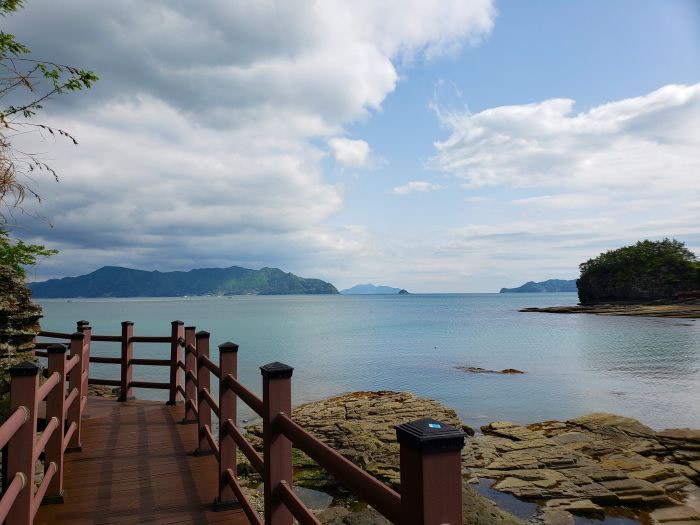 The Goseong Dinosaur Museum is also located at Sangjogam Park. The museum has some playgrounds outside and a nice observatory café.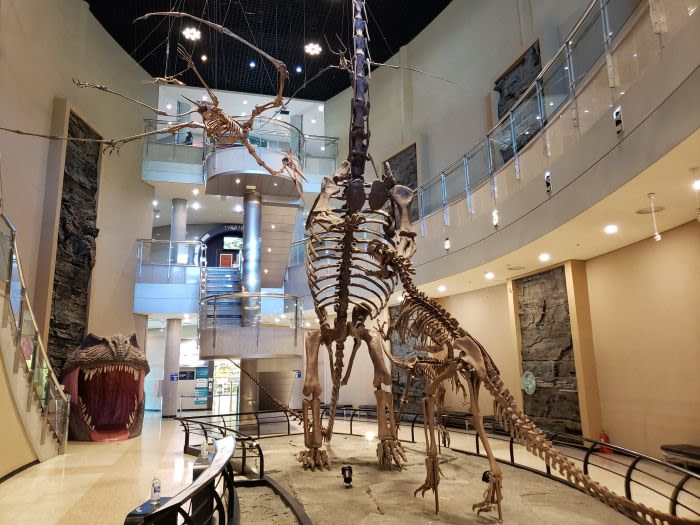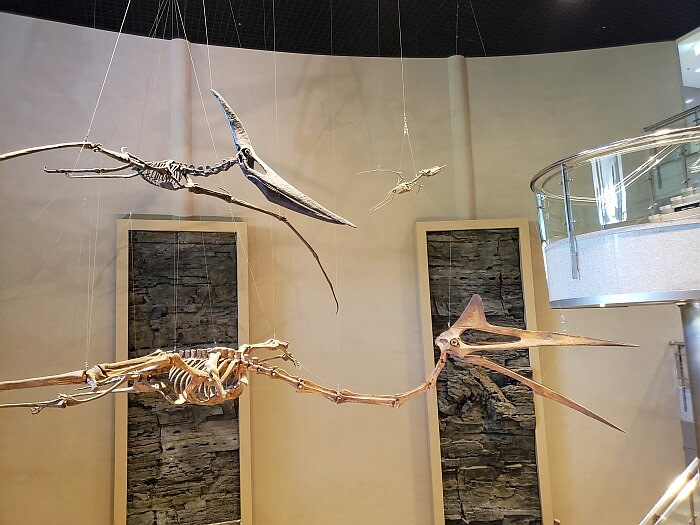 Two nice cafes in the area are The Wave, which has a great brunch, and Repos.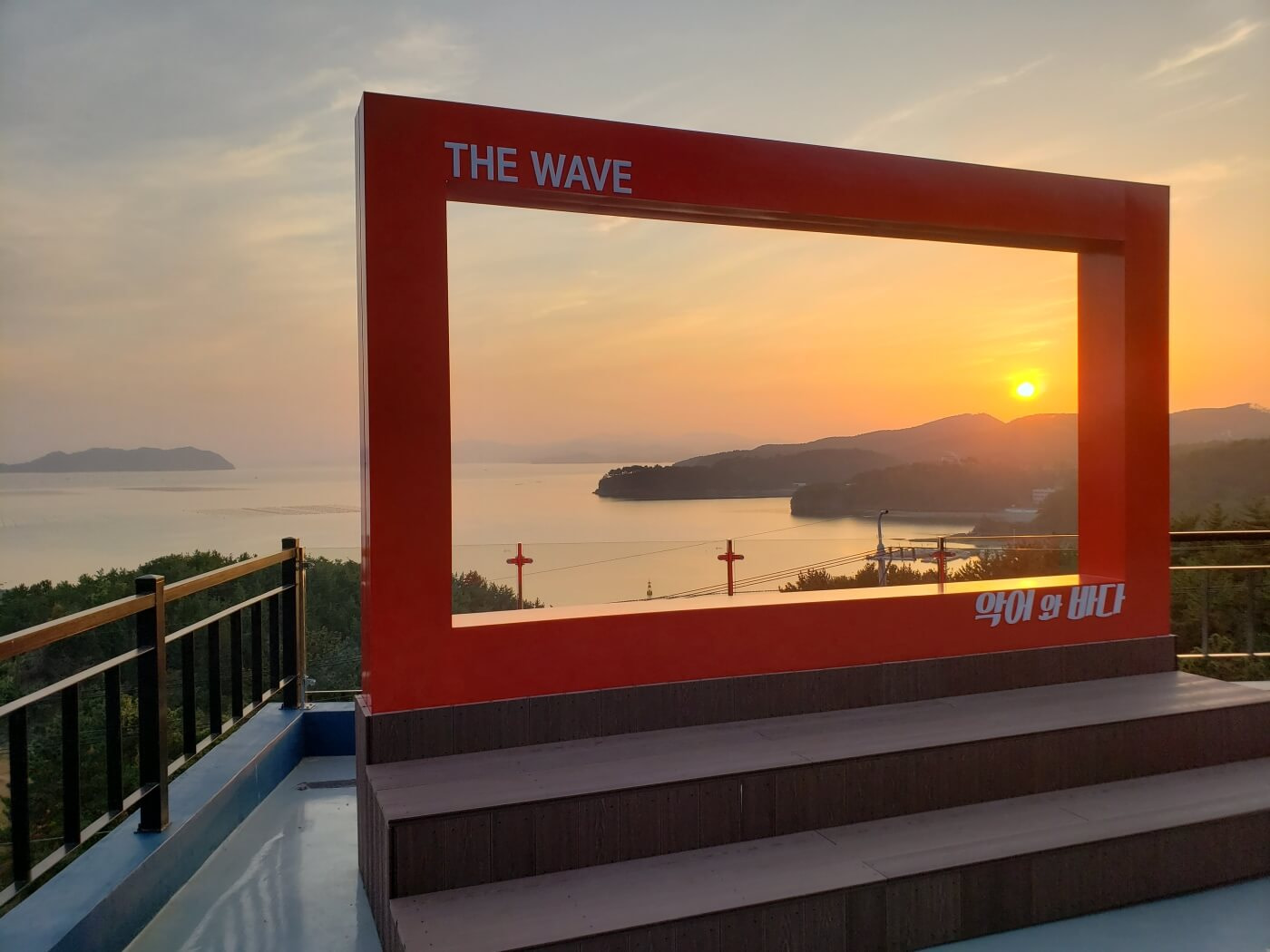 If you didn't get enough coastal walking in at Sangjogam, there is also Solseom Island which has a beach and a bunch of purple flowers in the spring. The island is small enough that you can walk around the whole island comfortably.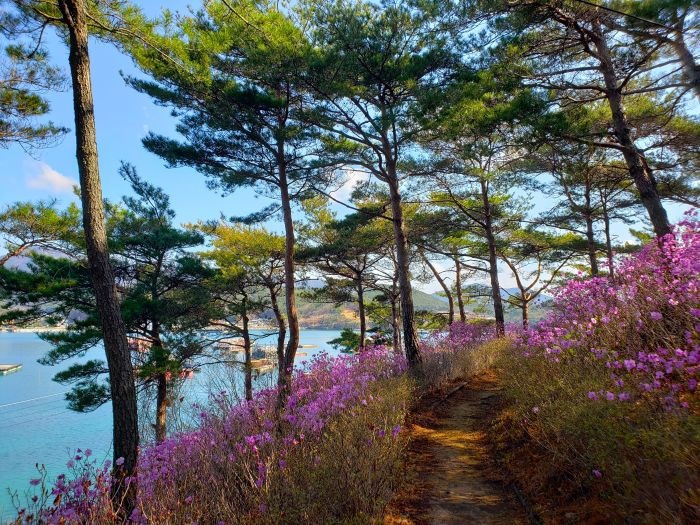 Hakdong Village is in this area, too. It stands out with its old walls of mud and stone. Families of the original inhabitants of the village from around 1680 still live here today.
Here you can book a stay in a traditional Korean hanok, and there is a traditional teahouse here I believe.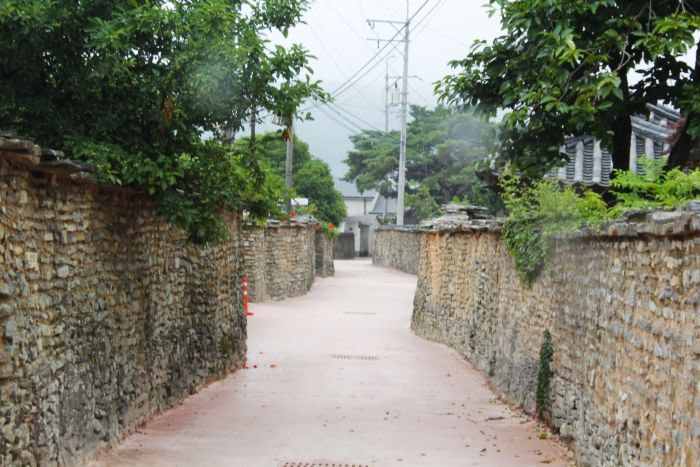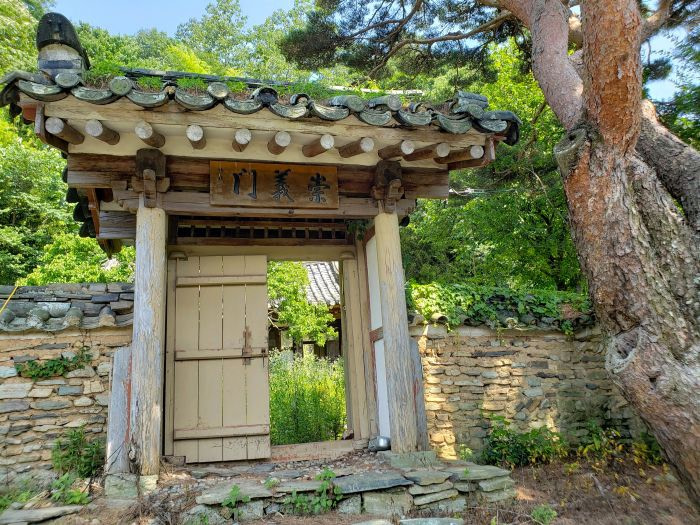 Even if you don't have a particular activity to do here, but you might find it refreshing to find yourself surrounded by a quiet and beautiful village with a fair amount of history.
Dinosaur Theme Park & Natural Dinosaur Footprints
Goseong is one of the top three places worldwide for producing dinosaur footprint fossils. The Goseong Dinosaur Theme Park hosts the Goseong Dinosaur World Expo every few years, but there is plenty to do and see there on a normal day, particularly with kids.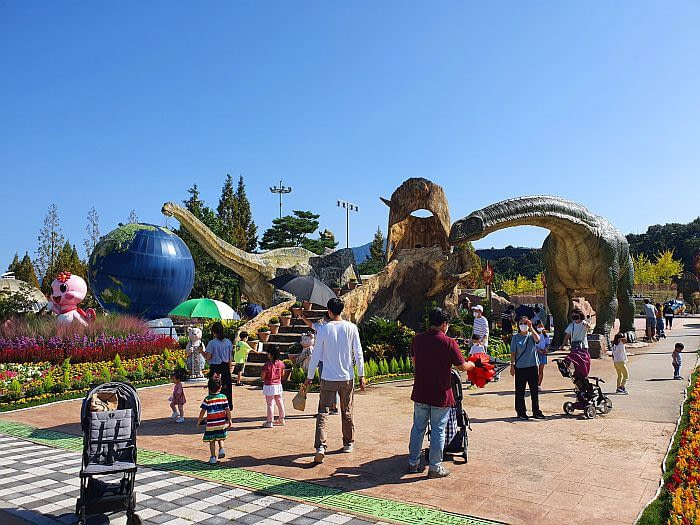 The Theme Park includes a 5D Theater and utilizes technology and all kinds of exhibits and experiences to help people of all ages (but especially kids) learn about dinosaurs in a fun and engaging way.
There is also an Yi Sun-shin themed area of the park, as the famous Korean admiral fought with turtle ships in some battles here in the bay during the Japanese invasion of the 1500s.
The theme park is situated along the coast, so it's a nice place to have a picnic or even camp.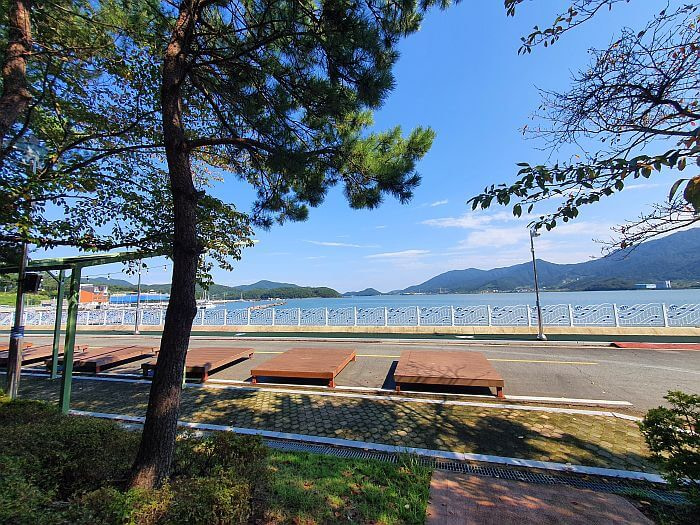 If you want to see some dinosaur footprints in their natural location without driving all the way out to Sangjogam Park and the Goseong Dinosaur Museum, you can on the shore of a rural village not far from the theme park.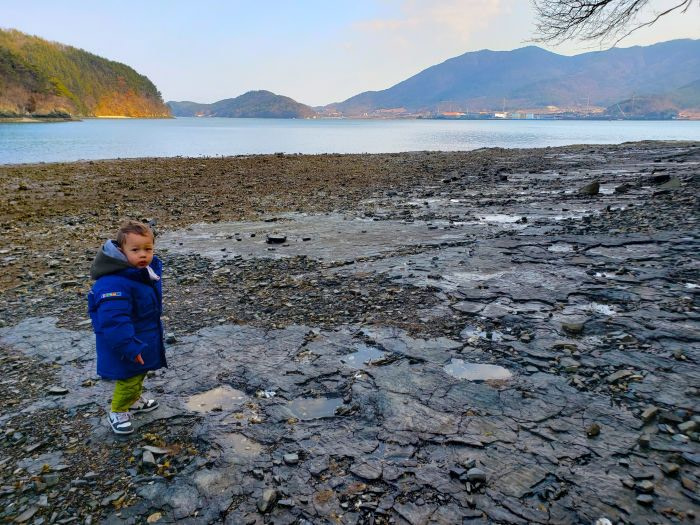 The area is quiet and pretty, and you can walk along the windy shore a bit.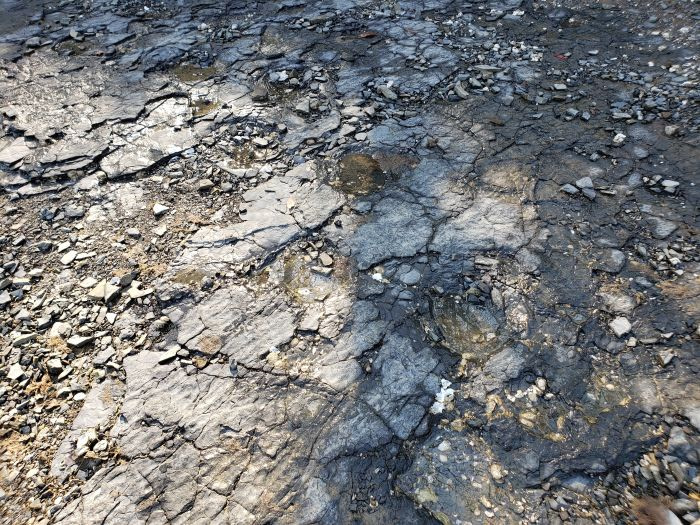 A few nice cafés in the area include Café Zaha right across from the theme park's parking lot and Dessert 39 which has three trees growing through the rooftop with a view of the sea.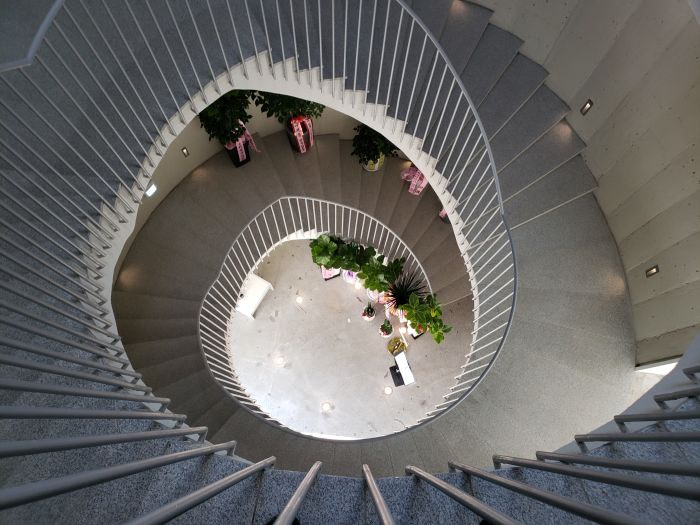 Lily & Lotus Pond, Hydrangea Garden, and Swimming!
Enjoy a stroll around ponds of lily and lotus flowers (including seasonal things like giant lily pads and iris flowers) in a rural valley at Sangri Lotus Park.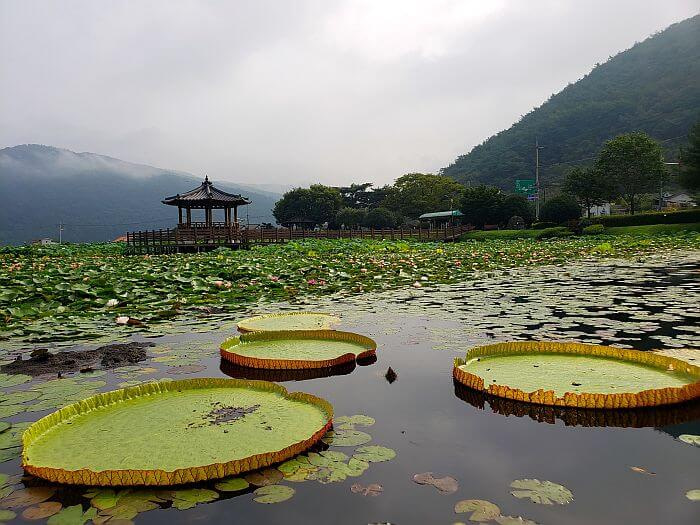 Down the road from Sangri Lotus Park is Grace Garden, a private garden up on a mountainside full of hydrangea flowers and other plants.
Grace Garden has a bunch of trails and places to sit down and take photos with the flowers. It's a great place to take a date.
Also not far from Sangri Lotus Park is Odusan Healing Forest. This place has had a complete makeover and at the time of writing in the summer of 2022 is still building a café or some kind of neat building onsite.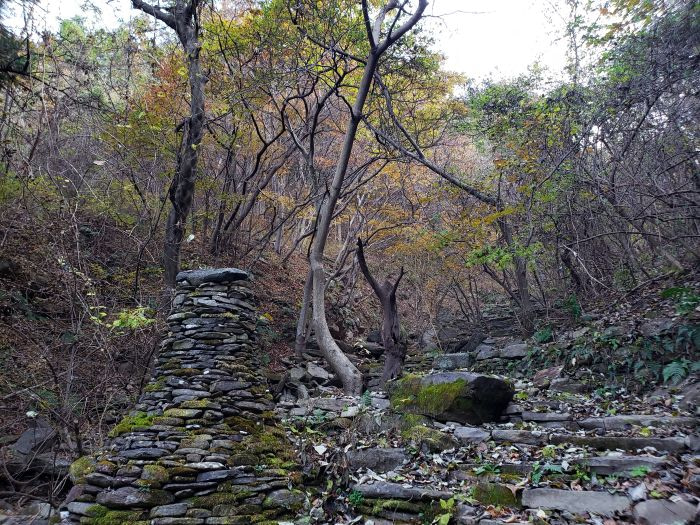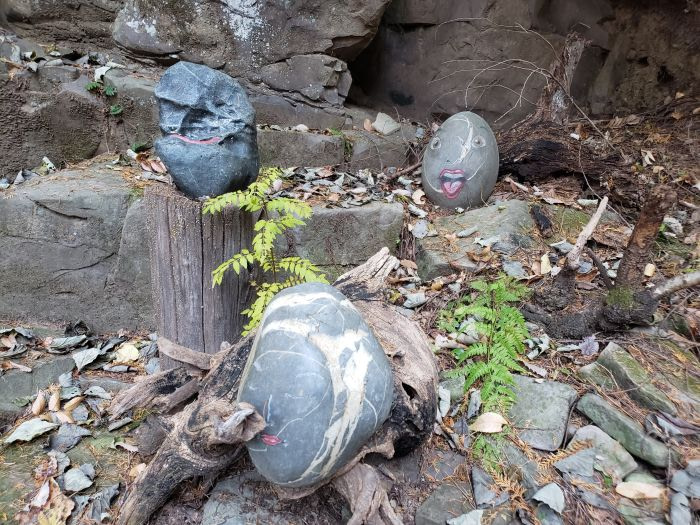 Finally, take a refreshing swim in the river surrounded by mountains at Osan Bridge. Our son loved playing in the water here along with all the other families. People had tents set up on the shore BBQing and hanging out.
Coast and Peninsula Pensions, Cafés, and Camping
The Donghae peninsula is full of great views of the sea and rural surroundings, with plenty of nice places to go café hopping while on an outing to the sea. Pensions abound in this secluded area, and people often camp out of their cars parked along the sea's edge.
Haetmaji Park is not large, but a good spot to pull over for a view. Sometimes there are food trucks there.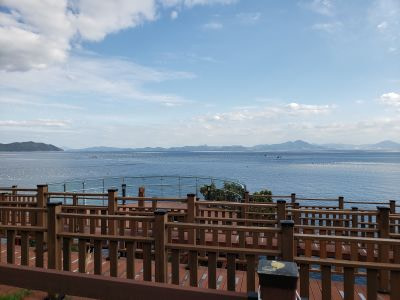 Just next door is Haetmaji Café and Polaris Café.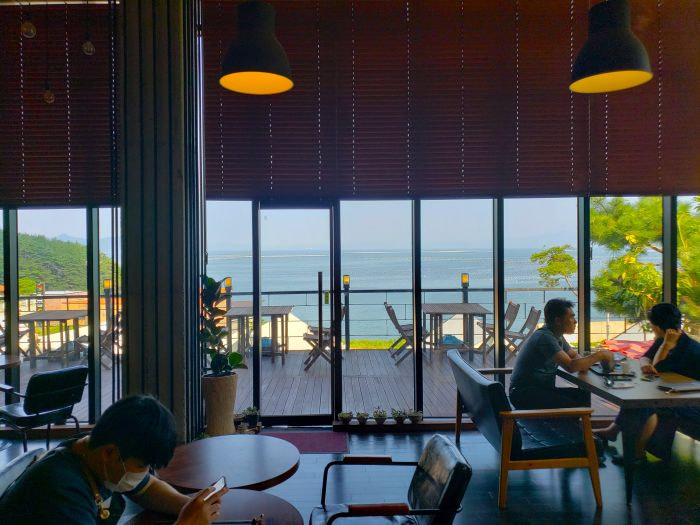 I think the nicest cafés in the area are An Café and Nessun Dorma.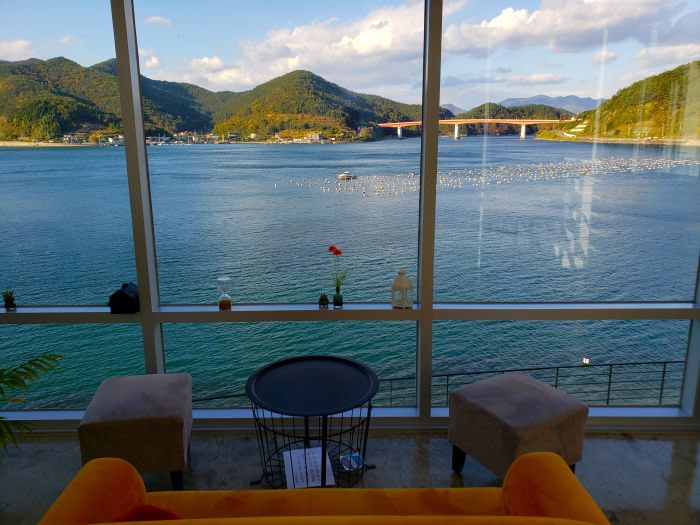 "& White" is an Italian restaurant and café with a good selection of healthy traditional teas but also wine and pizza.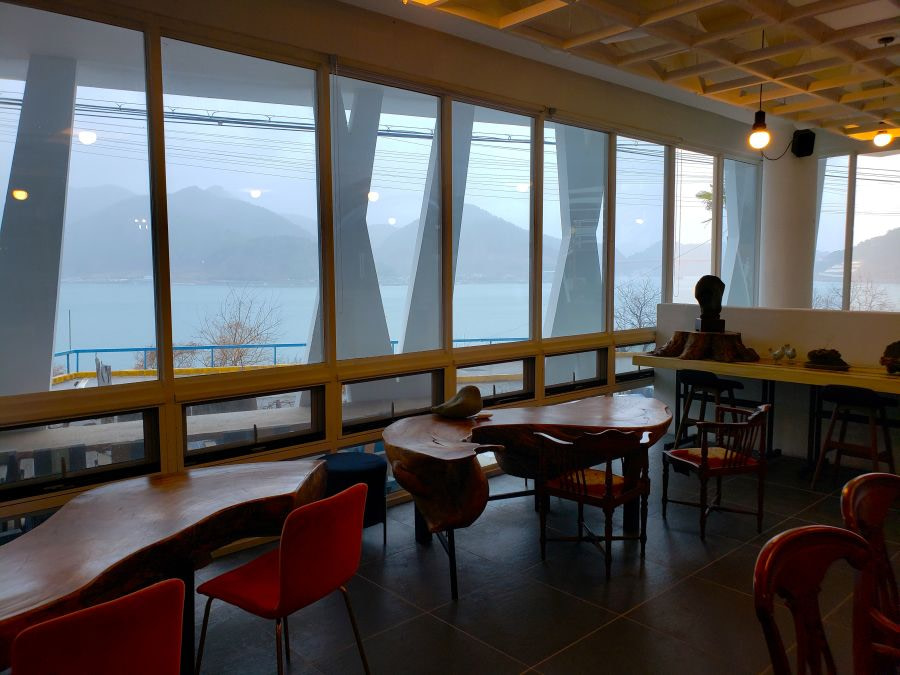 I also had a delicious pizza at Montreu Restaurant & Café once.
Camping & Playgrounds Along the Coast
Some cool new playgrounds have been built this year (2022), the first being a jumping pit in Baegse Park.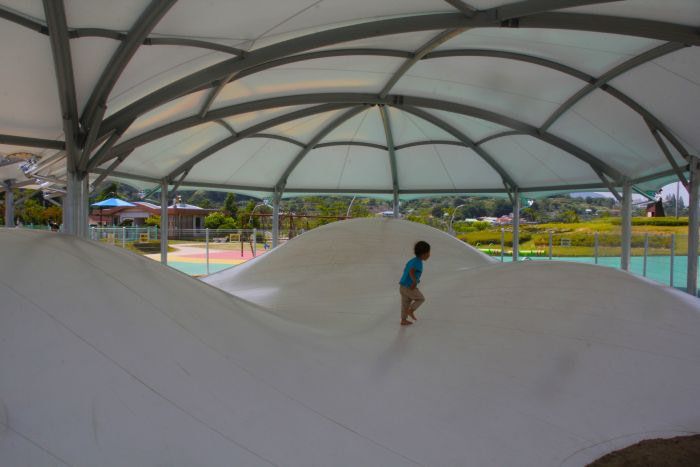 Baegse Park has other new play areas including a zip line, a maze, roped swings, etc. The park is along a reservoir and is a designated bird-watching area.
A few minutes down the road along the sea is the newly opened (in 2022) Nampohang Waterpark Playground across from Bistro Mio Café.
In 2022, the waterpark will operate from July 12 to August 28. It is closed on Mondays and reservations are encouraged to be made first. Operating hours are from 10am to 5pm, and it's free!
Changing rooms, bathrooms, and showers are onsite. When it's not operating as a waterpark, it's still a regular, functional playground!
At the end of Nampohang Park is a small island where the 1.5km Haejigae Coastal Trail begins. This is in a popular auto-camping area.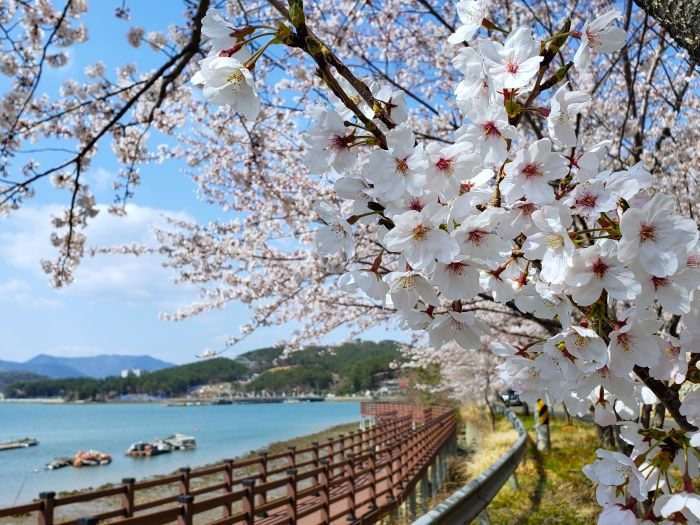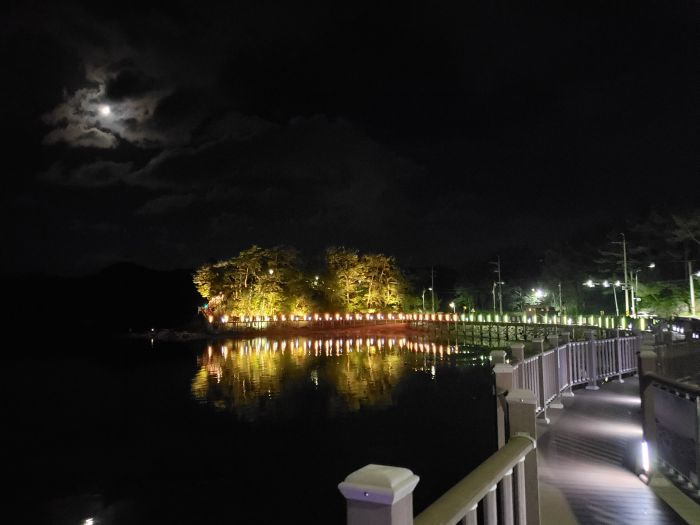 The Haejigae Coastal Trail also runs along the base of a small mountain where there is Namsan Park. Pretty much no matter the season, Namsan Park has some kind of nice flowering things to admire, including lots of cherry blossoms in season. There are also bamboo trails, and there is a well-stocked outdoor workout area at the top by the pavilion.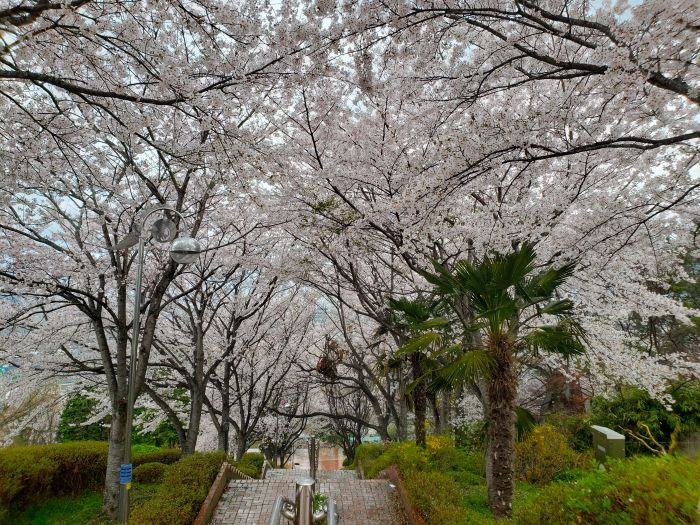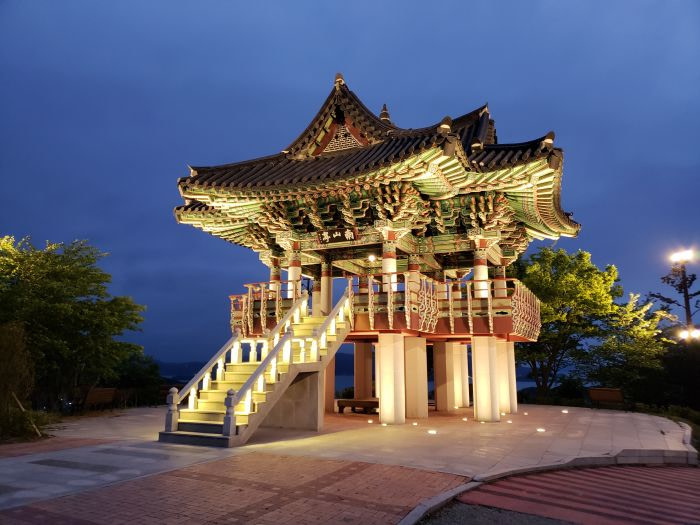 Of course there are cafes along the coast, starting with Sanchaeg across from Baegse Park, Bistro Mio across from the waterpark, Sunset Café along Haejigae Coastal Trail, the luxurious Fortuna, and the very popular Doors Café across from the Italian Pizza restaurant Handspoon.