Address: 592, Idang-ri Goseong-eup, Goseong-gun
I had always wondered what "forest bathing" at Galmobong Forest was. Was it washing? Now I understand and will share my wonderful hiking experience!
Galmobong Forest is also a great place to bring a tent and just hang out and have a BBQ.
There are platforms to set up a tent on all throughout the area. Koreans love to grill samgyeopsal (삼겹살) which is pork belly. It's very tasty.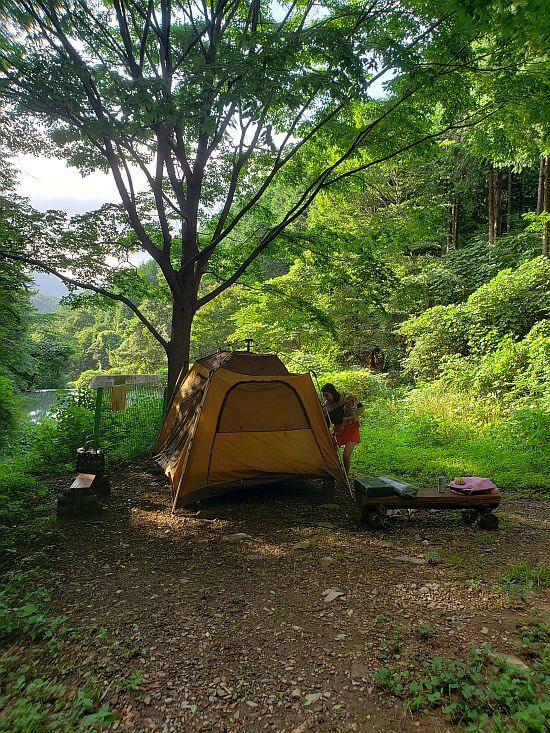 We even took Noah here when he was 6 months old!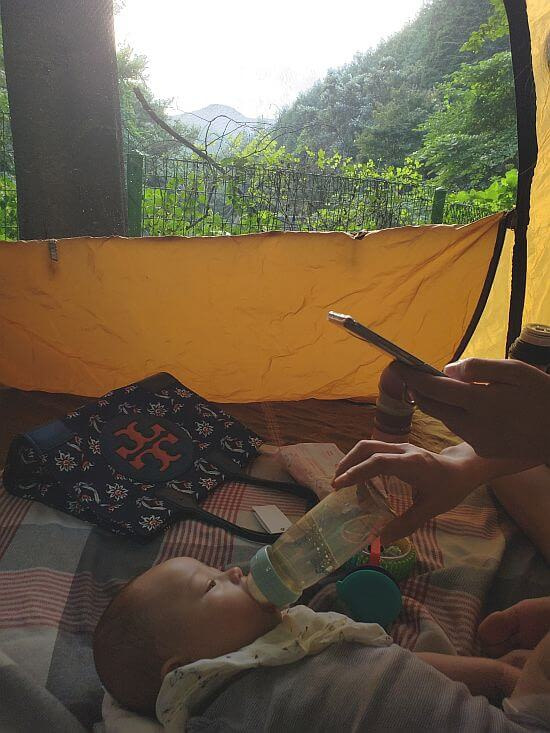 Galmobong Forest is located up in the mountains, so it's often cooler up here in the summer. Plus, there is so much shade.
Alice and I came here a few times before marriage. This is one of several places in Goseong that we did our own wedding photoshoot at.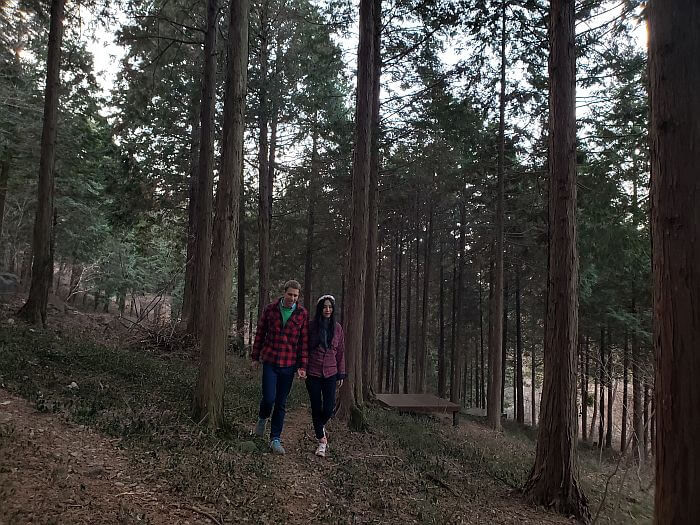 There are some nice mountain peaks and hiking trails here. One day I went up to Galmobong Peak and took a 2-9-3-4-7 route (#2) on the legend below.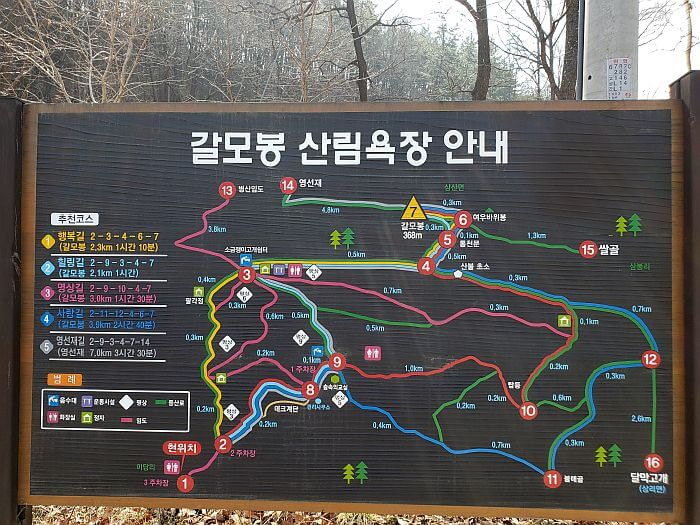 A paved road goes up a small part of the mountainside with a few parking lots here and there. I had to walk up the paved road a bit after parking, as part of the road was closed. Even here the area was refreshing, with cypress trees all around.
I passed by the area with the stream at checkpoint #8. This is where all of the above camping photos were taken.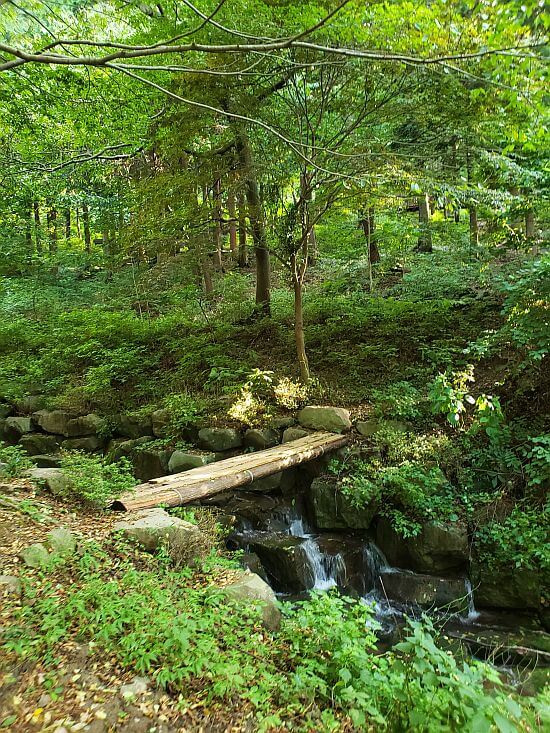 I then got to a neat little playground area that they were still constructing. There were even some tunnels for the kids to go through.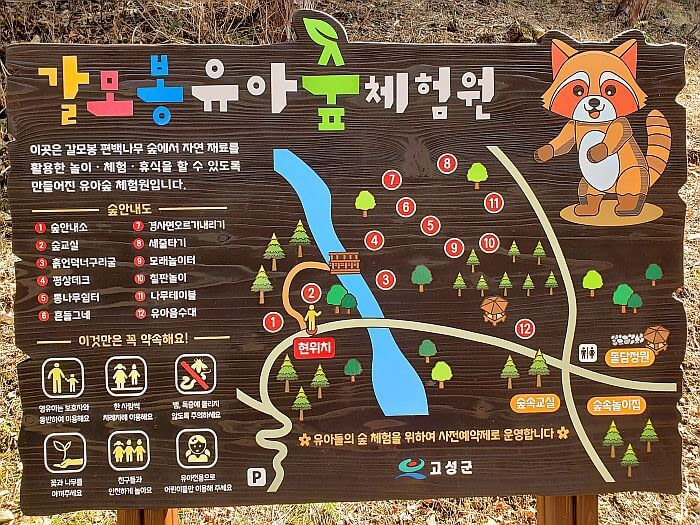 Natural water fountains can be found around checkpoint #9 along with bathrooms.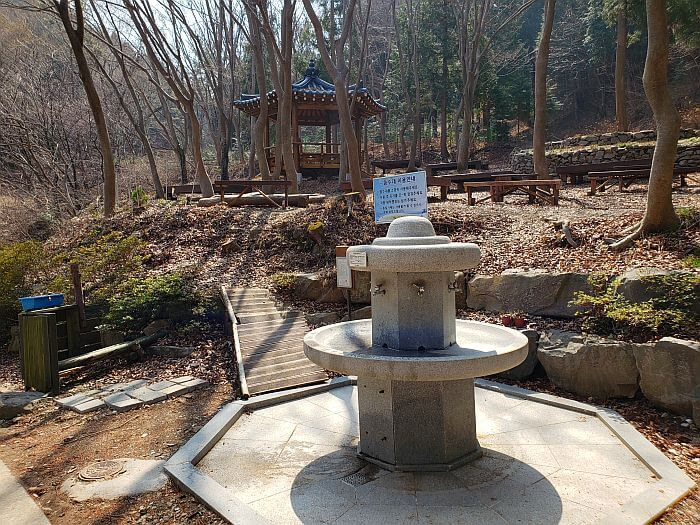 I took a left here and passed a few more wooden beds and pavilions. I came to a beautiful scene of the sunlight coming through the cypress trees.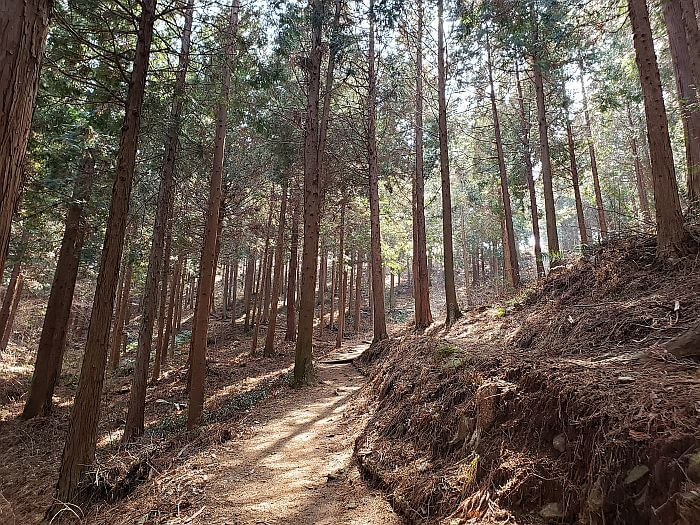 I learned that the tree types at Galmobong Forest include cypress (63%), Korean/Japanese red pine (17%), Japanese red cedar (5%), and others (15%).
The cypress trees grow up to 40m high and 2m in diameter according to a sign. They are often planted and cultivated in the southern region of Korea. Among conifers, these cypress trees produce the highest phytoncide emissions, which is an antimicrobial substance. They are recently attracting a lot of attention regarding medicinal uses. It reminds me of diffusing essential oils.
Soon I arrived at checkpoint #3 which had drinking fountains and bathrooms.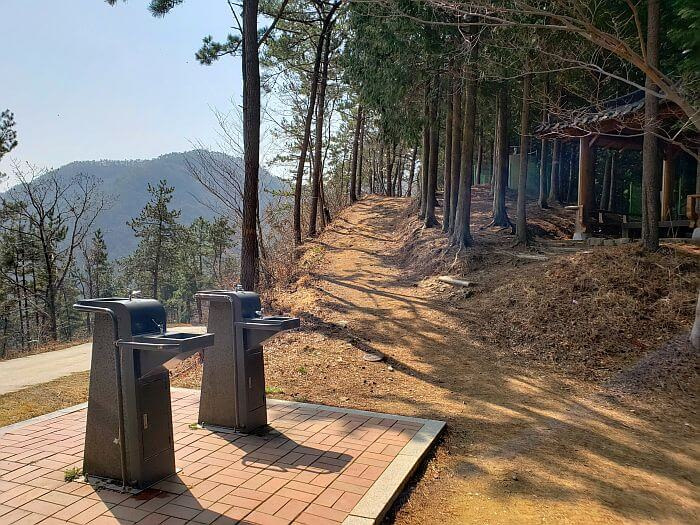 From here I deviated off my route temporarily and followed the trail toward palgagjeong just to see. The rows of cypress trees caught my attention.
This led to a little pavilion overlooking the town of Goseong.
I went back to checkpoint #3 and got back on my route towards Galmobong peak.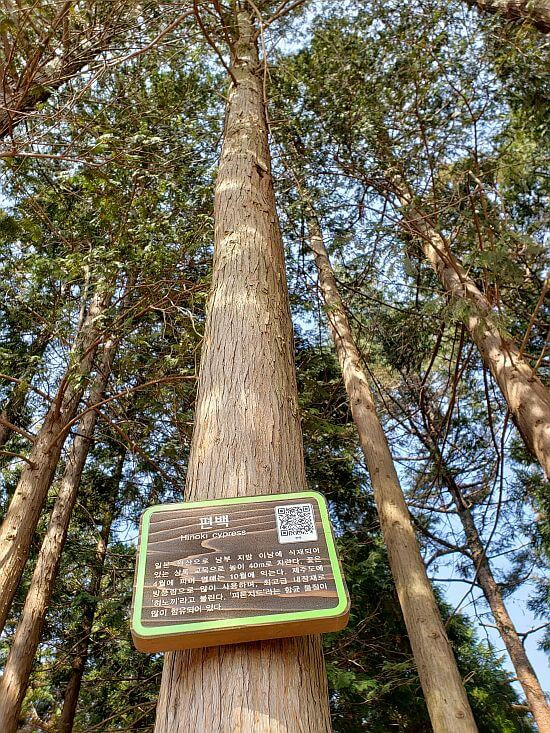 I passed by more benches and exercise equipment.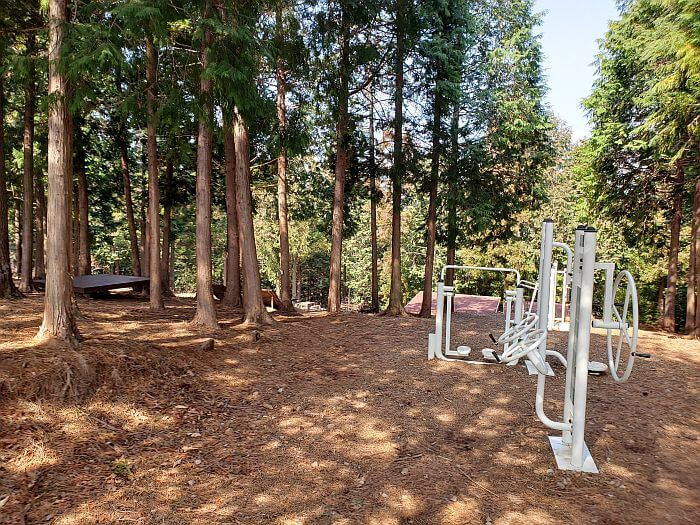 I passed more rows of trees as the climb got steeper. I was also beginning to notice the smell. It was so good, it made me stop and take a deep breath of the aroma of the trees. At this time, I started to understand that the "forest bathing" was all about taking in the phytoncides I had mentioned earlier, and just immersing oneself in the aroma and refreshing environment of these trees. It really is just so refreshing.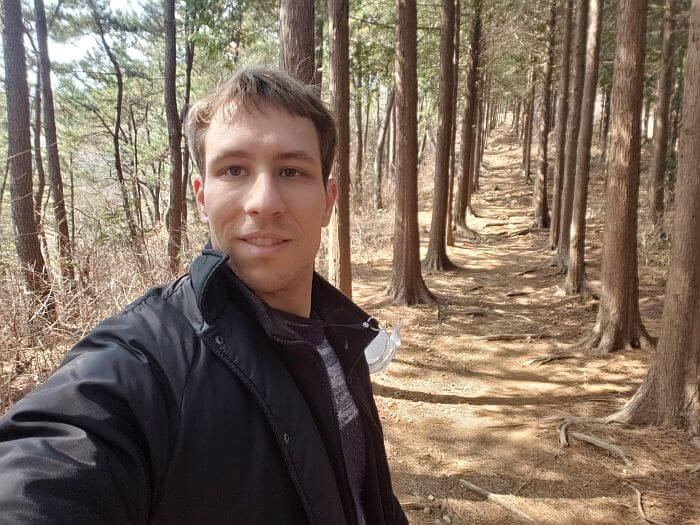 Eventually the incline leveled off and it got windy as I came to a ridge. The Lord of the Rings style scenery warned me that I should keep a sharp eye out for orcs.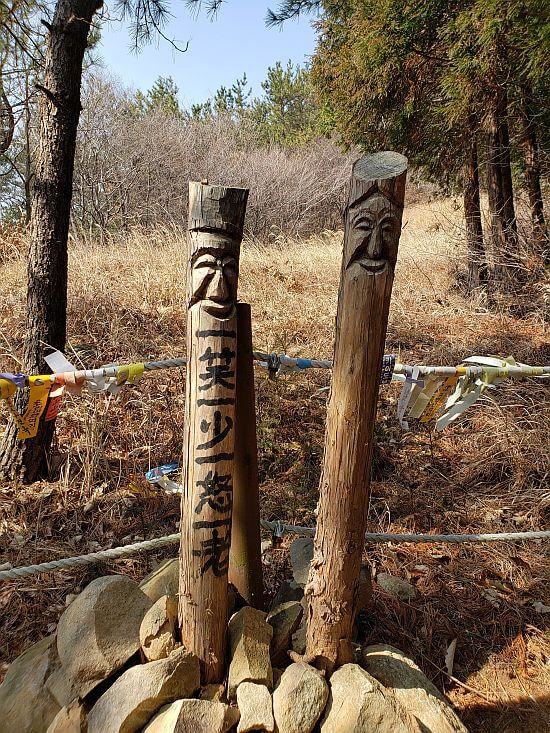 I discovered dongcheokmun as I arrived at at checkpoint #5.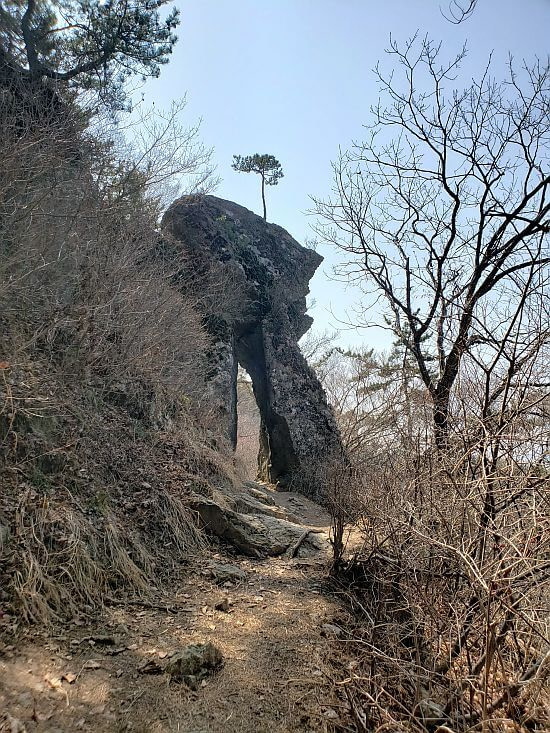 The name dongcheokmun points to a meaning of "the secret path to heaven's door."
I climbed around to the top of this rock with the little tree and found a great view of the valley.
I arrived at checkpoint #6 after another incline. This part was probably my favorite of the whole hike through Galmobong Forest. The view is unobstructed unlike at the peak.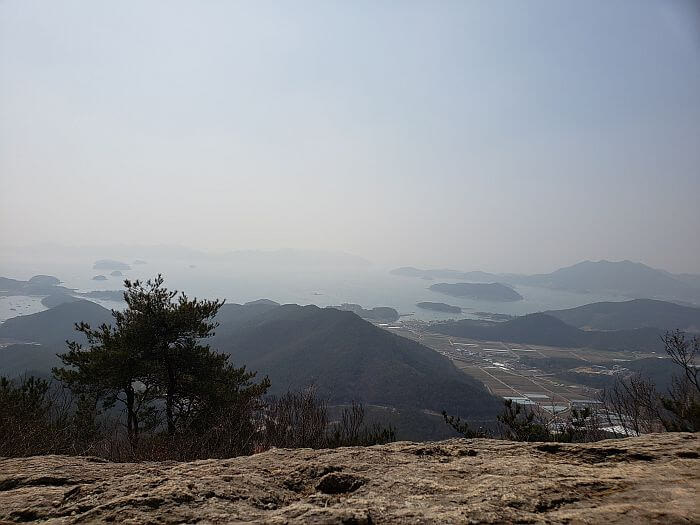 It this point the peak was just a little farther along some more rocky terrain.
At Galmobong peak, I was offered a cup of coffee by a kind group resting at the lookout area. A few others came and went while I rested there.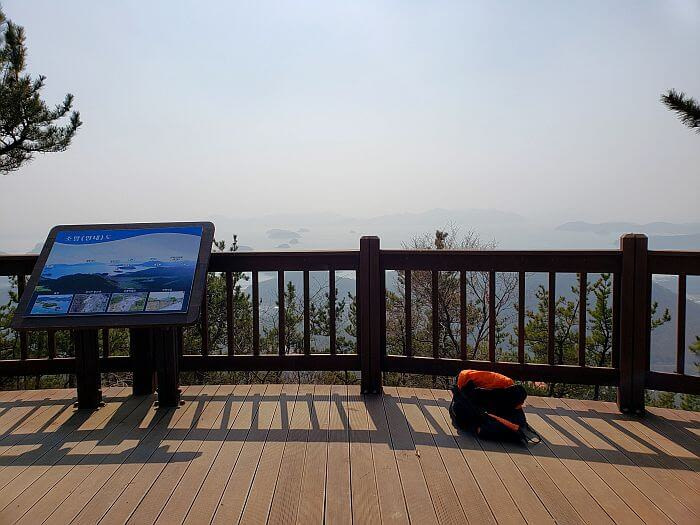 I matched up the islands and peninsulas I could see with what was labeled on the sign. The weather was a bit hazy unfortunately, but it was cool to see places such as Namhae and Tongyeong which were rather far away.
I could not see much in the direction of the town center of Goseong.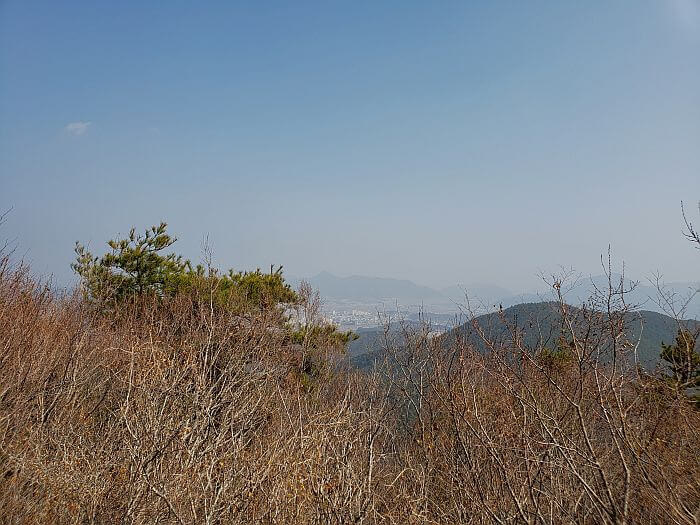 There are other trails and areas of Galmobong Forest that I have not explored yet. I returned the way I came. I could also have returned via checkpoints #10-12 on the other side of the loop for a longer route back.
Whether you want to enjoy a good hike, a day out with the tent, a picnic, or take kids out to experience nature at a playground in the mountains, you can come "forest bathe" at Galmobong Forest!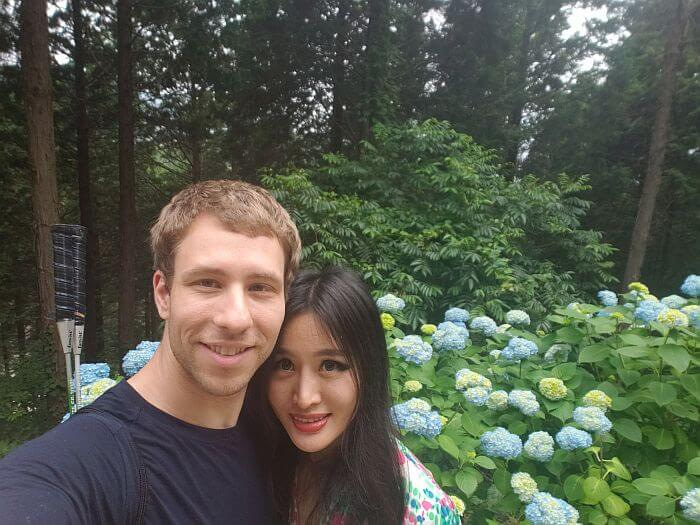 P.S. If you sense any Nazgûl, just get off the road!