Address: Mountain 45, Geosan-ri, Georyu-myeon, Goseong-gun, Gyeongsangnam-do
Georyusan's peak boasts a completely unobstructed, gorgeous view, and around the peak are remains of an ancient fortress wall built in the 10th century.
A scenic, exercise-inducing hike, combined with a bit of history and culture make for an excellent outing in Goseong's Georyusan!
Personal Background
I have been staring up at and wanting to climb this mountain for years, in fact. My Korean family's village sits at the base of this mountain, where I was living on and off for years, including the time during and after my son Noah was born. I took many walks around the base but never budgeted enough time to attempt going up.
I also had no idea that it was such an attraction with well-traveled trails and the ancient fortress wall.
The house is close enough to the base of the mountain that I even thought it MIGHT be possible to see someone at the top if they wave a brightly colored bag on a stick or something. I was a little too sheepish to ask my Korean mother-in-law to borrow her Korean flag on a pole. And then to be seen toting that up. But I had my neon-green drawstring bag.
Trailhead at Eom Hong Gil Museum
The mountain can be approached from different sides. The most popular starting point is at a museum dedicated to a professional climber born in Goseong named Eom Hong Gil. He climbed Mt. Everest three times! He returns to this mountain every once in a while to do group hikes.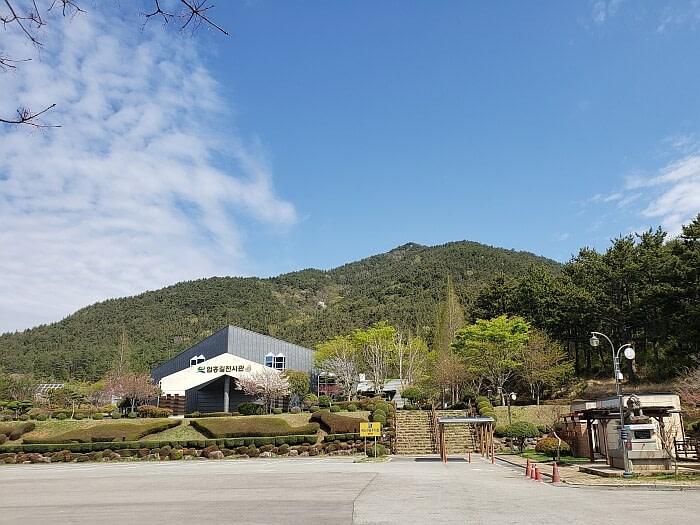 The museum is an attraction in itself, which I want to spend some time at on a non-climbing day for the sake of time.
I took the brown trail from the bottom of the map leading to Georyusan's peak, which is the main trail. As you can see, there are other ways up the mountain with their own allures.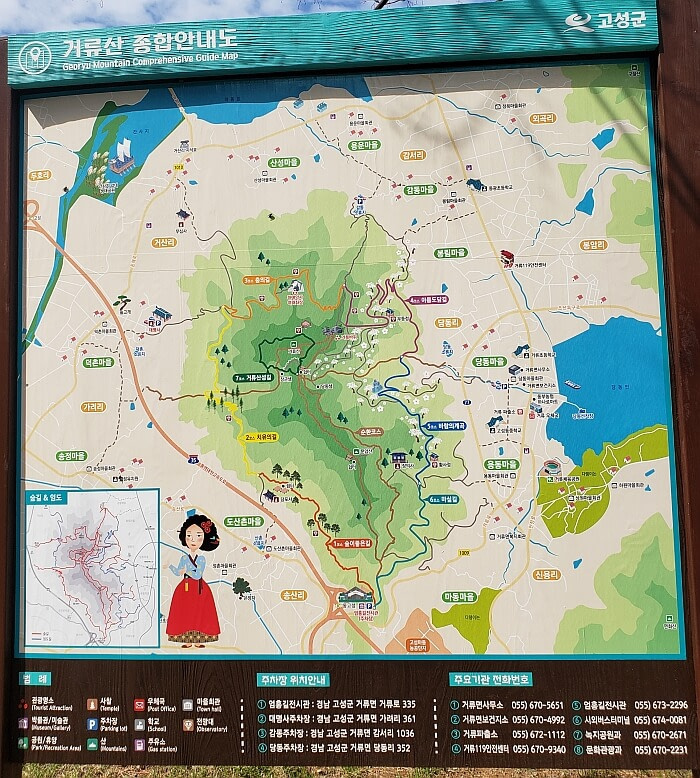 This trail takes you along the ridge to Georyusan which makes the terrain and views interesting as you shall see.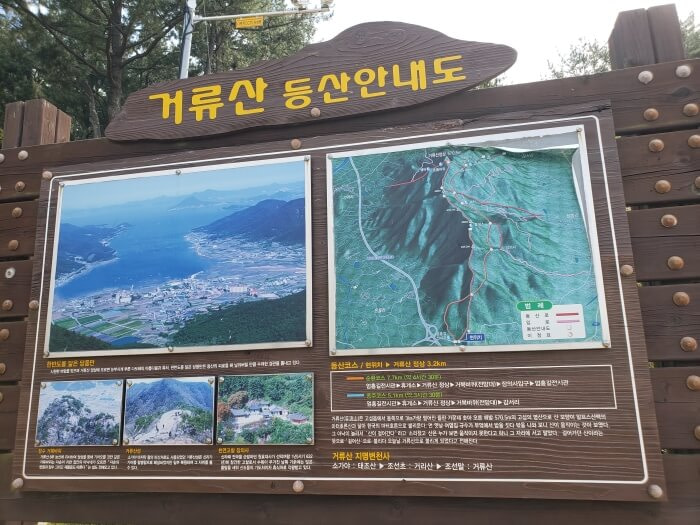 Hiking Up
So let's go! The trailhead begins with some stairs on the right side of the museum.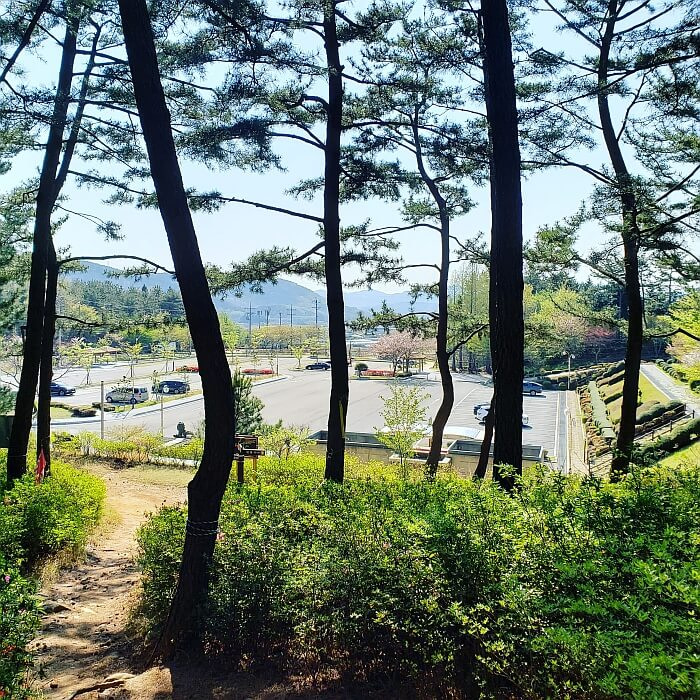 The area around the museum is landscaped quite nicely.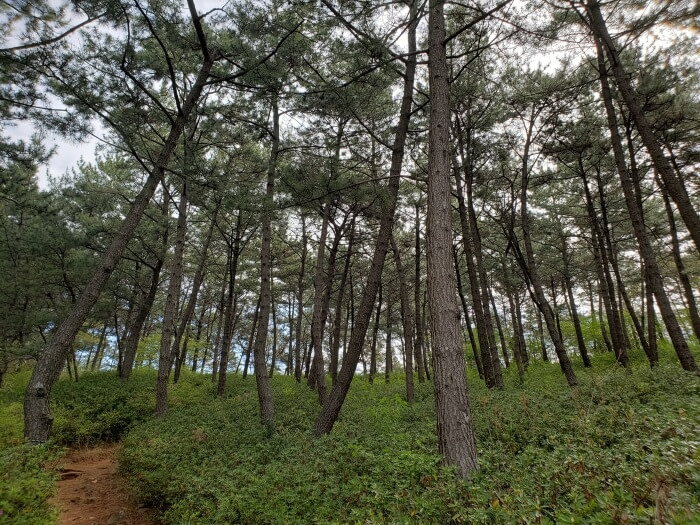 After passing some graves and some flowers, I came to the first set of wooden stairs.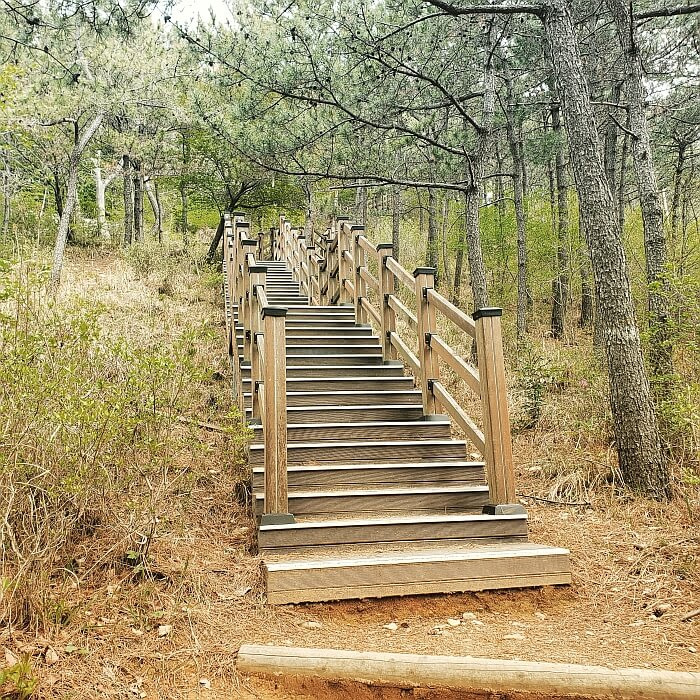 The early part of this route has a lot of incline as you get up to the ridge. There are some benches scattered around to take a rest if needed.
Depending on the season, you may come across some cherry blossoms.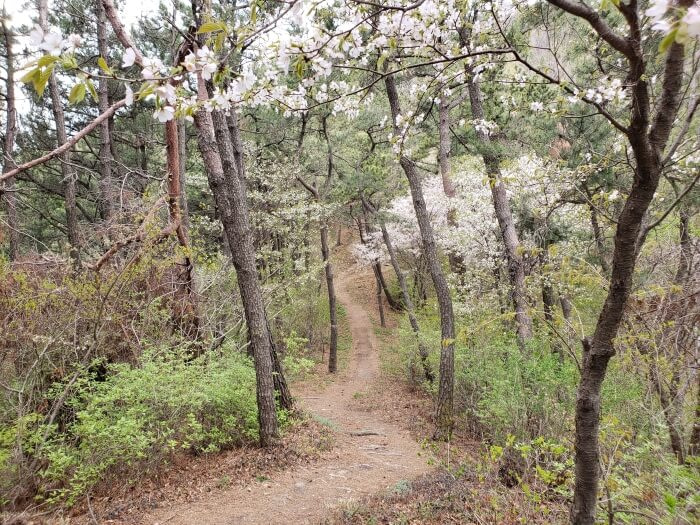 Eventually you reach a smaller set of stairs leading up to a nice lookout area with an interesting tree.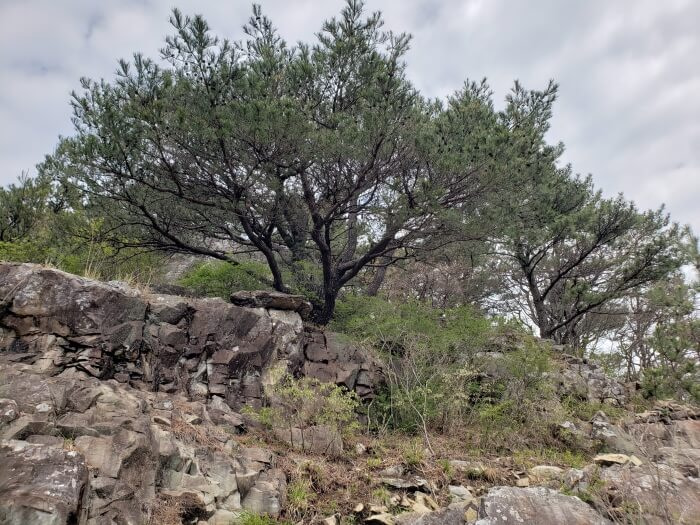 This is a nice place to take a breather and maybe a drink of water or a snack.
Just above the rocks is yet another set of stairs with cutouts for trees growing through.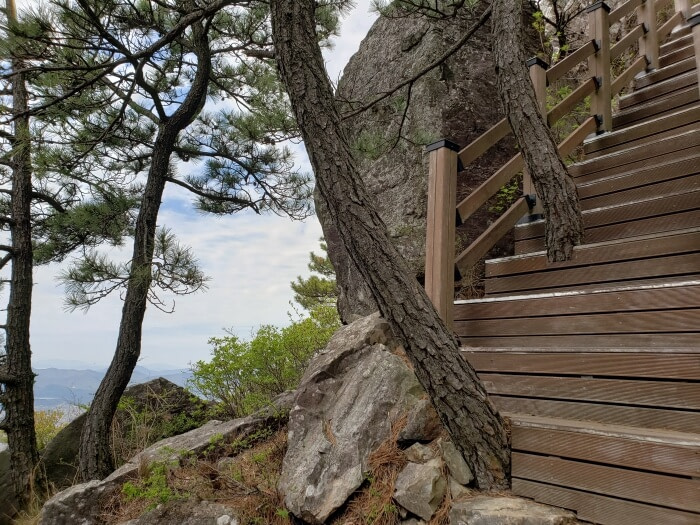 These stairs are quite steep. I took a photo with my phone pointed straight ahead at eye level, horizontal with no angle. This is what you see when you just walk up to these stairs.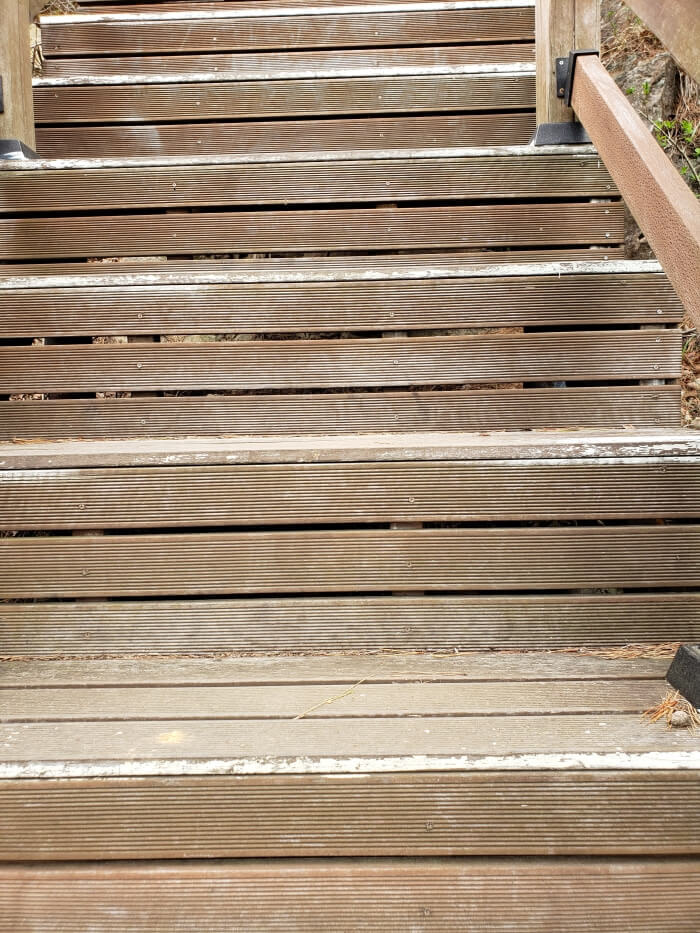 And this is the view looking back down.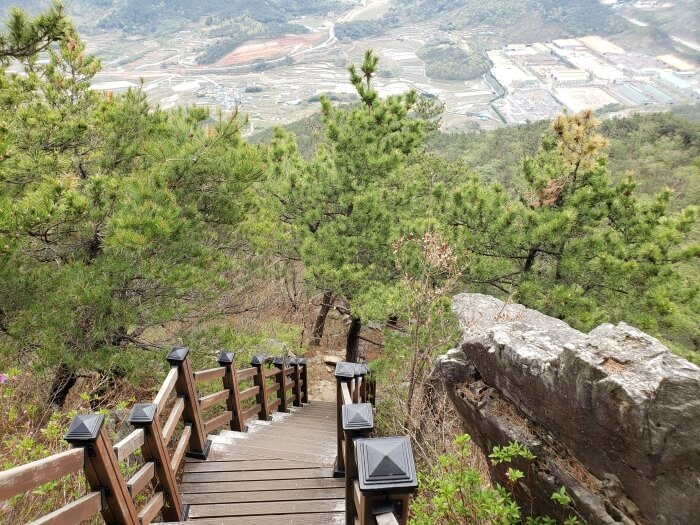 At the top of these stairs is a another good photo opportunity. To take the photo below, I actually balanced my phone on the thin lip of the black stairs' post, set a timer for 10 secs, and jumped up a handful of stairs and leaped across the rocks to get into position.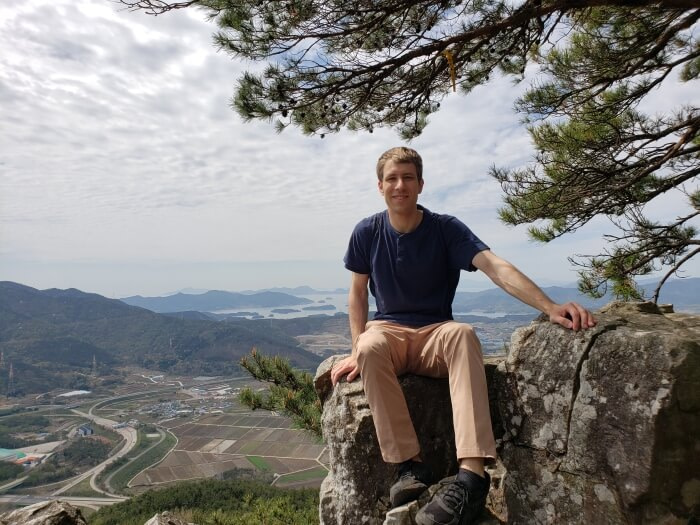 Now that we are up on the ridge, we run into large rocky terrain more often, but also more glimpses of nice scenic views. It is also more flat for a while now, or at least not so much incline until closer towards the peak.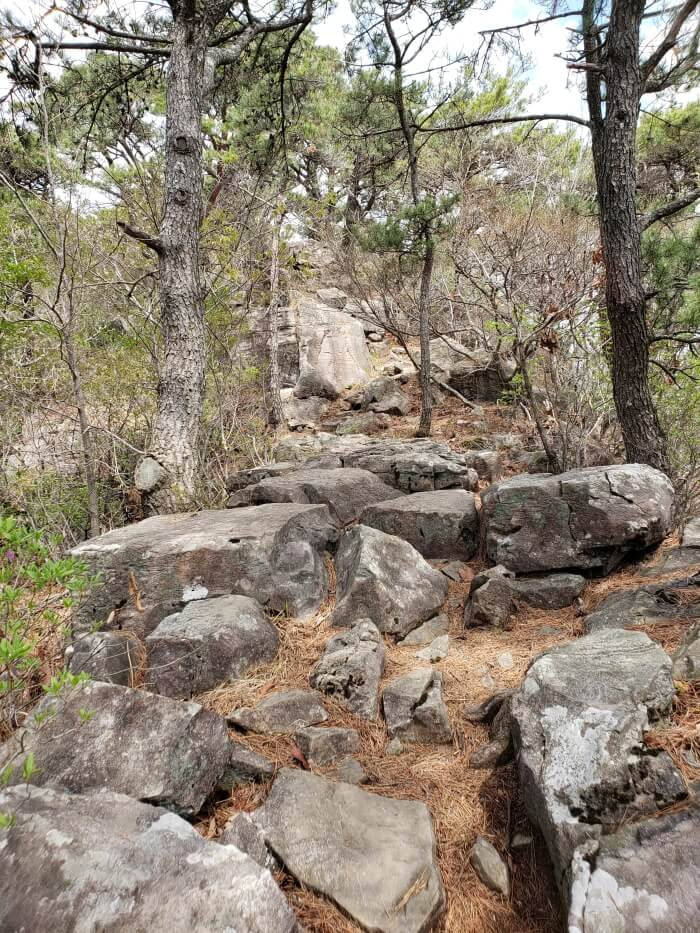 Soon you are able to catch a glimpse of Georyusan, but it's still in the distance, because we are walking along the ridge of the mountains, rather than directly up the side.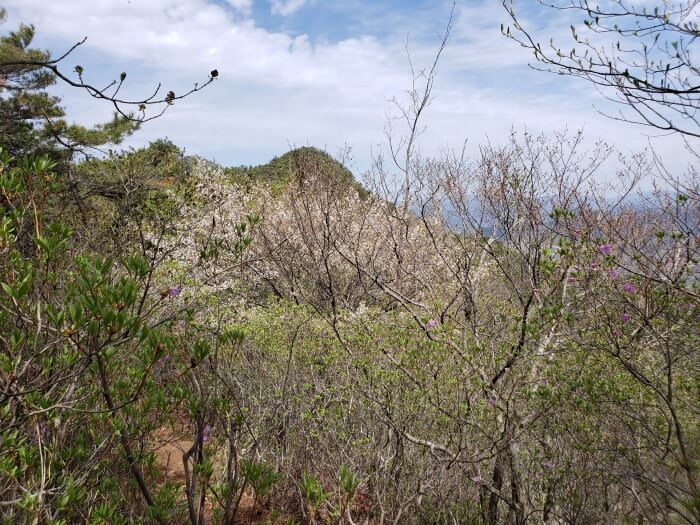 I came to another nice lookout area with wide open views on both sides and a pair of benches. This was really cool for me because I could now start to recognize landmarks around my Korean family's village down below.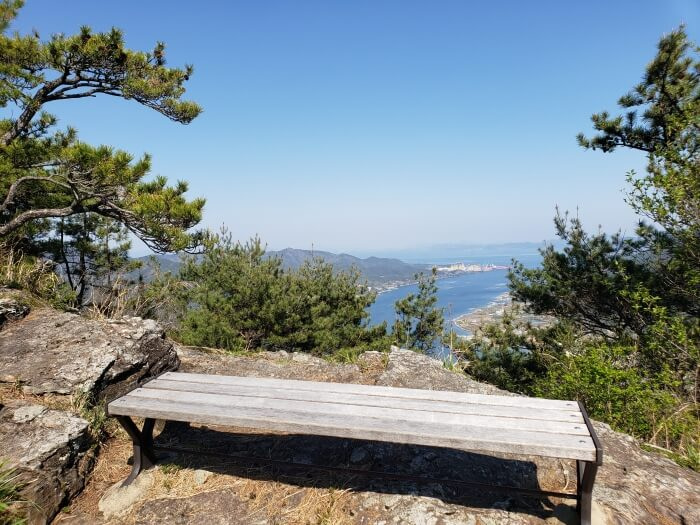 Although this route is a bit longer than a direct route, I can see why this must be the most popular route to take. We haven't even gotten to the fortress yet.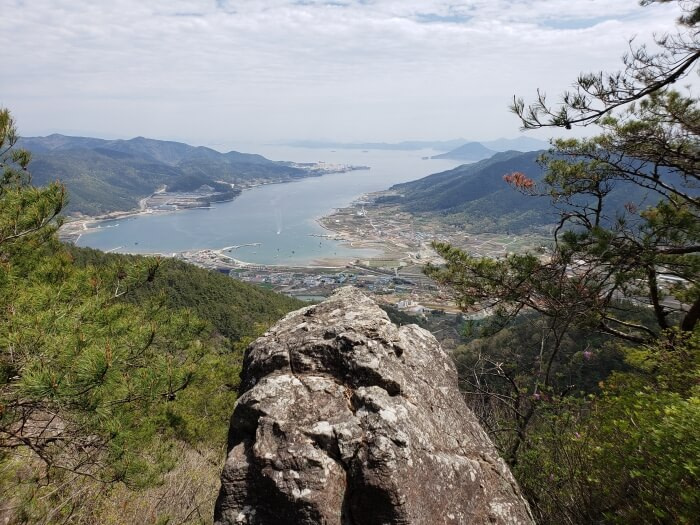 Georyusan is getting closer, and by now you can begin to see some of the fortress wall if you look closely.
And closer…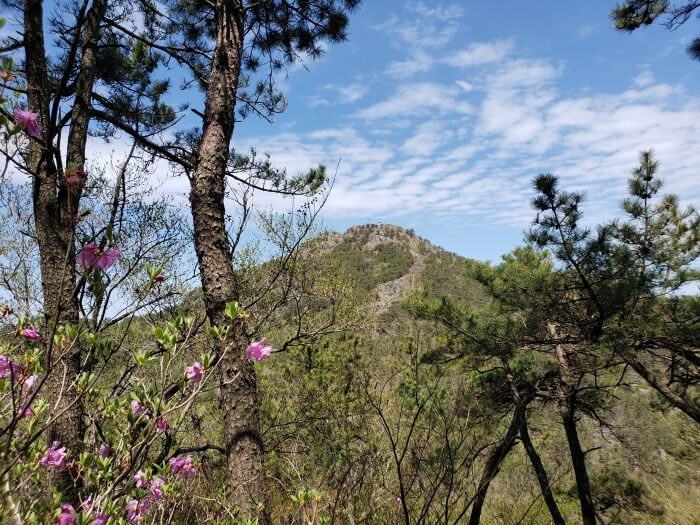 The trails are well marked, by the way, at most junctions. You can follow the yellow signs for Georyusan.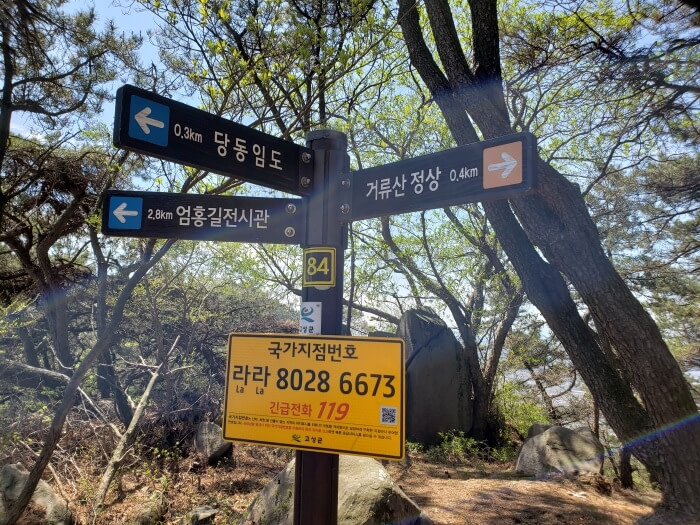 Goseong Fortress Wall
Finally we come to the Goseong Fortress Wall area. This is where the trail picks back up in intensity until you reach the peak, which is not far now.
A signpost along the path explains some of the history. Thought to have been built in the 10th century, its purpose was to be a refuge for the last king of Sogaya before the Shilla Dynasty. The fortress was destroyed, but the wall has been partially restored.
I took a GoPro video while hiking along the wall and up to the peak. The end of the video shows a panorama of the top.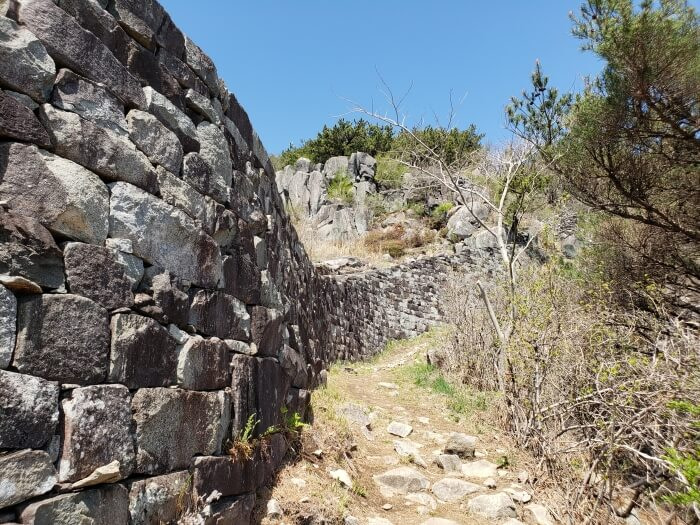 The history was quite interesting to me. Throughout the rest of the hike, I kept imagining what it would have been like to be living up here so many years ago. The USA doesn't have much recorded history from that far back.
Within the fortress are remains of buildings and wells. Follow the wall up the mountain.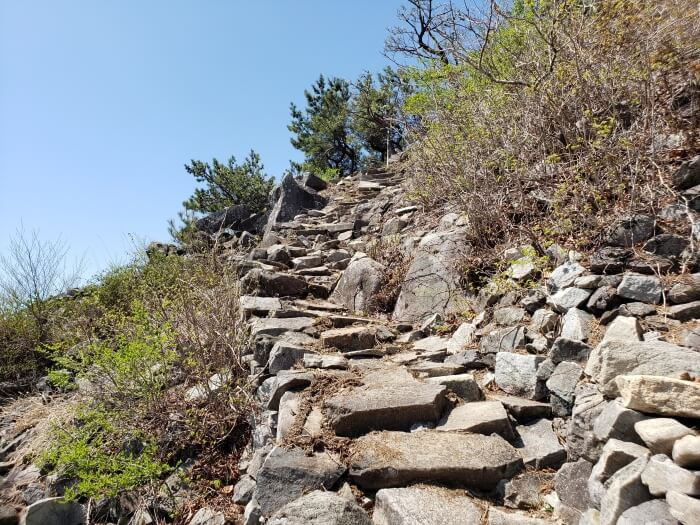 The perimeter of the wall is about 1.3 kilometers, or 0.8 miles. Due to the already rough terrain, the northern side of the fortress did not need any wall.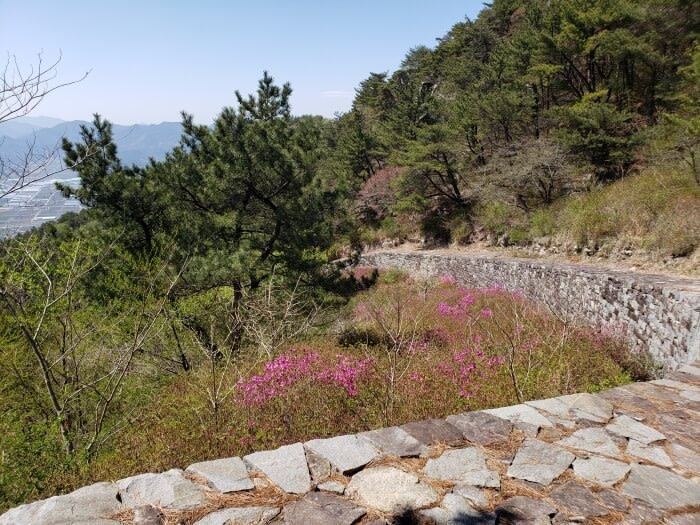 Just beyond the wall are some stone pagodas.
Soon you arrive at the top! This was an amazing feeling.
The headstone says Georyusan mountain is 571.7 meters, or 1,873 feet.
Some folks were having a picnic on the grass. I splurged and bought two big apples for this hike (apples and fruit in general is a bit expensive in Korea) and had one left. I also brought a few granola bars and a pack of soft wafers with red bean inside. But Koreans typically bring gimbap for outings like this (rolls of rice wrapped in seaweed, with some cut veggies, egg, ham, etc bundled inside).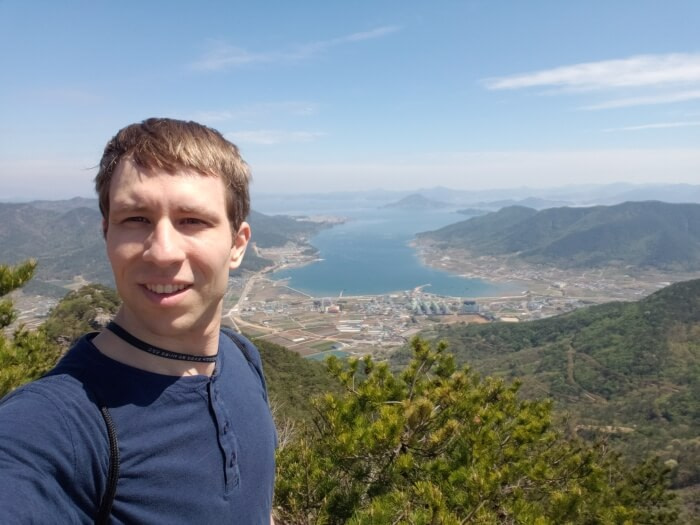 At the peak there is a one-room shelter, a tower, and the headstone. The shelter is likely related to the fire alert service.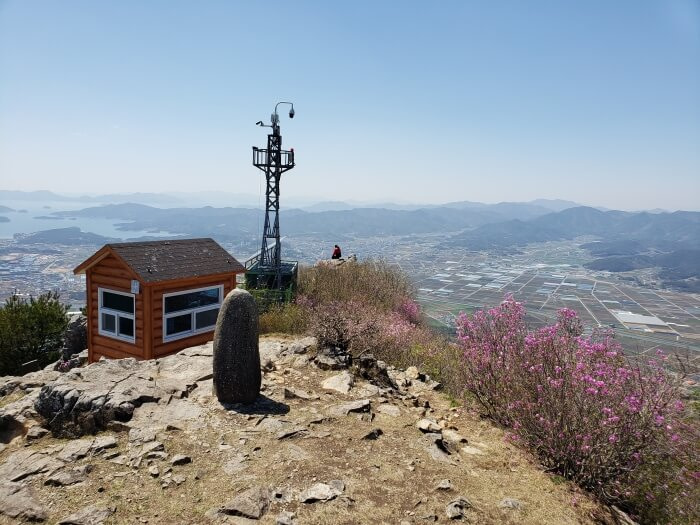 A little well or something was next to the shelter, filled with a few frogs.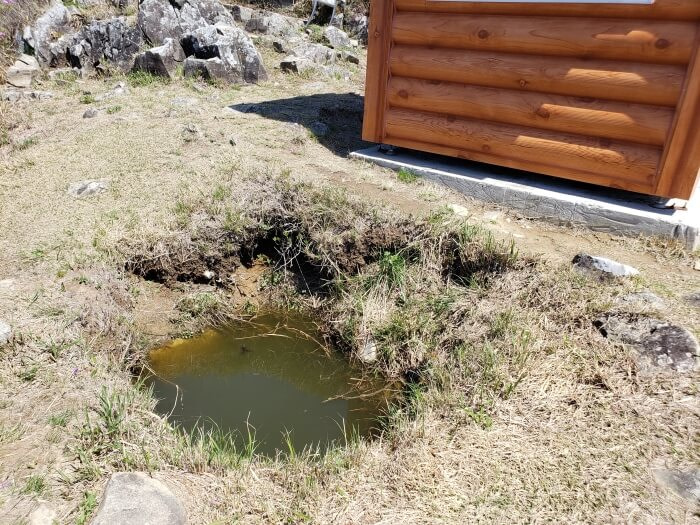 You can see Goseong in all directions.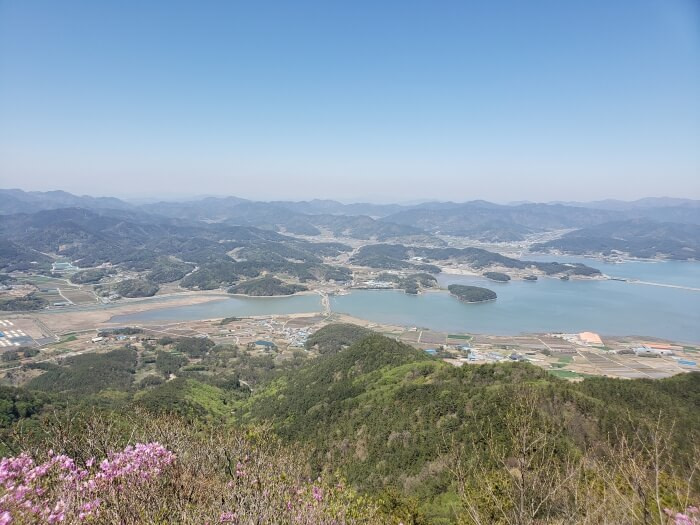 Being able to look down and recognize where our family house is, where Alice and I took care of Noah when he was born, looking down at where I used to stand while looking up over the years, and with so many places, roads, and landmarks that I have become able to recognize from up here made possible only by years of living and walking all over Goseong on foot, was amazing!
Here is a zoomed-in photo of our house from the peak of Georyusan.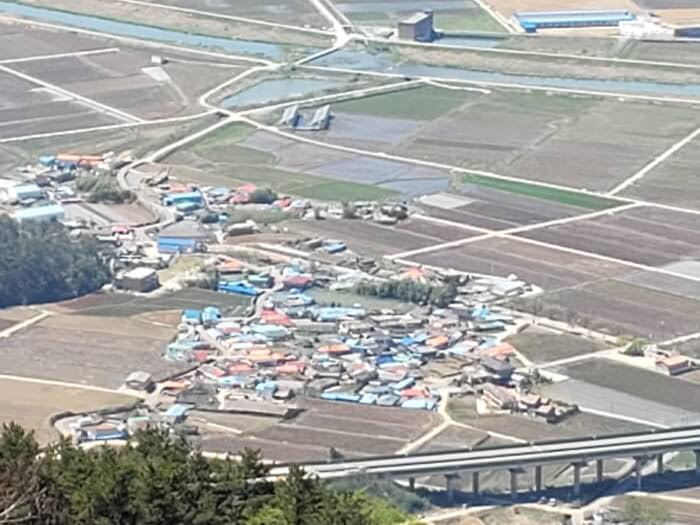 I called my wife Alice, and just for fun we tried to see each other. She could not see me, but I was able to describe to her in real-time the colors of the cars driving past her from where she was standing with Noah. It was super cool!
This is what our village looks like without zooming in, located between the highway and the small clump of trees on the ground level next to my face.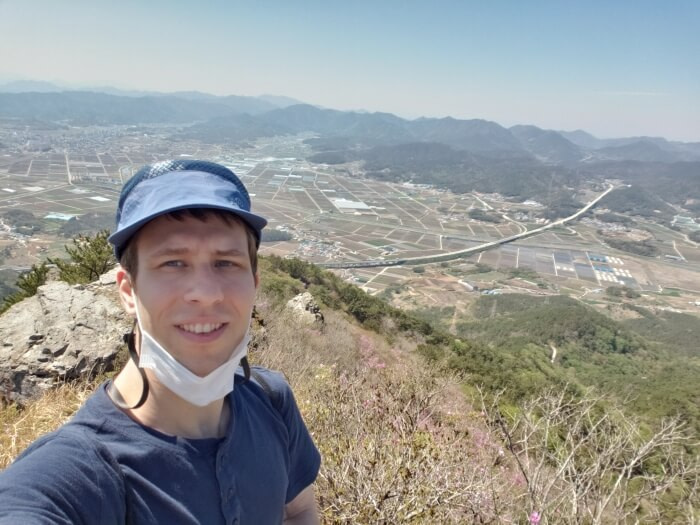 I stayed for a while.
Geobug "Turtle" Rock
After a rest, I decided to go further to Geobug Rock, an outcropping connected by a small bridge, visible from the main peak.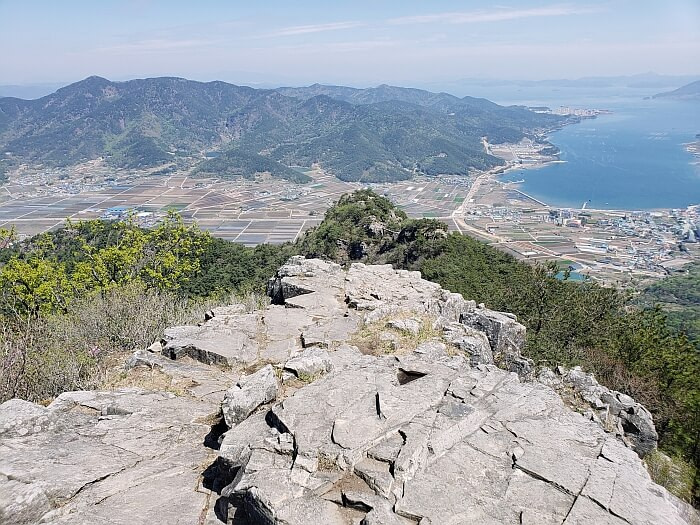 Geobug comes from the word meaning "turtle" in Korean (거북의), as the shape resembles a hump like a turtle's back.
I actually missed the trail that leads to here from Georyusan's peak, so I backtracked down from where I came and cut across to another trail and followed it to Geobug Rock.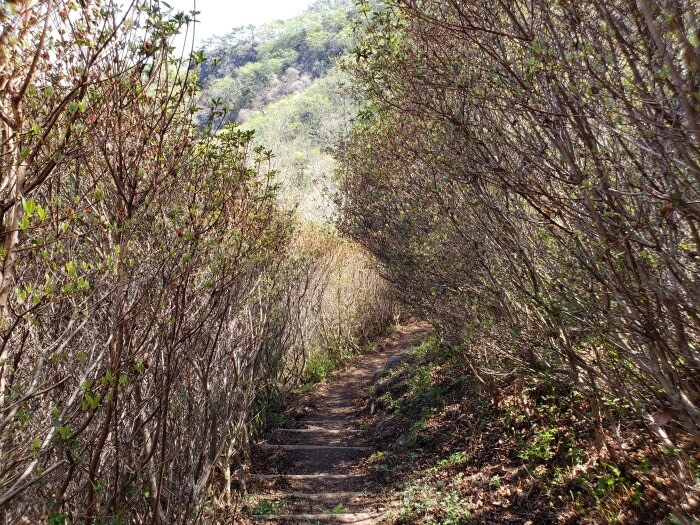 The backtrack was costly in energy as it was a lot more up and down hiking, but I am glad to have went. Georyusan is the larger peak in the photo below, from the opposite side that I had come up from.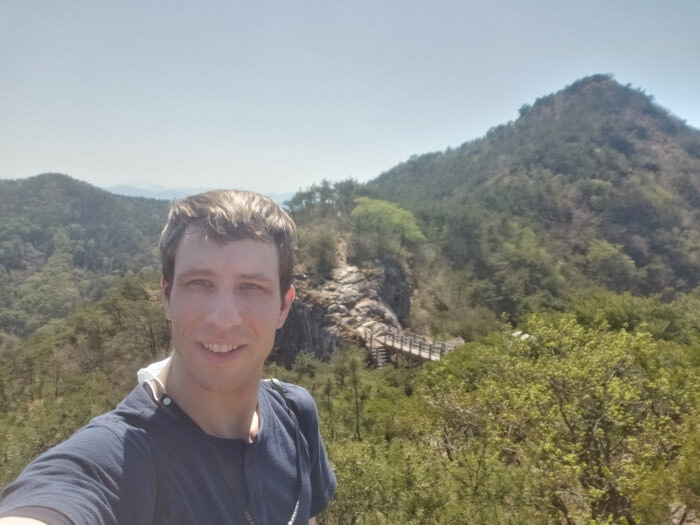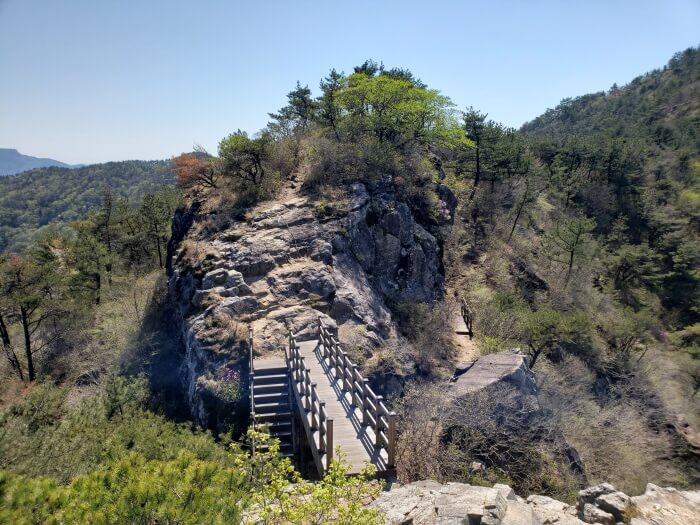 After crossing the bridge is a rock slope with a rope.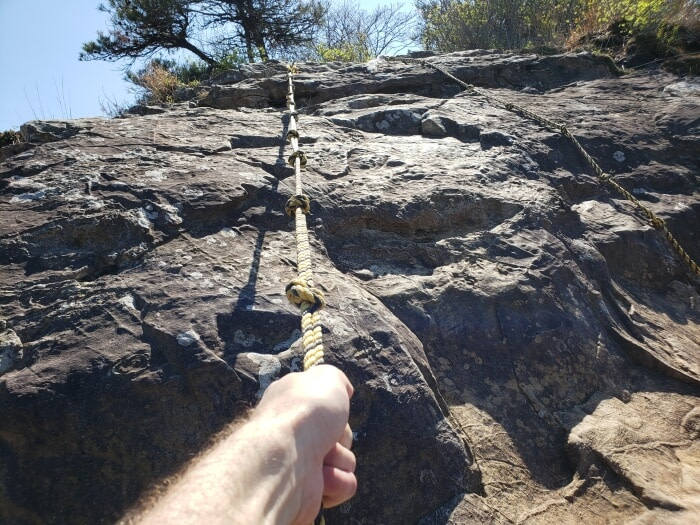 You can find some large, flat rocks around the trails here.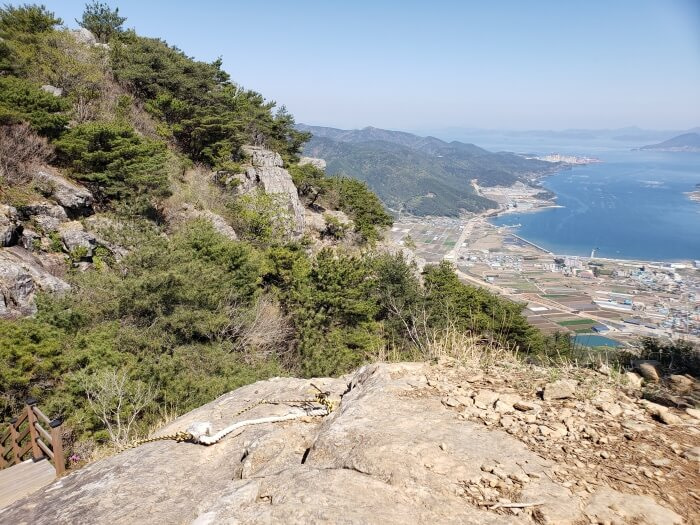 Hiking Back
Alright. Time to head back.
I usually enjoy going back via a different route, but I heard the return trail was nothing too special, so I returned the same way I came, and I am glad I did. The skies opened up since when I started, so I could enjoy the same nice views with different lighting and sunshine.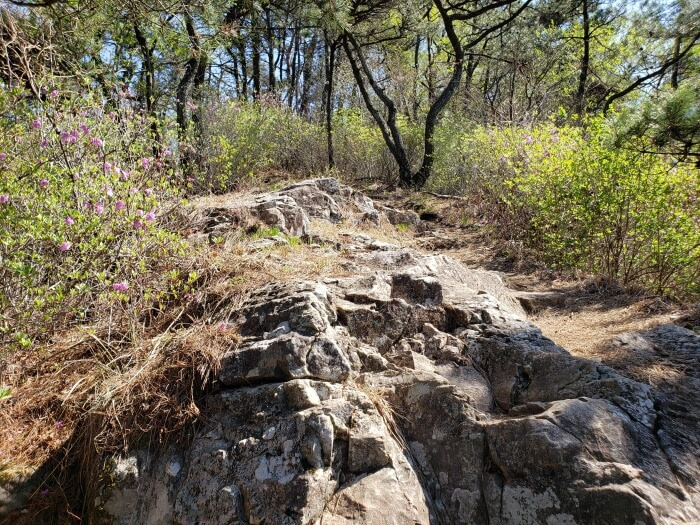 I had soon finished all my water and was quite tired, so I was glad to now be hiking more downhill than uphill.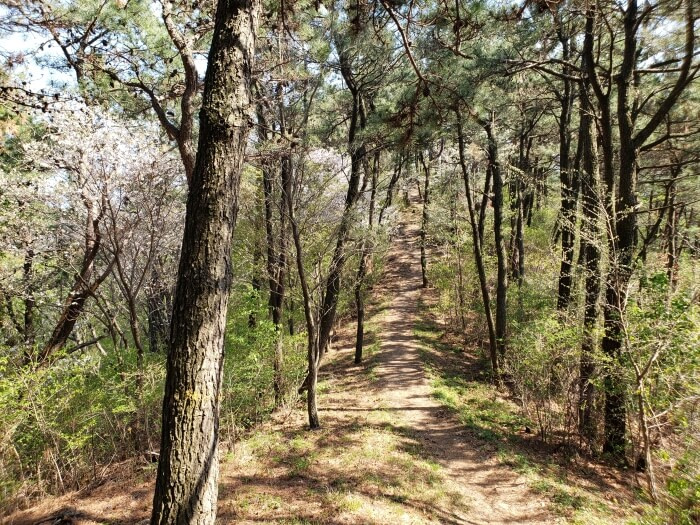 Even that first set of stairs I had come to requires some energy to get down after climbing up and down and across all the rocks and other stairs.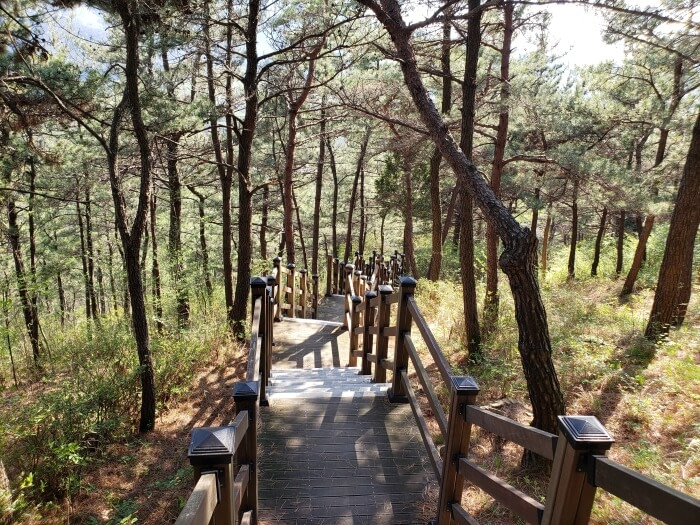 And that was probably the coolest outing I've done in Goseong that I will always remember.
Georyusan – Extended Gallery