Address: San 122-4, Samdeok-ri, Hoehwa-myeon, Goseong-gun
Jeokseoksan Mountain has a cool suspension bridge bordering Goseong and Masan. The slope of sheer rock which is climbable is also very cool.
I chose to begin at the trailhead across from Cafe Sol Hyangi on the side of the road. There's another trailhead just up the road at Oksuam Temple.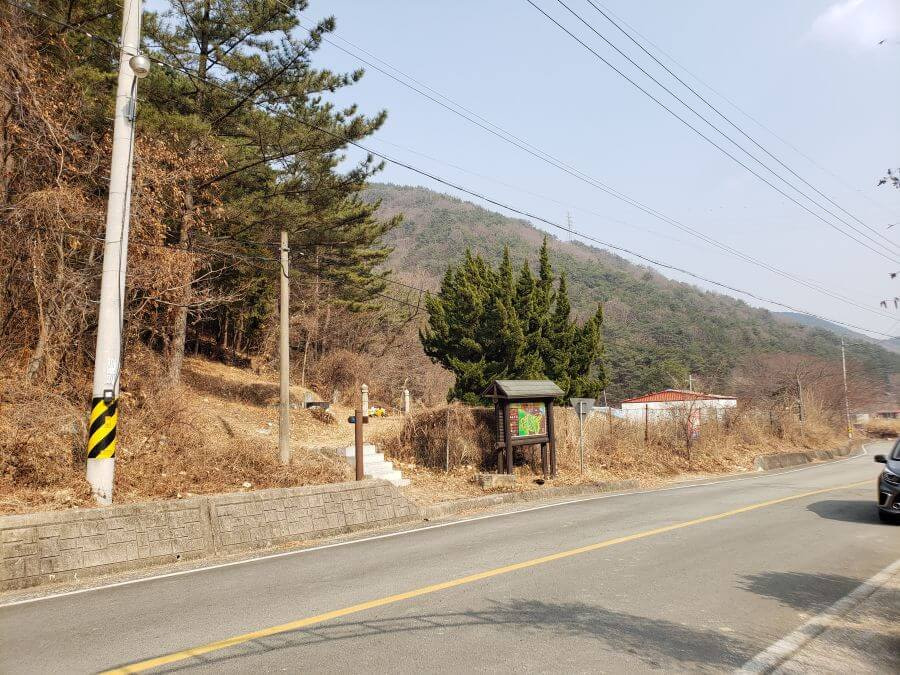 I am not sure if some of the large rocks I found in the beginning could possibly be petrified wood, but the streaks and lines made some of them look that way.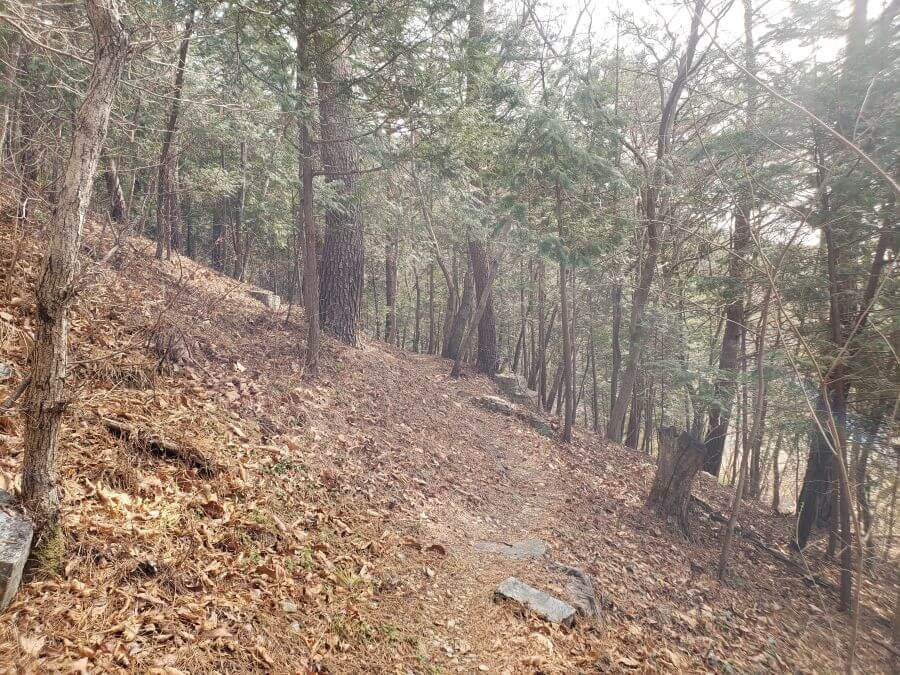 Like most mountain hikes, I passed by various graves along the way.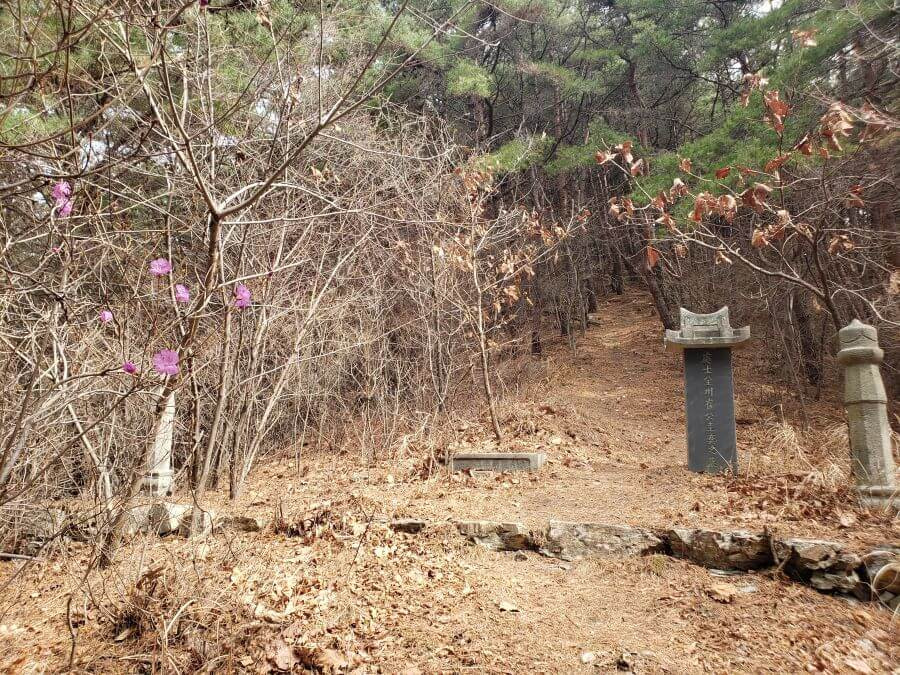 After reaching the top of the mountain ridge, I turned left towards Jeokseoksan. I come to a little pine growing from the rocks around one of the first clear views.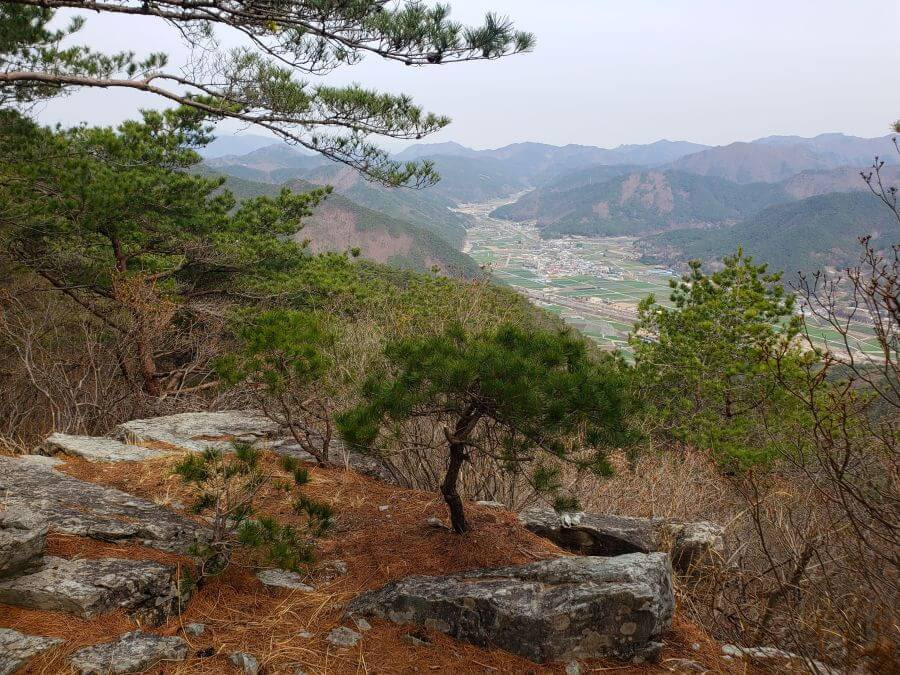 Guksubong Peak
Not long before reaching Jeokseoksan Peak, I came to Guksubong Peak which had a nice view.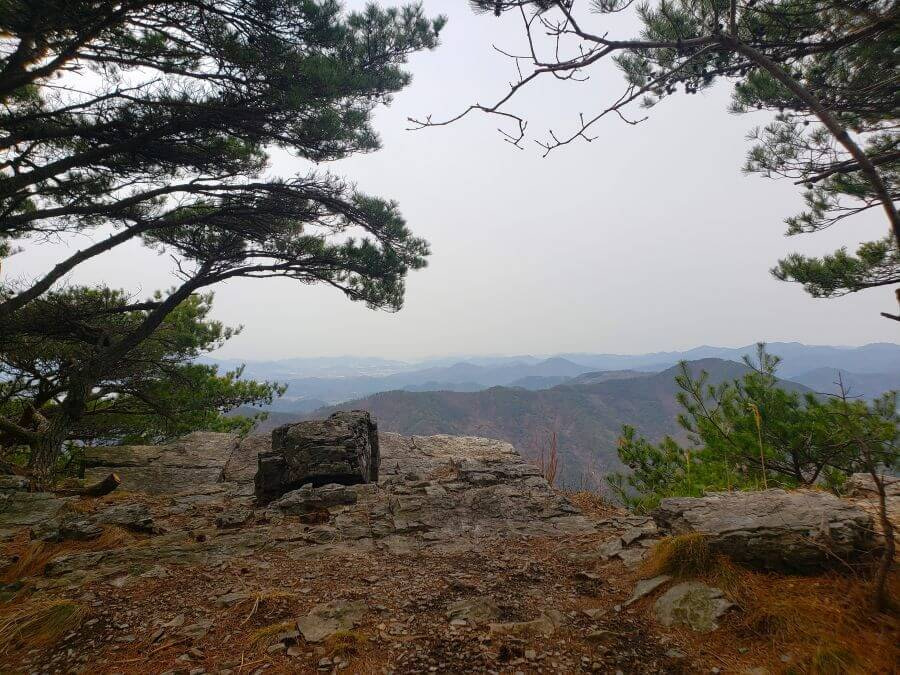 Jeokseoksan can be seen a short distance away.
So I pass more large rocks.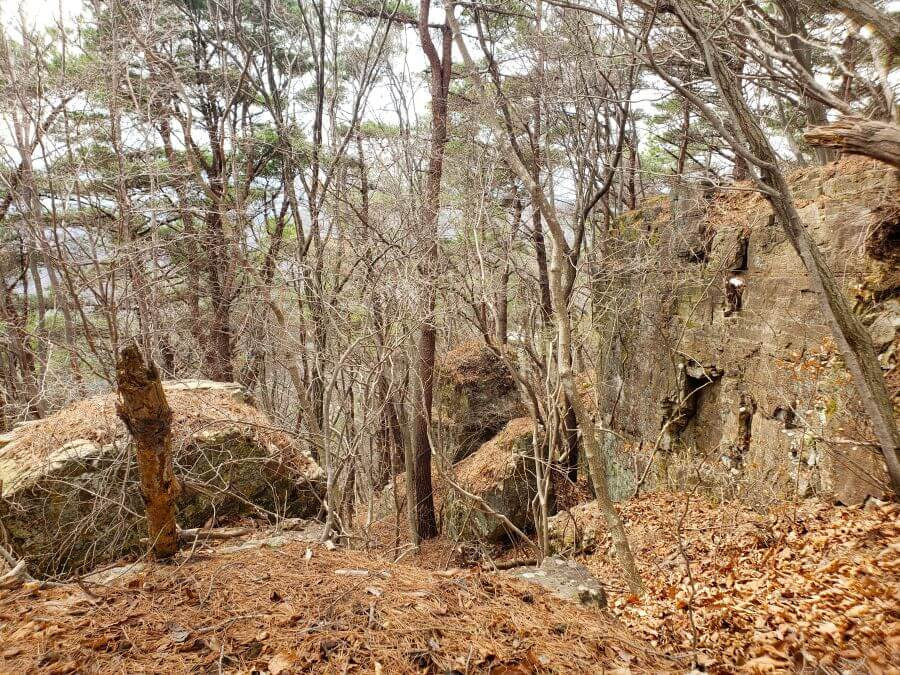 Then I heard a rustling in the dry leaves, and it spooked me thinking it could be a wild boar. But it turned out to be a pair of wild goats.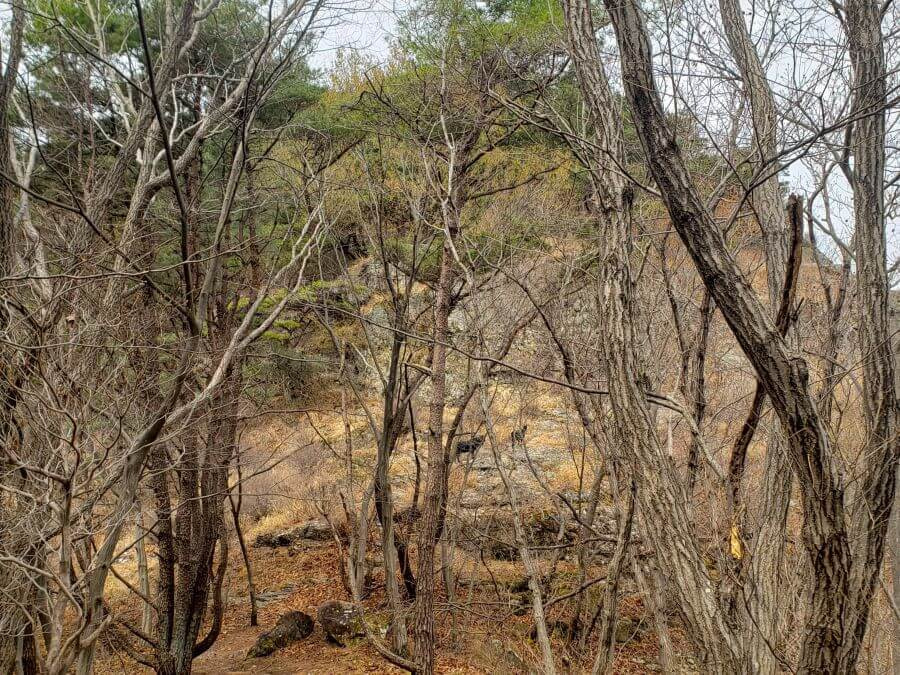 In this area I came to a signpost with a trail map.
Looking back, I could see tree-covered Guksubong where I had been a few minutes ago.
And just below me were my two new goat friends.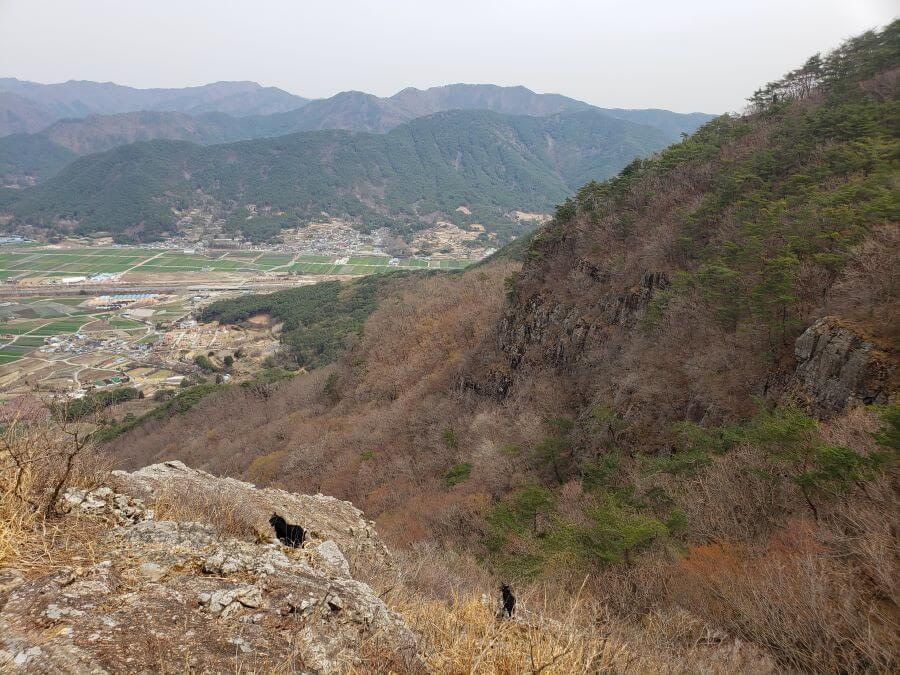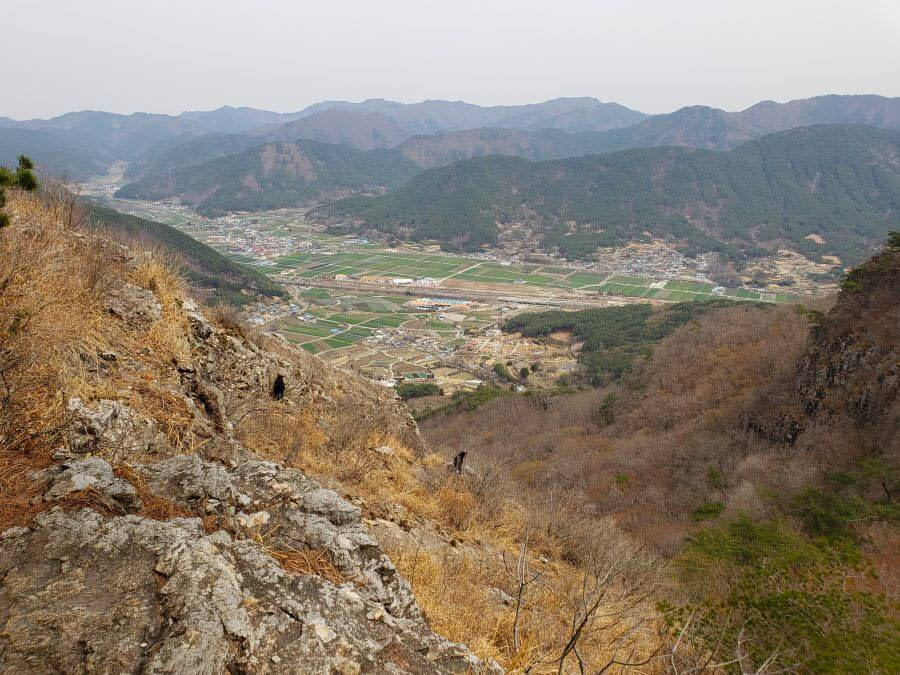 Across from the trail map were more trail markers and a leaning rock which appeared to be amusingly propped up by sticks.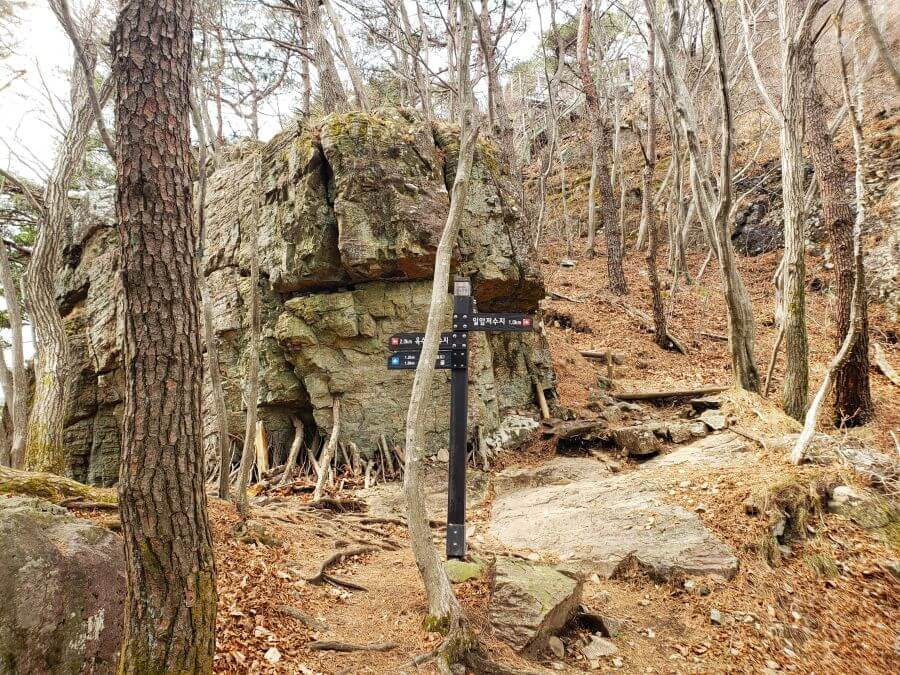 Maybe it's a tradition, or maybe just one person did this recently? I wonder how long people have put sticks here like this.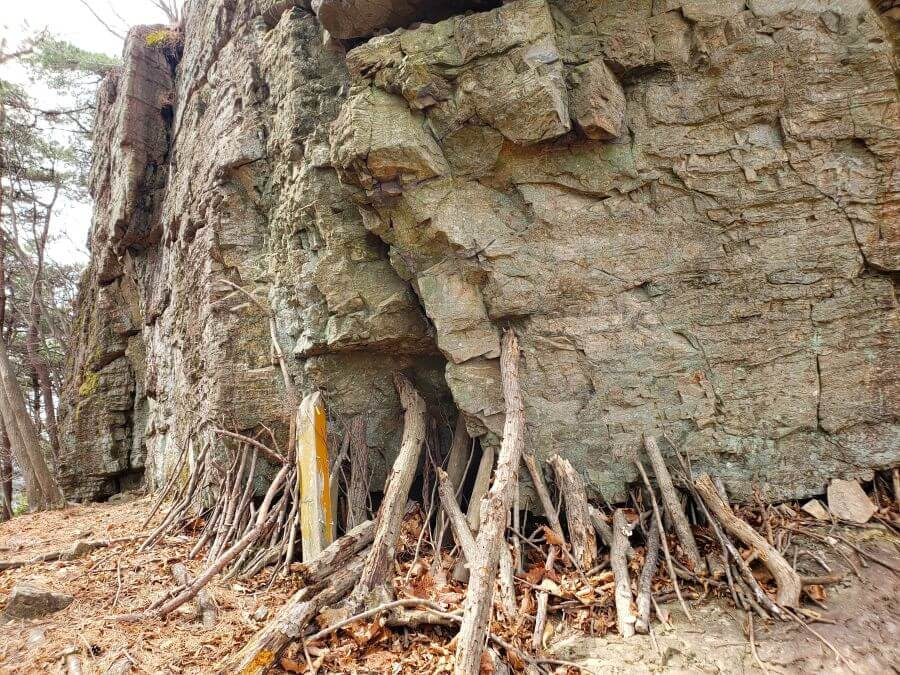 There are other interesting rock situations here.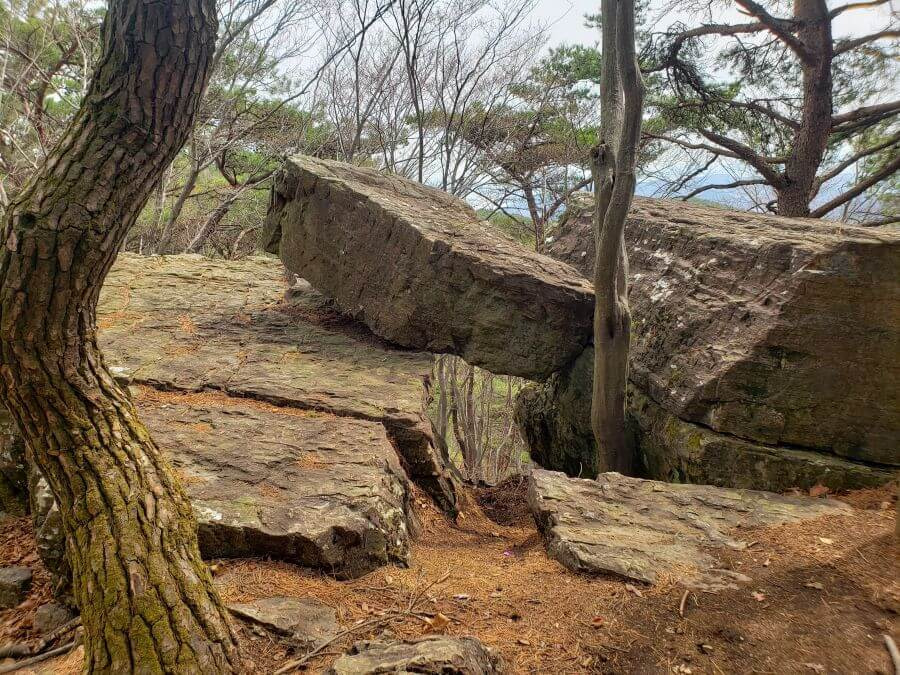 Jeokseoksan Peak
Just after a set of stairs, I arrived at the broad, sloped rock that makes up Jeokseoksan Peak.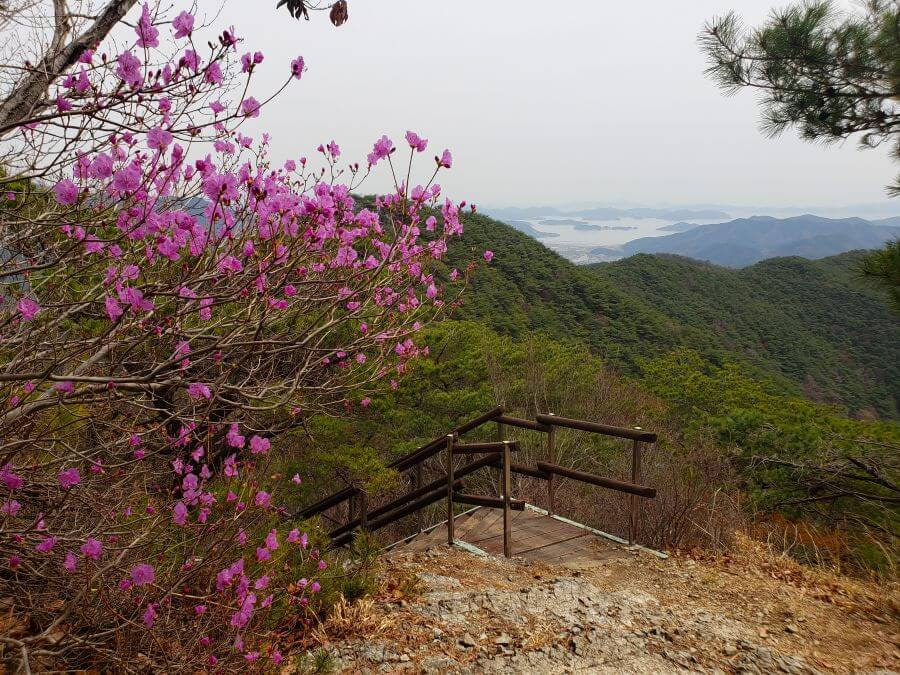 At this point, there was no real path anymore but just a freestyle up the rocky slope.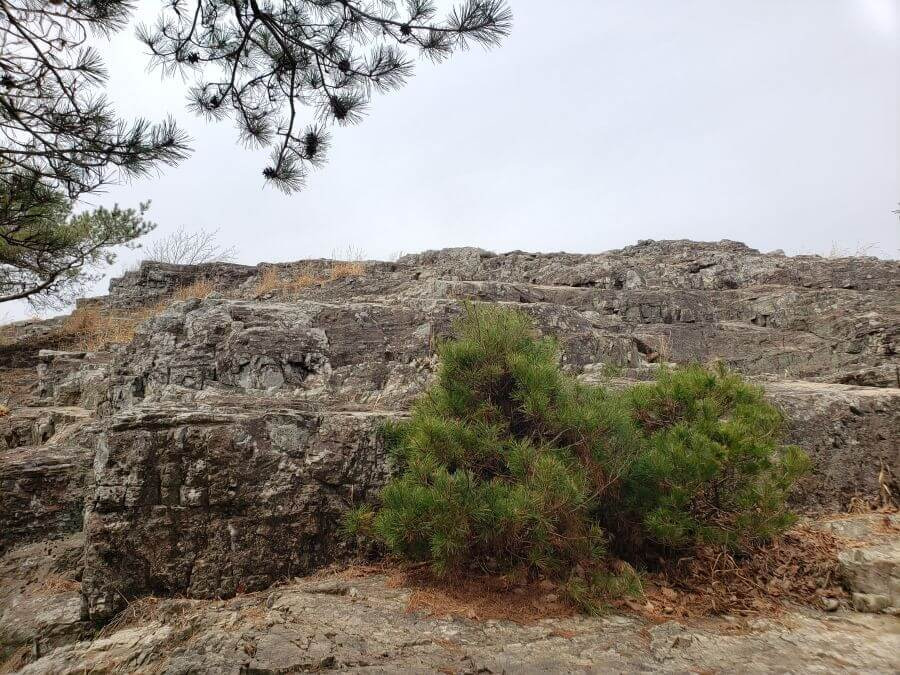 It gets windy and it feels like I really am sticking out there, because I am!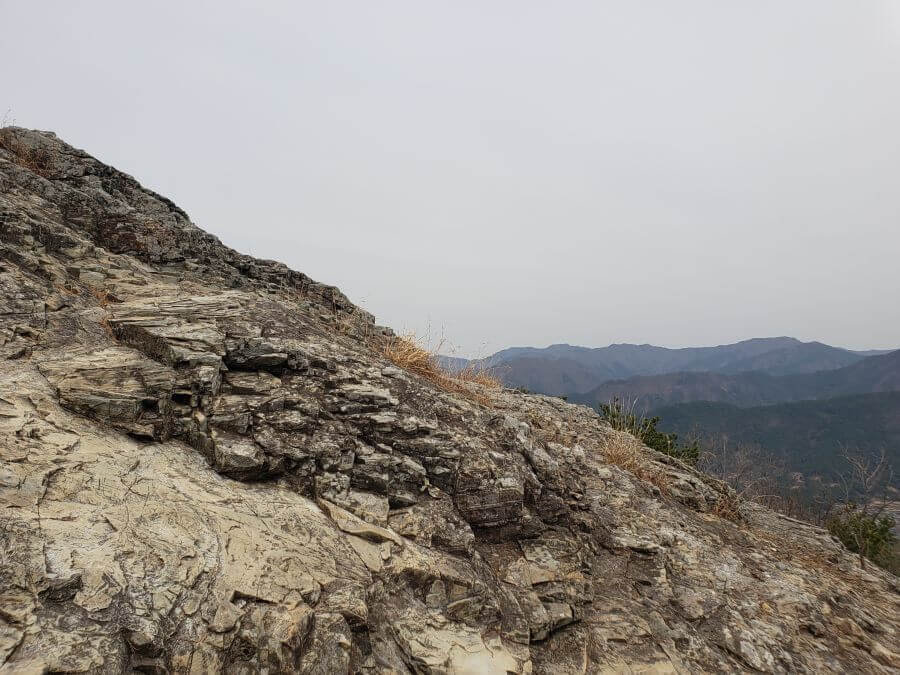 This bare, rocky slope definitely is one of the things that makes Jeokseoksan unique among the mountains I have hiked around Goseong.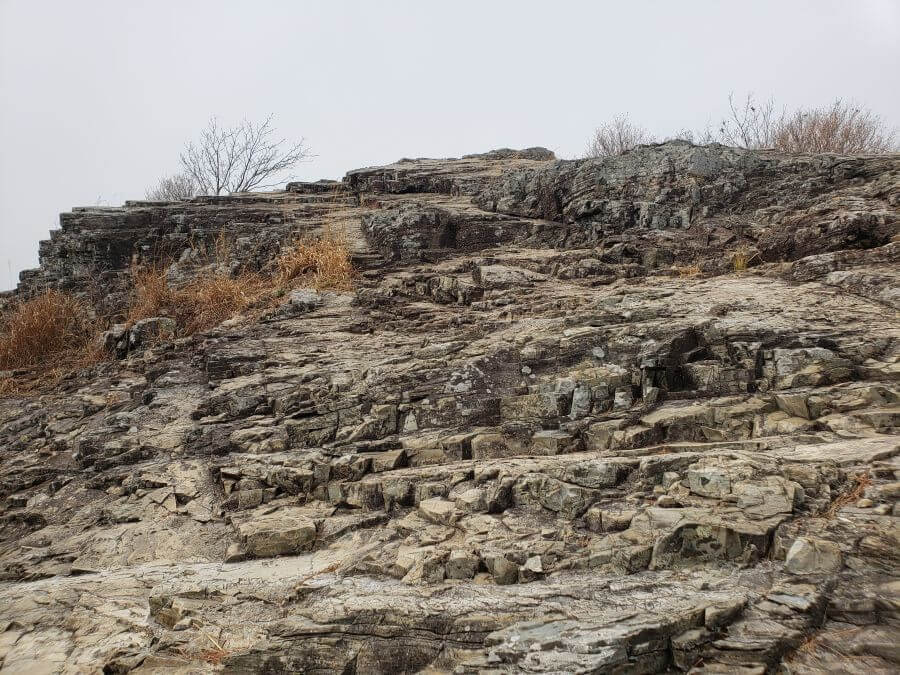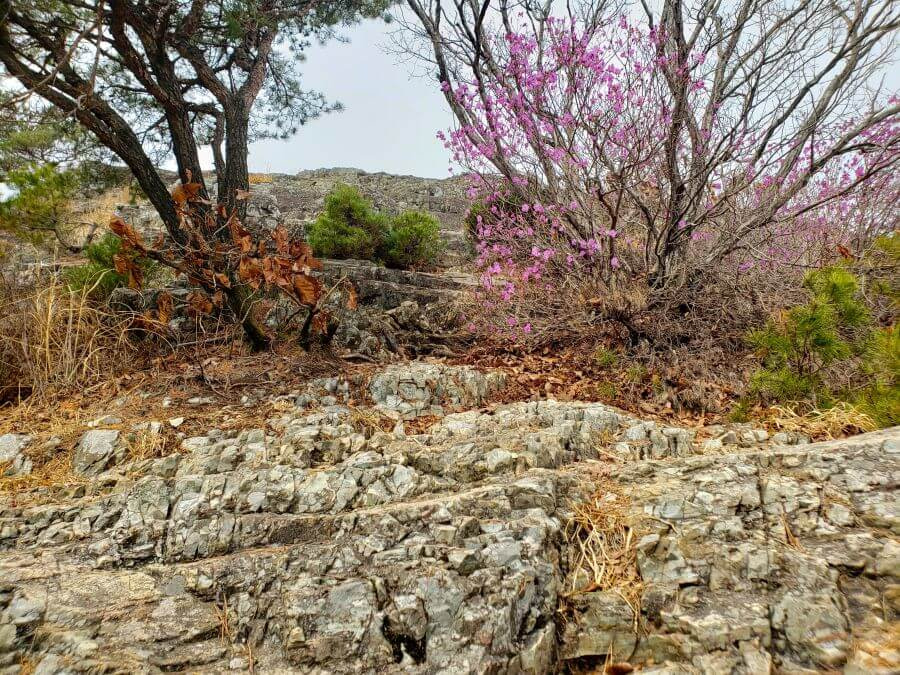 As interesting as the peak is, it is only 497 meters high, or 1,630 ft.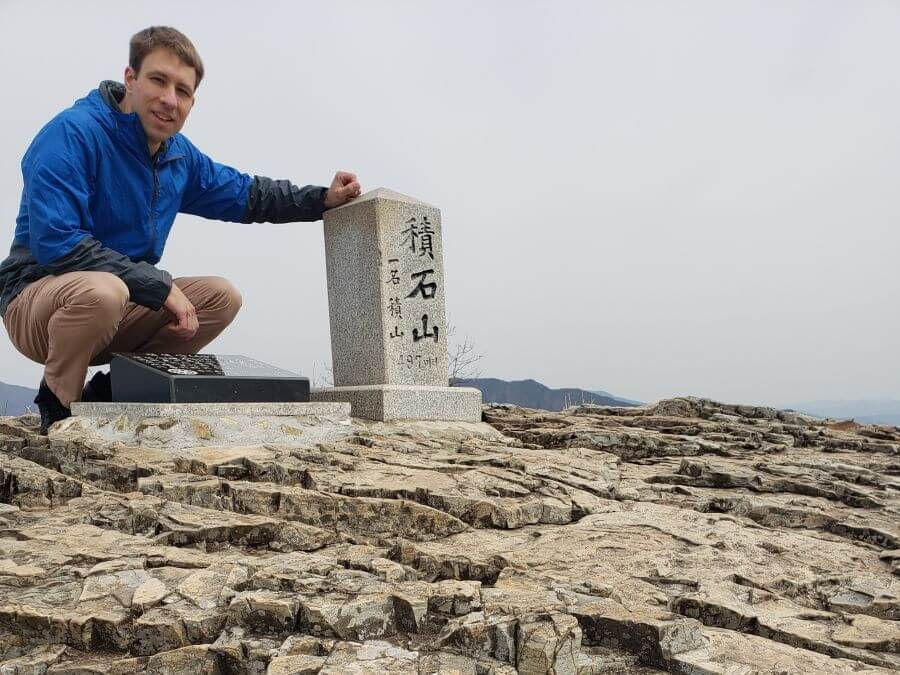 Looking in the (mostly Eastern) direction of Guksubong Peak, one can see the peninsula and islands of Geoje.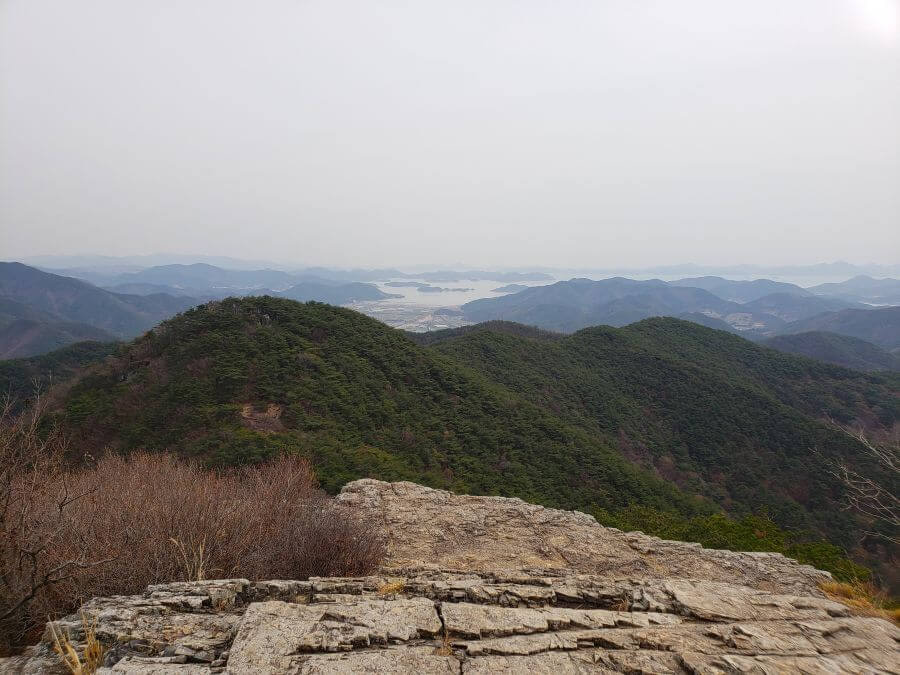 In a more southeastern direction, one can see Gujeolsan Mountain in the center back, and Georyusan to the right of that. That reservoir in the somewhat foreground is along the highway and is just before the border of Masan which is to the left.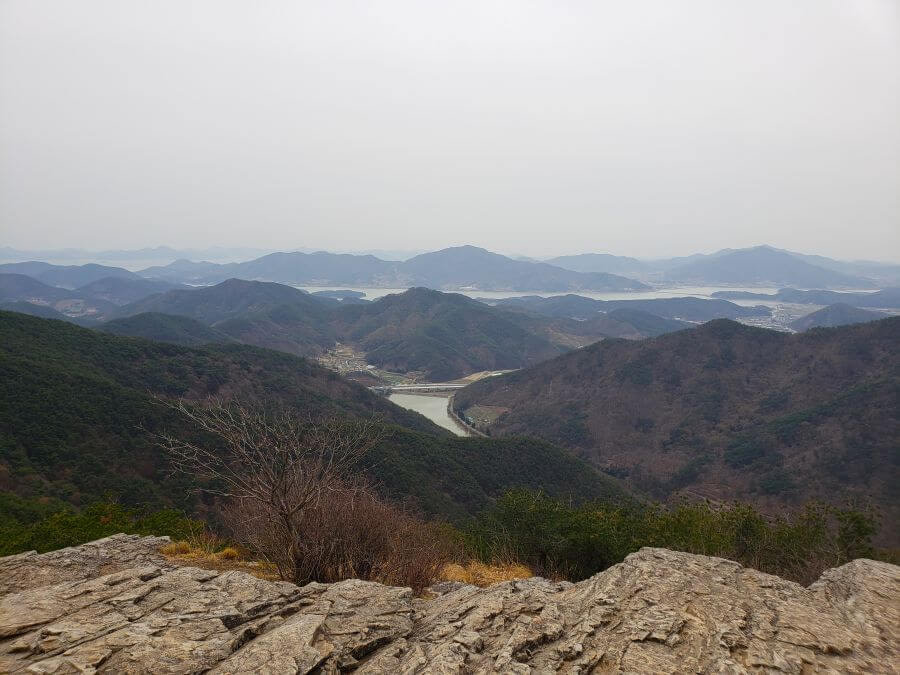 Everything in the northern direction is Masan. These are the villages of Imram-ri and Yangchon-ri.
I always think of Masan as a sprawling city compared to Goseong, so it's interesting to see the countryside fringes of Masan.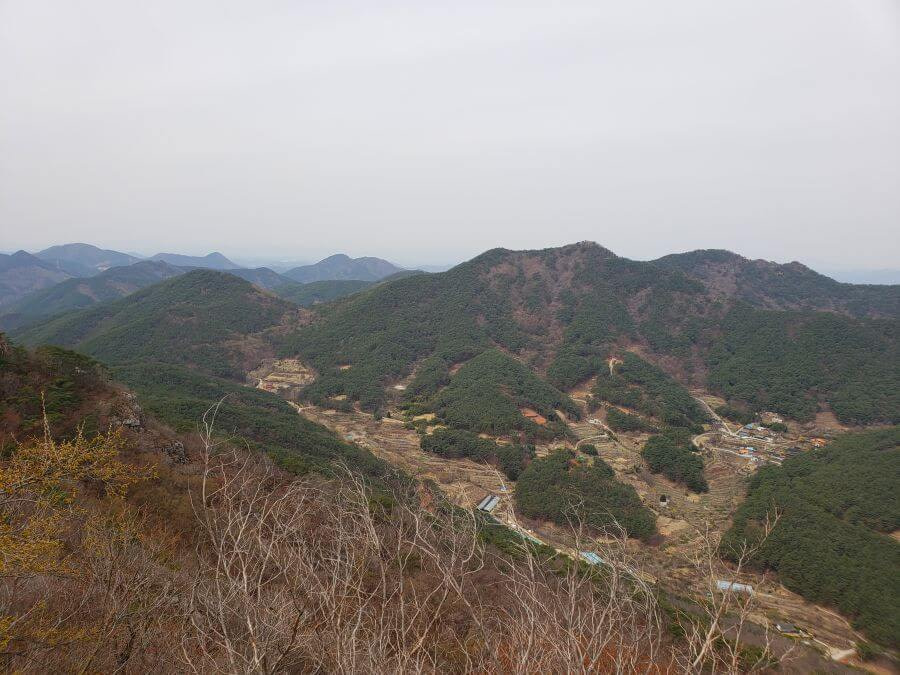 Suspension Bridge
Of course the other cool thing about Jeokseoksan Mountain is the suspension bridge.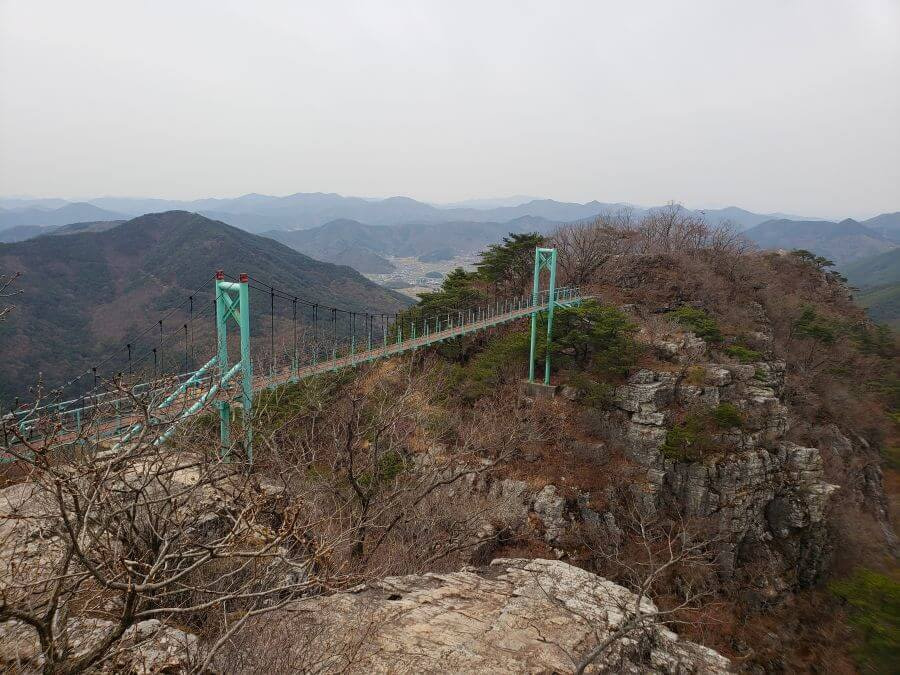 To reach it, I first had to squeeze between two rockfaces.
To be honest, I initially turned back after feeling the strong wind and the slight shakiness of the bridge. It took me by surprise as I usually love outdoor adventure stuff. But I went back to it and made myself go across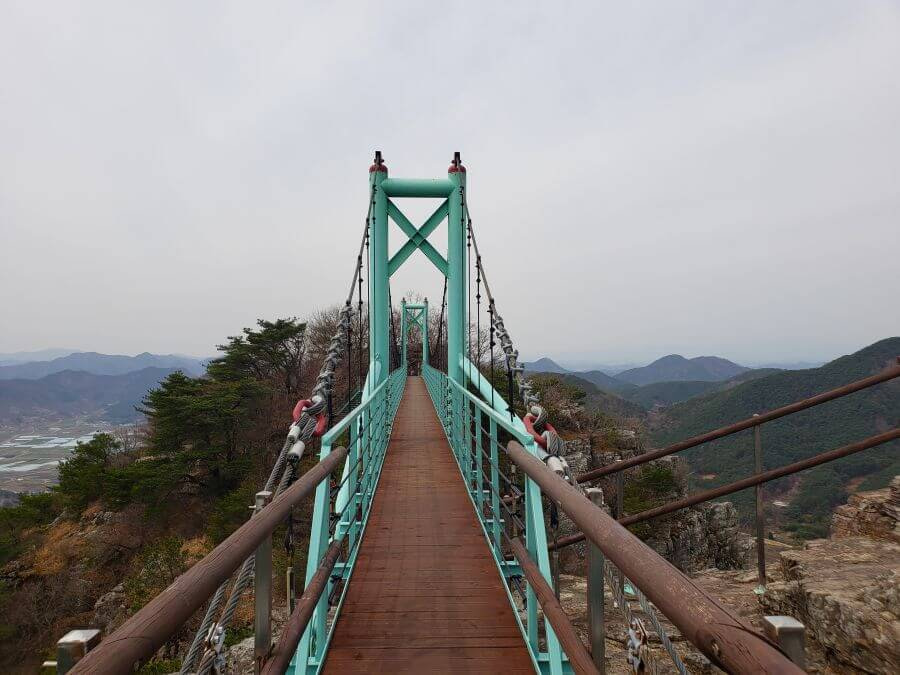 The bridge is not exactly short and there is no soft water below. The wind made it feel like I was falling, but the fear subsided after a minute.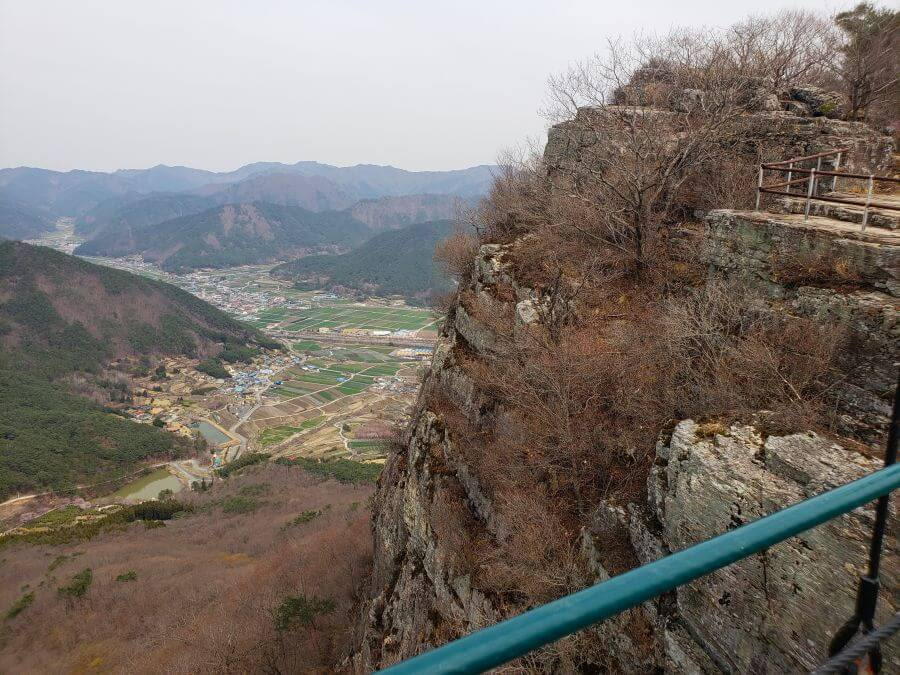 Soon after I crossed, a lady with her tiny dog went across the bridge. I'm a little surprised the dog didn't blow off the edge.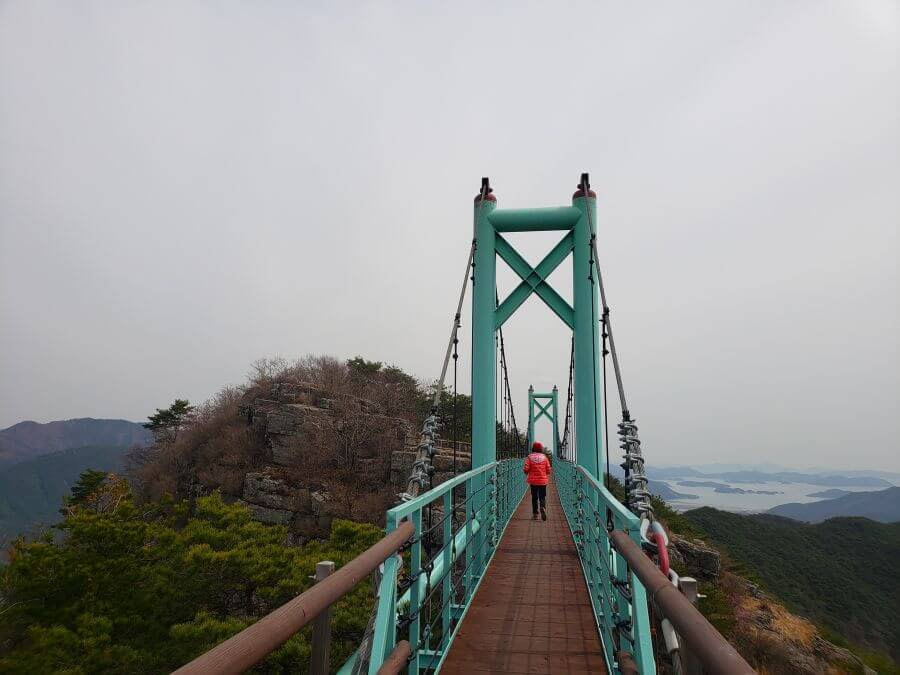 After crossing the bridge, I came to a cool little area where a group was eating on top of a rock.
Proceeding involves ducking under a rock and taking little stairs down through a kind of cave.
I explored the rocky area a bit, but that's as far as I went.
The Return
I went back a different route towards Oksuam Temple, but not before first going back through the rock cave and over the bridge, with no trepidation this time.
I took a slightly different way around the rocky peaks. One path was quite narrow along a steep cliff.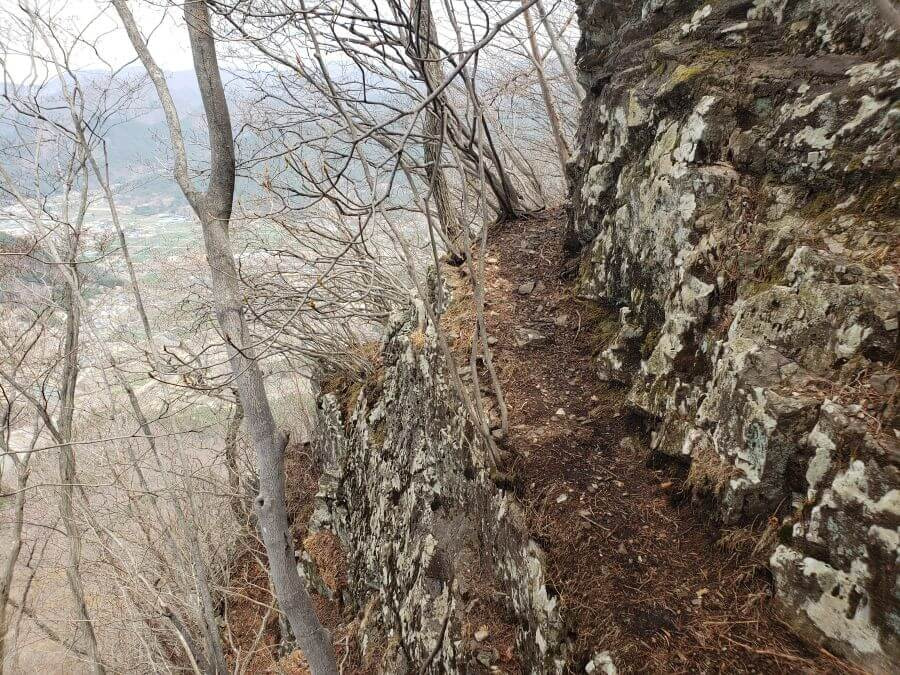 Bamboo Forest
On this return route, at 0.4 km from Jeokseoksan Peak and 0.9 km from Oksuam Temple, I came to a bamboo forest.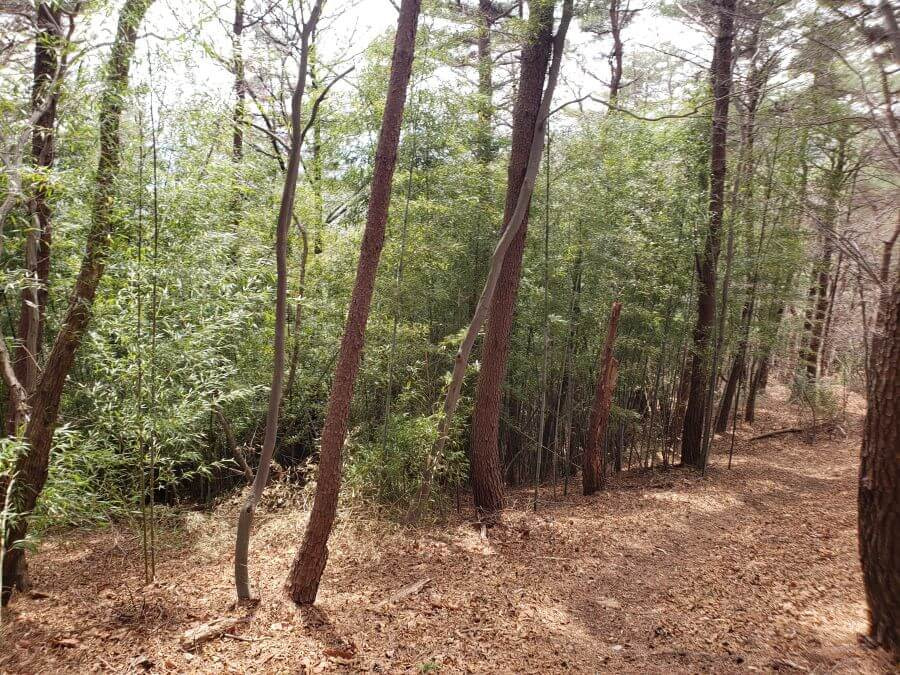 It's always nice to stroll through a peaceful bamboo forest. The phytoncides emitted by the bamboo are supposed to have healing properties. Another bamboo forest is in Goseong's Namsan Park.