Address: 544, Yeonhwasan 1-ro, Gaecheon-myeon, Goseong-gun, Gyeongsangnam-do
Yeonhwasan Provincial Park contains several peaks in a scenic, rural area. There are dinosaur footprints, caves, forests, a famous temple, and hiking trails.
There are 3 main mountain peaks, which are not too high and more like foresty hills. If you only have a day or two to spend here, you may wonder how to spend your time. I will share my experience at each of the 3 peaks (in the order I visited) and some other areas. I did not go to them all on the same day.
Skip to Peak #2 if you want to jump to my favorite hike (but most dangerous) in Yeonhwasan Provincial Park.
Neujaegogae – A Central Starting Point
Neujaegogae is not a peak to climb but it is a central location in the park and the starting point I used for some of the hikes. The main parking lot of the park is a few kilometers away, so some people also park on the side of the road at Neujaegogae.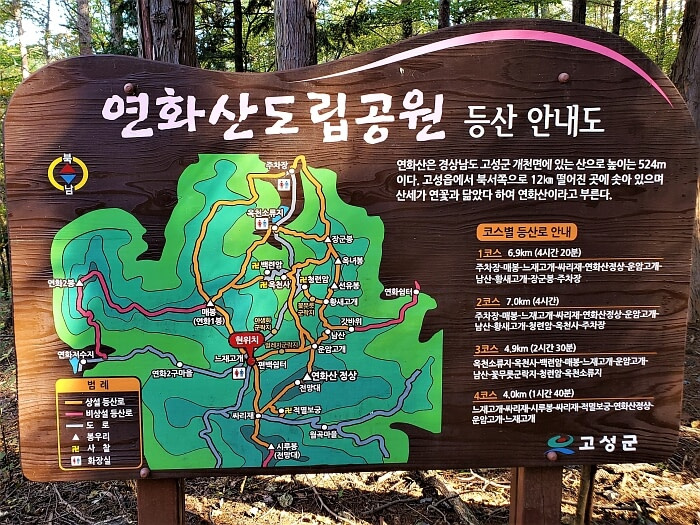 Neujaegogae is a "forest bathing" area of cypress trees and wooden beds.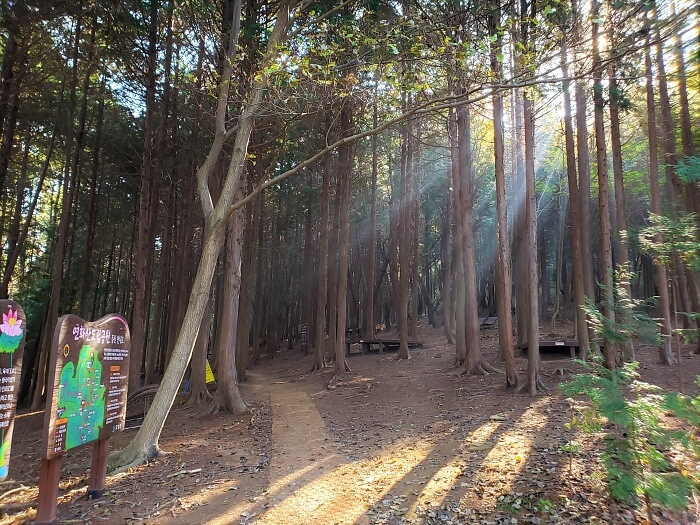 It is just off the side of the road.
Peak 3 (Yeonhwasan Peak)
The highest mountain peak at Yeonhwasan Provincial Park is only 524m high and seems to be referred to as simply Yeonhwasan Peak.
I parked at Neujaegogae, the forest bathing area in cypress trees. Trail signs point to Yeonhwasan Peak being 1.24km away if you take a route to the right in the direction of Siru Peak, or 1.03km away if you take the route to the left in the direction of Namsan Peak. I chose the slightly longer route, and I recommend it if you'd like to add on a side hike to check out the rock near Siru Peak.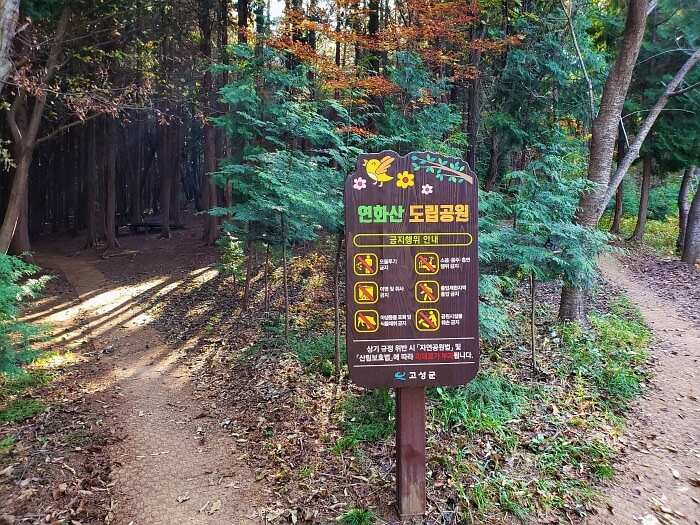 I passed by some interesting wood carvings.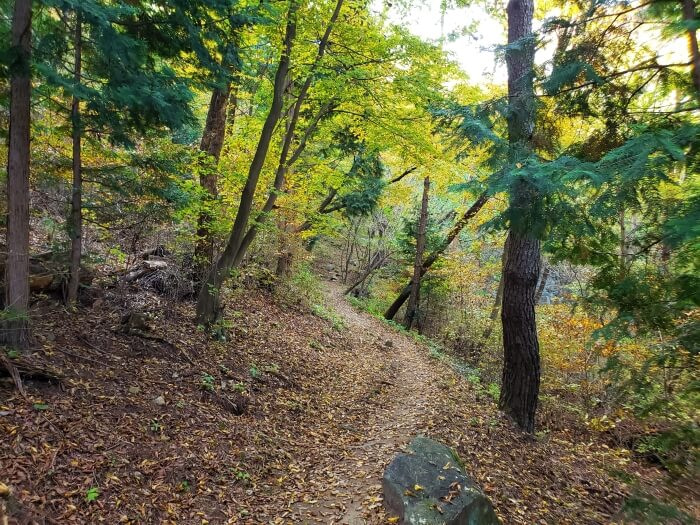 Before long I passed another little trailhead and parking area called Wolgok Ssalijae. This is where you could branch off 1km to Siru Peak if you want. For now we'll keep on towards the main peak 0.6km away.
I did this hike on November 3, 2021, and enjoyed some colorful autumn leaves during the hike.
There were not many open, clear viewing areas until just before the peak, where a bunch of rocks were stacked to form a little wall and a pagoda.
The buildings in the middle of the valley are Okcheonsa Temple. The clearings beyond the mountain are ploughed rice fields from Gaecheon I believe, another village in Goseong.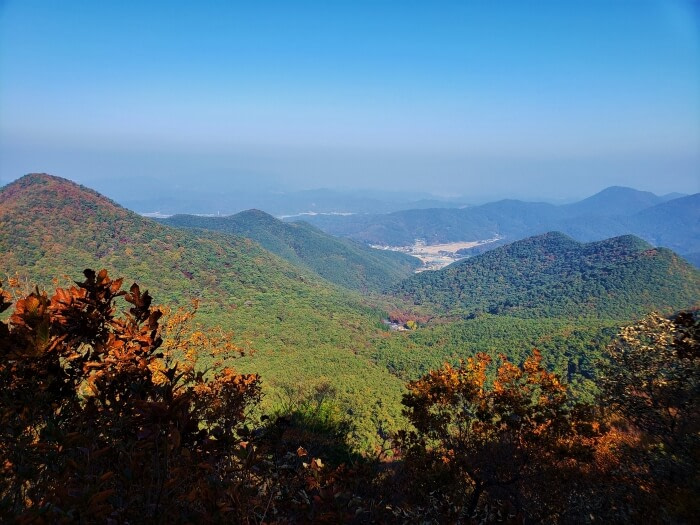 The hike was not difficult or far. Although the peak is 524m high, my starting point at Neujaegogae is already around 300m in elevation.
So I had plenty of energy to continue hiking, but my phone was dying (it's an old phone now) and I had to get back.
On the way back near Wolgok Ssalijae I just took a few steps towards Jeogmyeol Bogong and found some rocks overlooking the "enemy palace" temple.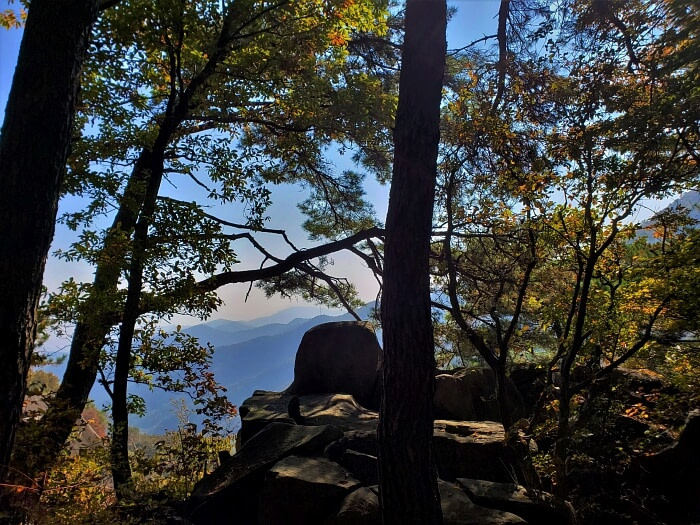 Peak 1
I came back to Yeonhwasan Provincial Park one week after hiking the main peak. I started again from Neujaegogae, so I was already up around 300 meters in elevation. But this time I hiked to Peak 1, which was only 0.7km away.
The trail began with a bed of pine needles covering the ground.
I found this little circular hole in the ground. Could be a well but who knows.
To be honest, this approach was a relatively boring hike, as much of it is just straight up the side of a mountain. It was a pretty linear incline, so there was not much leveling off or dips.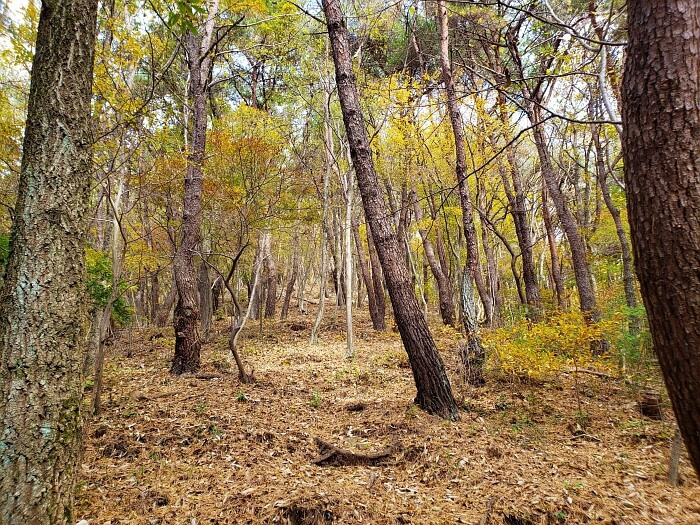 I did come across this interesting piece of wood.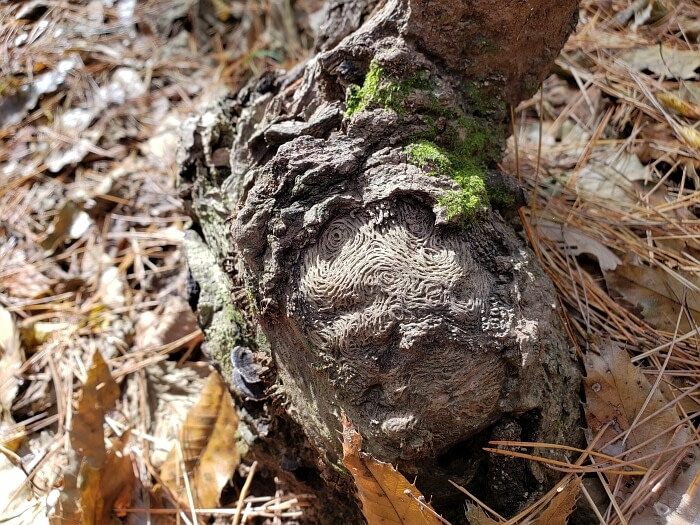 Close to the peak I came to some larger rocks and a ridge.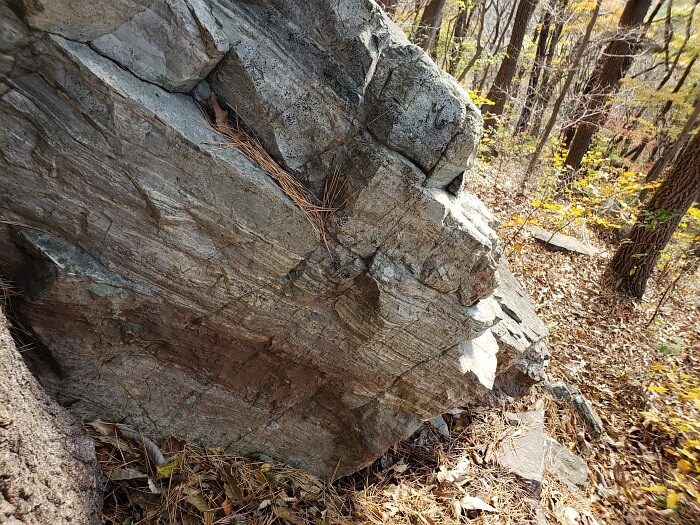 When I arrived at Yeonhwasan Peak 1, it was terribly windy and cold. The view at the immediate area was partially obstructed by various trees.
To get a more panoramic view at the peak, I found a little area just below the peak in the direction of 백련암. I suppose the town in this view is also Gaecheon-myeon.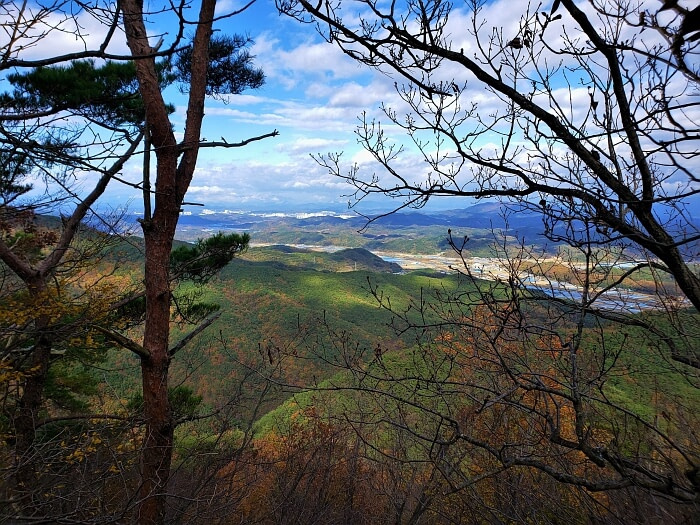 Note that this is a dangerous area as the rock juts out high over the ground below.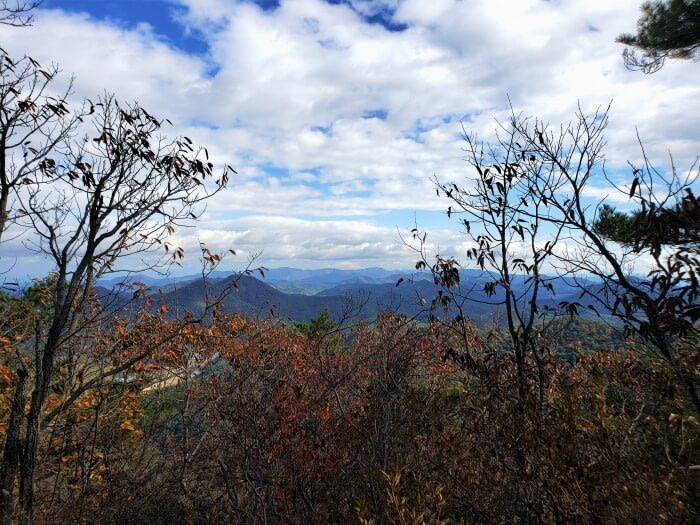 It would have been great to continue on 1.74km further to Peak 2 from here at Peak 1, but again, time and my phone battery wouldn't allow it. I found the trail markers here to be confusing, and the paths being covered in leaves didn't help. But I eventually went down in the direction of 백련암 to get back to the main parking lot.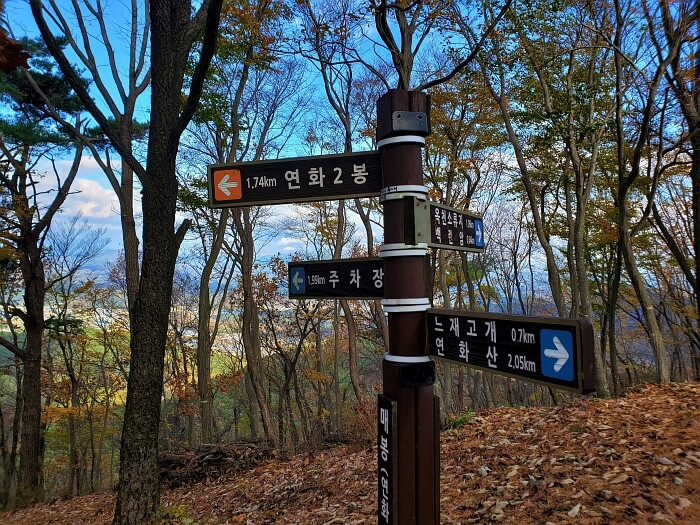 On my way down, I found this yellow insect with red legs on a tree trunk, and some kind of strange blobs behind it.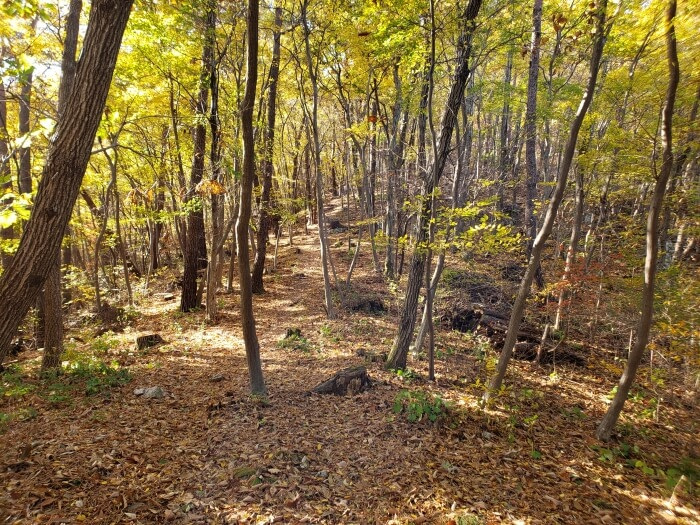 This trail ended at a little bathroom building along a stream. The parking lot was just down the road, and on my way I went through a little landscaped area with a lily pond. I am sure it would look nicer in the warmer weather with more flowers and vegetation.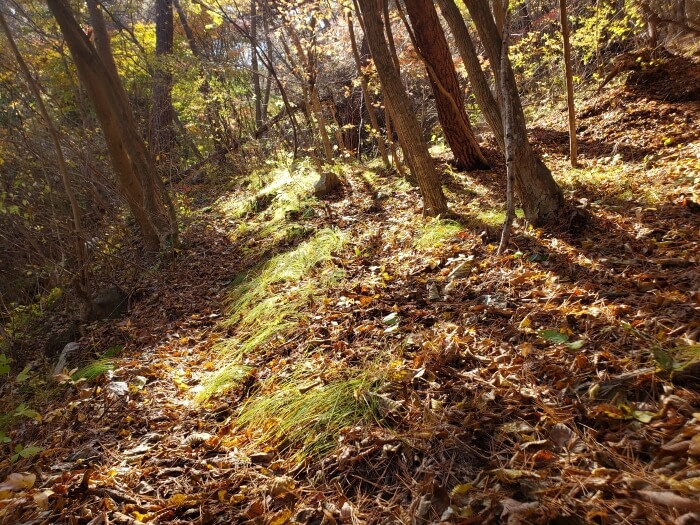 Peak 2
Two days after Peak 1, I returned to Yeonhwasan Provincial Park to go to Peak 2. I chose the most direct way that I knew of to go to Peak 2. It is just 0.7km from a trailhead along the road at around 150m elevation. It is just down the road from a reservoir.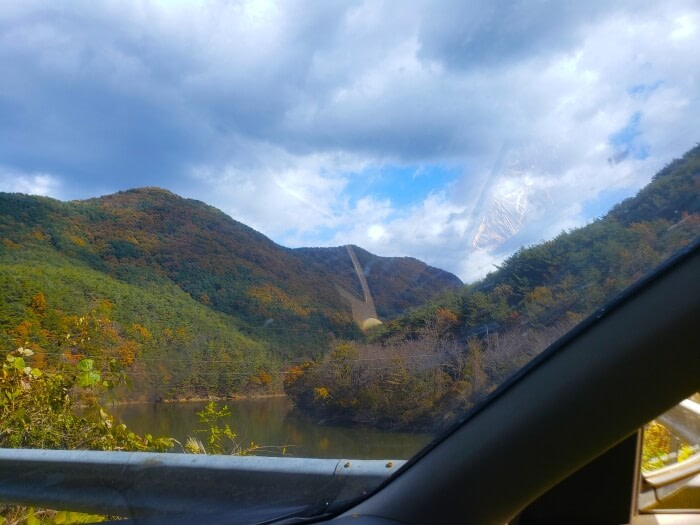 I would have liked to come here from Peak 1, but actually I'm glad I took this way because otherwise, I may not have found one of my favorite places in Yeonhwasan Provincial Park.
From the start, it was a nice view of the small peaks and ridges covered in autumn colors illuminated by the morning sunrise.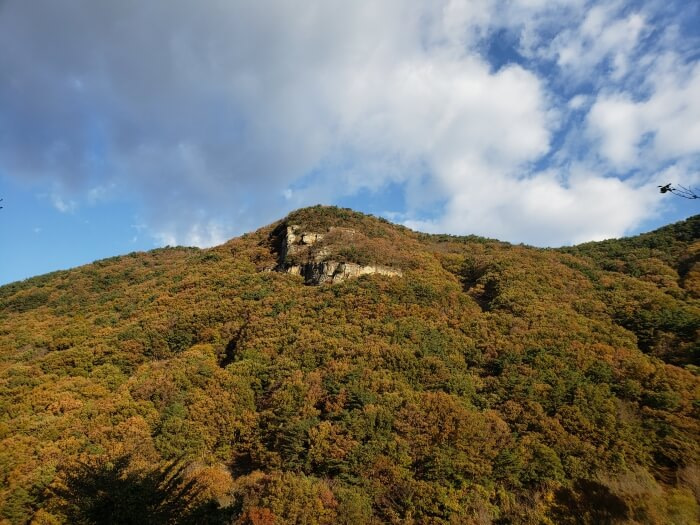 I crossed a little waterway and passed through an area of grape vines before entering the mountain. It was early enough in the morning that the dew was still frozen in some areas.
The beginning of the ascent up the mountain is very rocky, and the fallen leaves made it tricky to follow the trail sometimes. I was able to navigate by looking for little stone pagodas that someone set up along the trail. Basically, the trail goes up a rocky crevice, so if you lose the trail, just follow the middle of the ravine filled with rocks. I crossed over the crevice a couple times.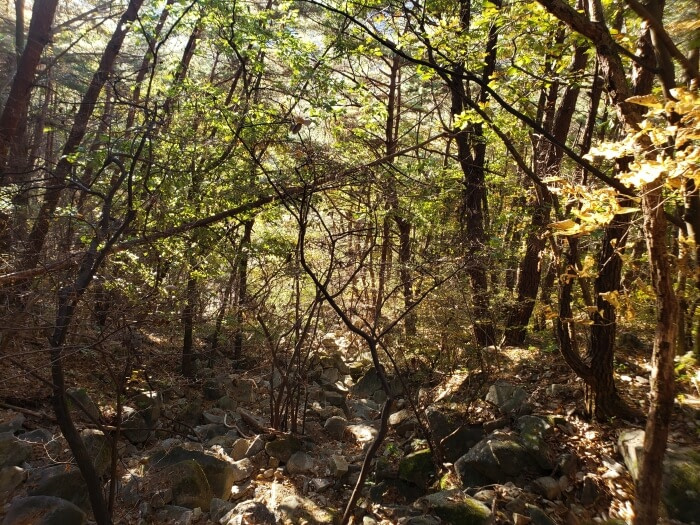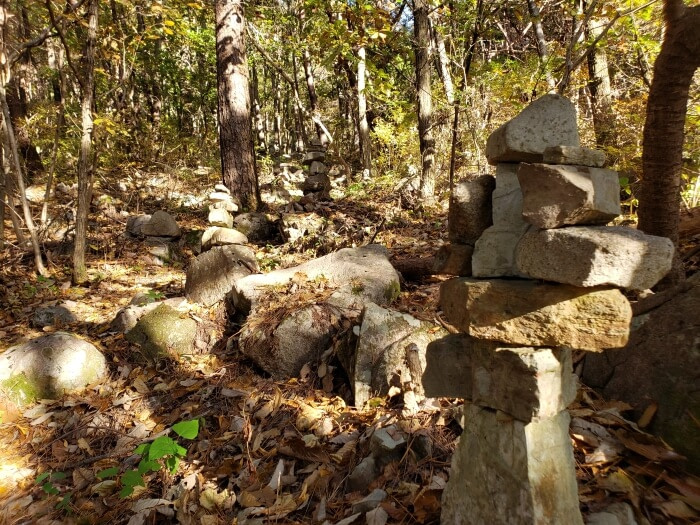 Rocks of all sizes obstruct the climb to make for a more wild kind of experience.
Note
Care does have to be taken in case of wobbly rocks and slippery leaves. The official trail is basically obstructed by the rocks for the early to middle portion of the hike, so please understand this is just my account, and it is a dangerous route for you to take.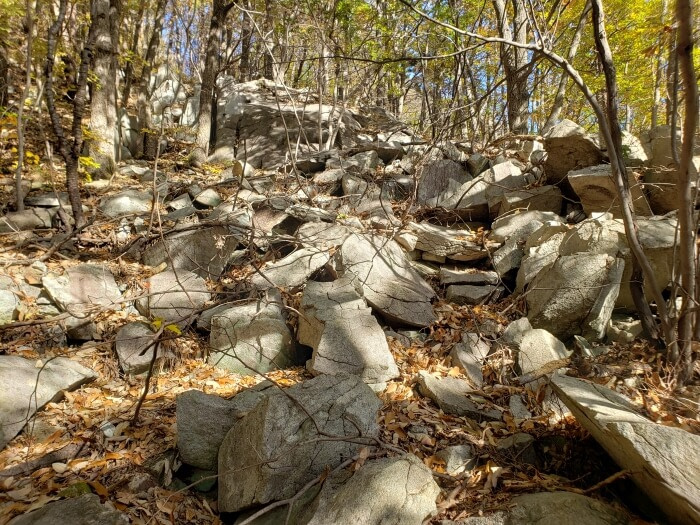 At the top of the rocky ravine/crevice is a more normal dirt trail that is easier to follow. Dashing across rocks like a wild ape was fun, but tiring, so I was very glad to see the trail and markers.
Turn right when approaching the sign. Although the sign is labeled for Peak 1, it's also the direction for Peak 2. Turning left leads to the reservoir 0.5km away.
Peeking inside some of the large cave-like rocks, they were so cracked that they appeared they might crumble anytime. I think that's why I only have a single blurry picture, because I wanted to get out quickly.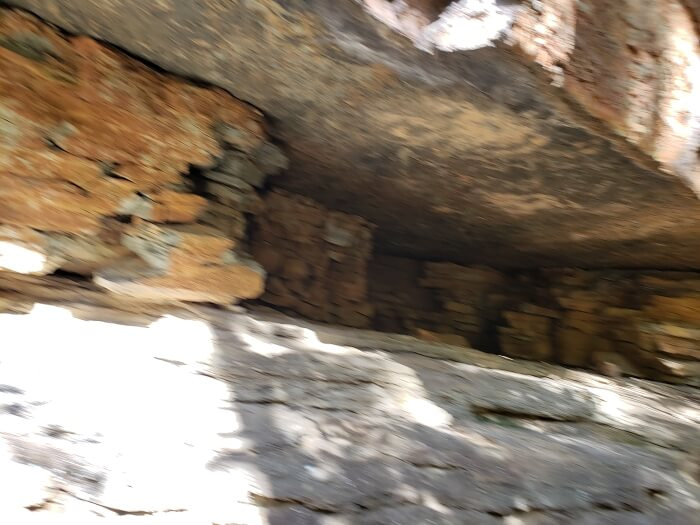 I also found some kind of man-made circular depression here with some remnant rock walls.
As I kept going, I found increasingly more and more stacks of rocks or pagodas.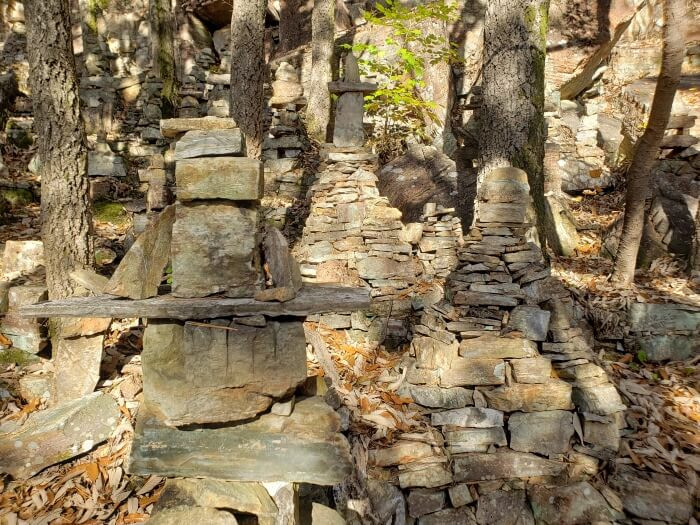 I came to an area full of these rocks structures. Koreans apparently build these as a way of making a wish.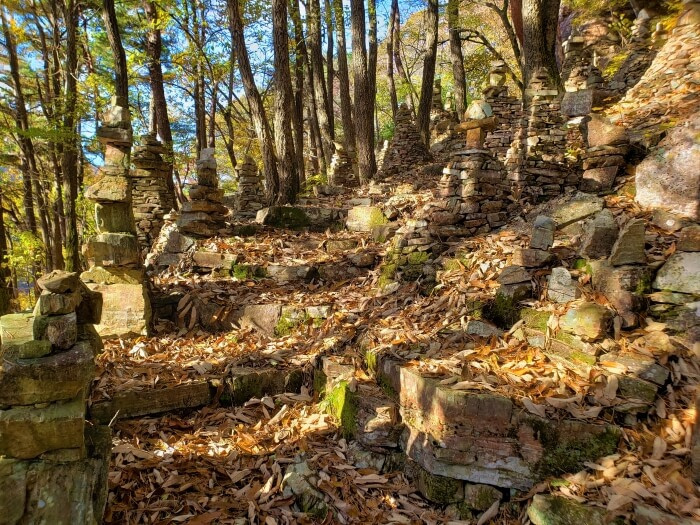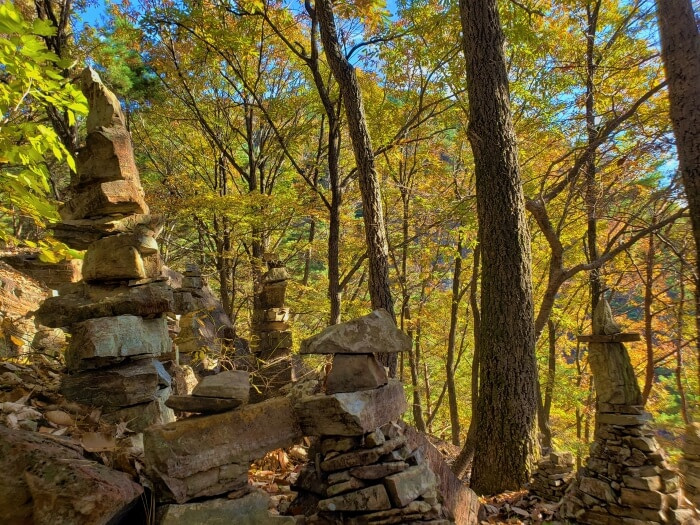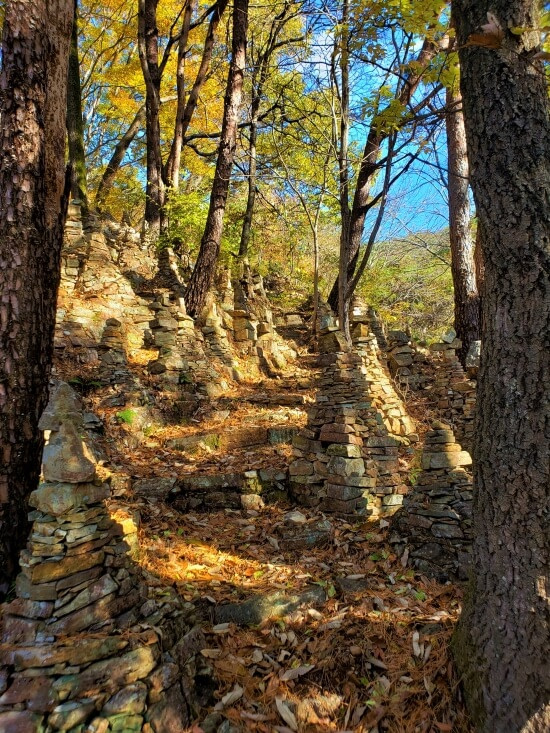 Cave House
It is here on my way to Peak #2 that I discovered what is apparently some kind of shelter in a cave. There was a tent inside. The area is complete with an entrance marked by more of the stacked rocks. It felt so much like someone's home, up on this mountainside, that I felt the urge to knock. It was the most mystical feeling. I felt like I was walking into a home built by elves or mountain gnomes or something.
I approached slowly and quietly to make sure no one was there. I took more pictures of the scraps and supplies and stuff in the yard, but I am not posting those.
It is also here at Yeonhwasan Provincial Park in Goseong that I found a lizard! This is one of only three times I can remember seeing a lizard in the wild in Korea. For the sake of my record keeping: Other times include a lizard on a country road along a river across from our village, and another was around the bushes along a sidewalk.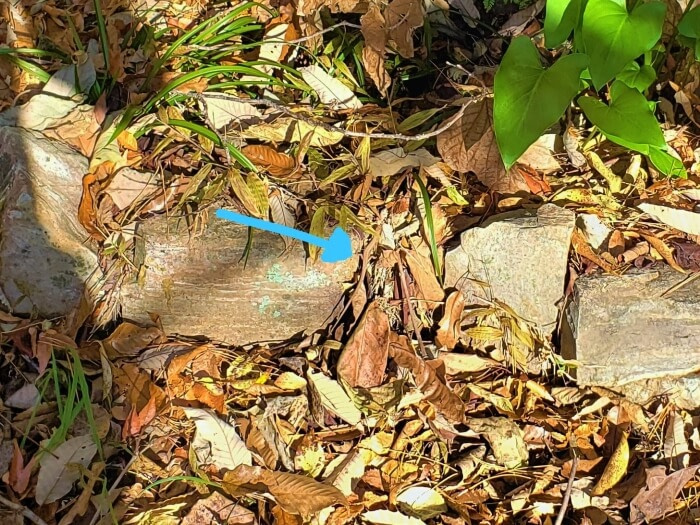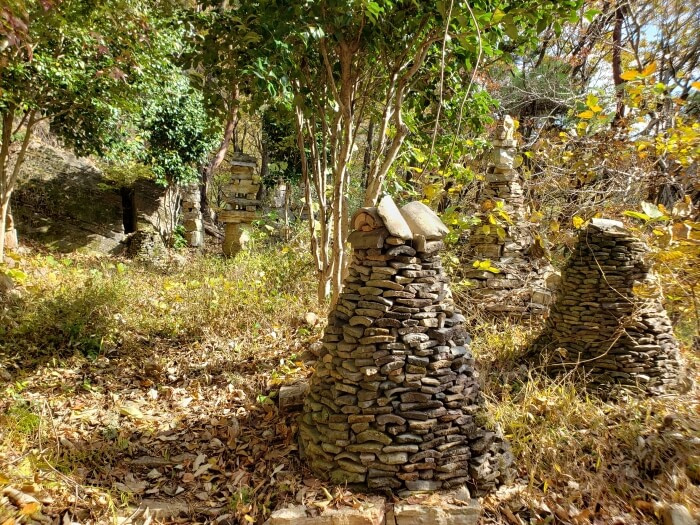 What makes this area also so cool is the huge leaning rocks around the caves.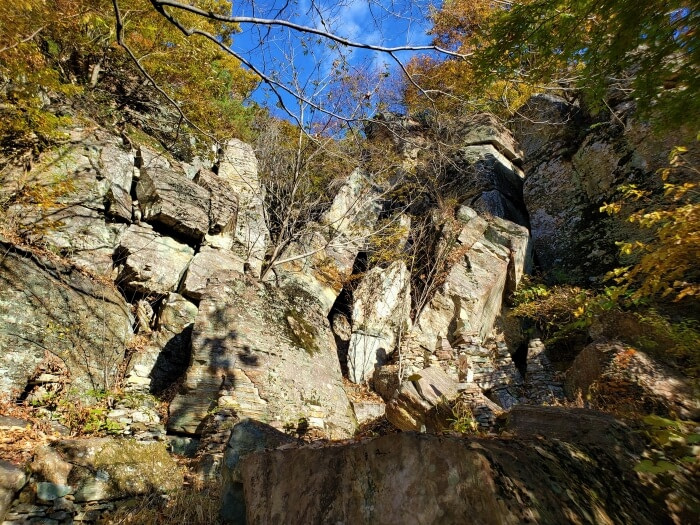 They had apparently been upright originally, and they have fallen to form another cave (different than the one with the tent).
Of course, I had to climb down to look inside.
I found some kind of metal box on some altars that seemed to be used for prayer of some form.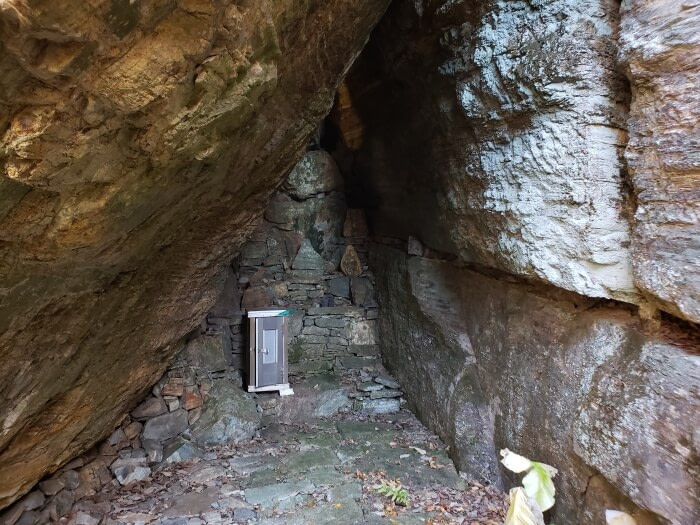 So that was interesting. I found some nice moss too.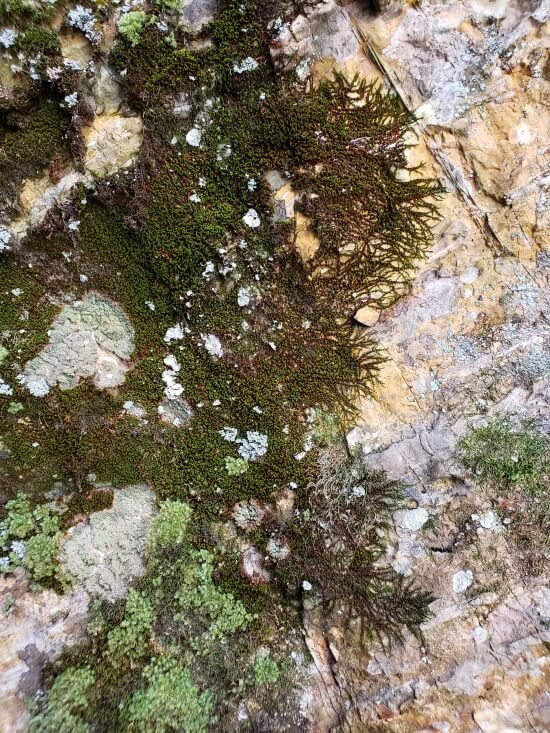 Perhaps this photo shows a size reference.
I climbed over the rocks and felt like a member of the Fellowship of the Ring.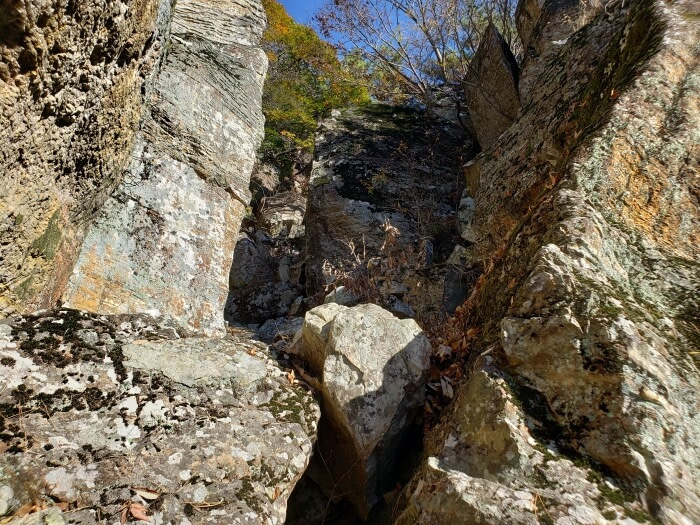 Climbing to the top of these rocks presents a nice place to sit and look out at the view.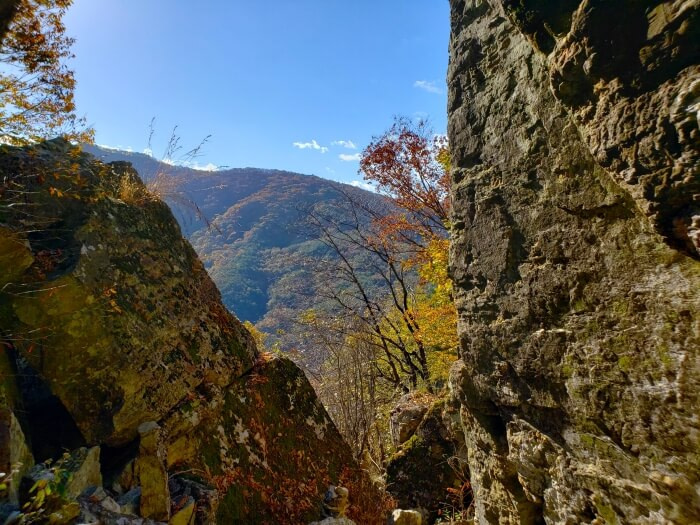 Or what looks like parkour when you just miss the 10 second timer.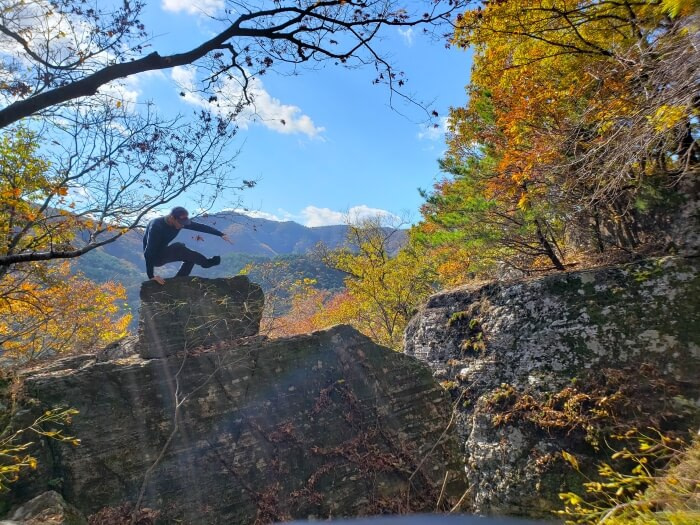 Around the corner is this rock sandwiched between two other rocks.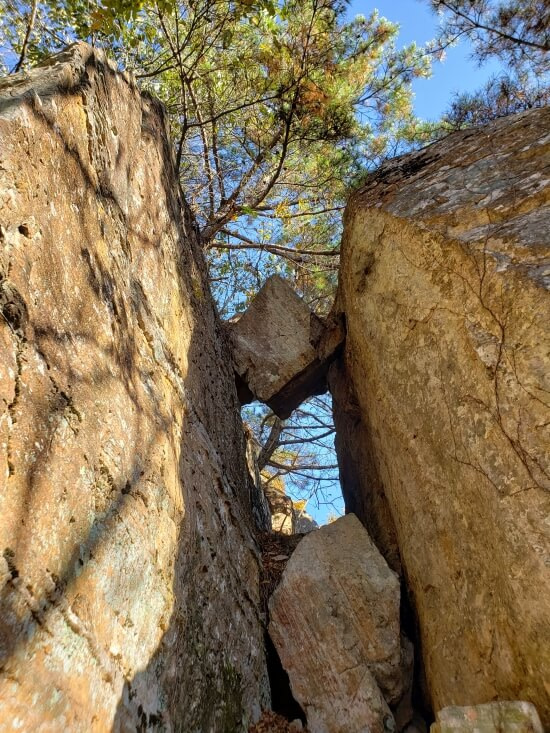 I love the way the trees grow over the rocks and cliffs here.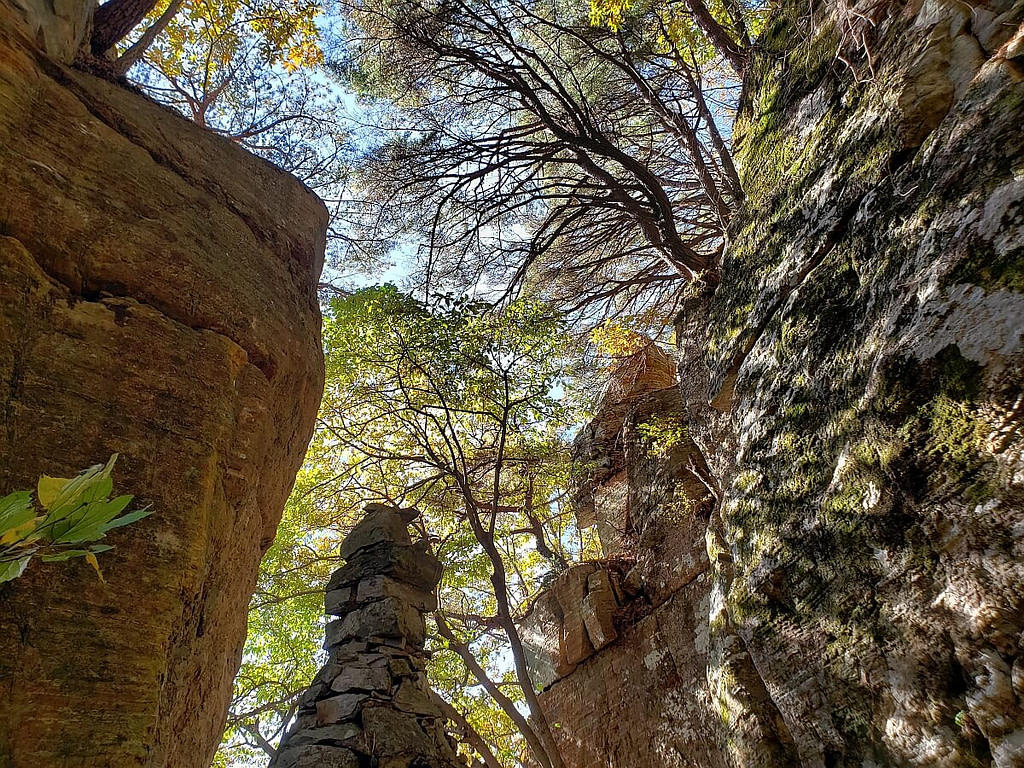 I think the fall is a perfect time to come to Yeonhwasan Provincial Park when it is not too hot and the trees are nice and colorful.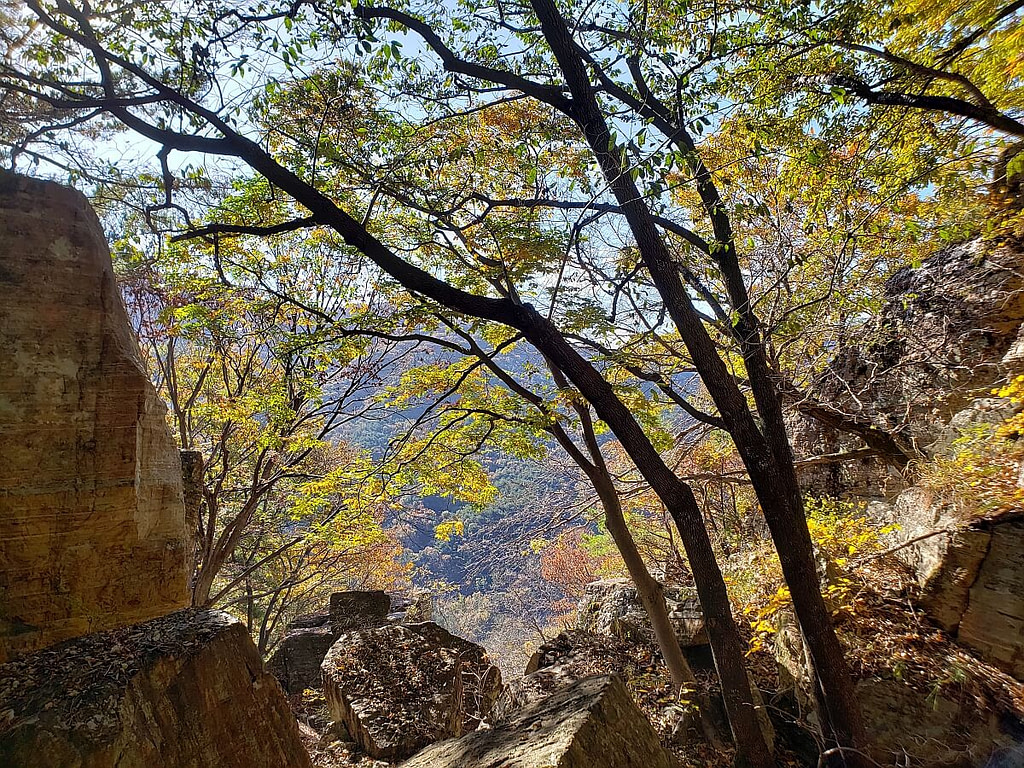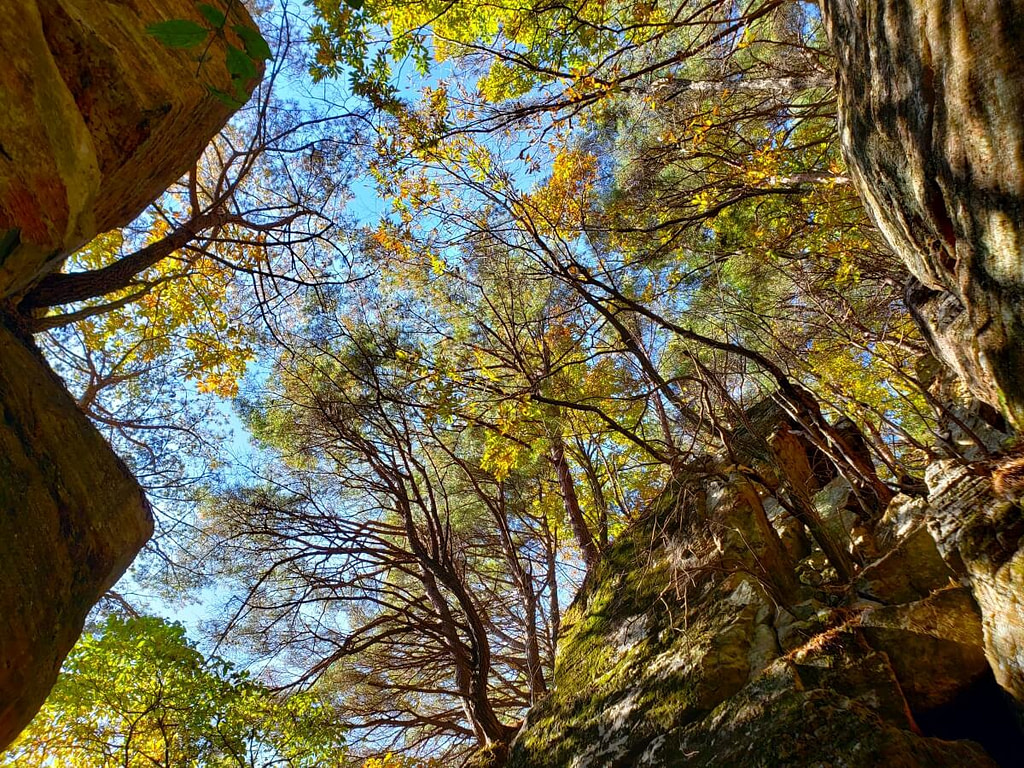 In this area between the cliffs were some stone stairs.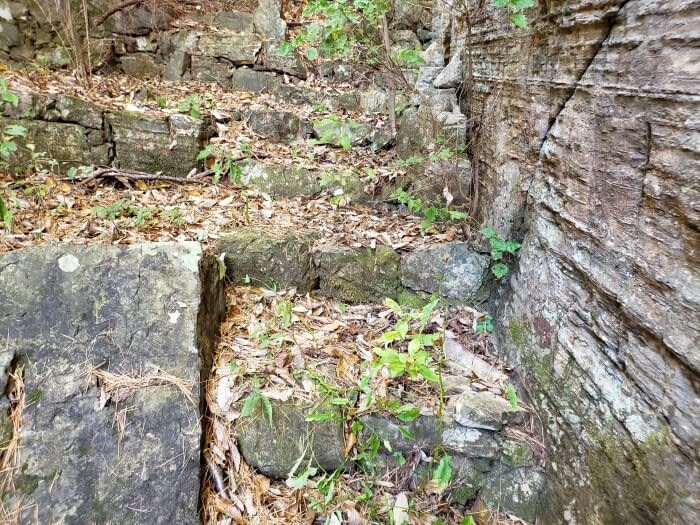 After proceeding through the rocky area and beyond a grassy area, I came to a beacon area.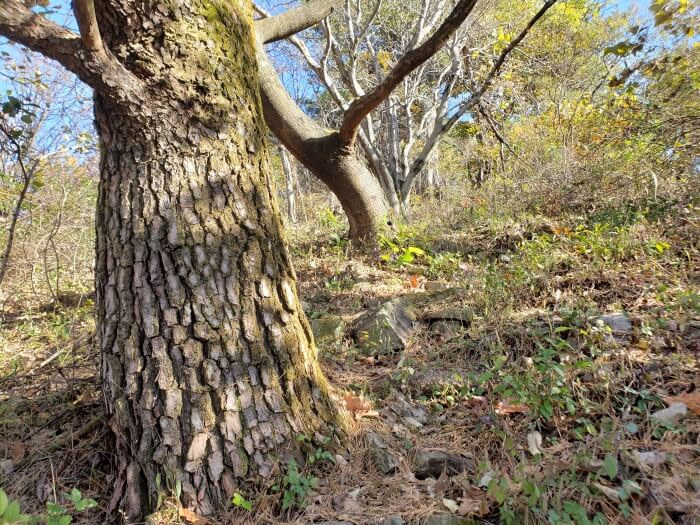 There was not much between the beacon and the actual Peak #2 as far as wide open landscape views. The above discoveries along the way made it a super interesting hike, however.
A conifer with multiple trunks was about the only notable landmark at the actual Peak #2 next to the trail markers. Again, this was my favorite hike at Yeonhwasan Provincial Park.
Siru Peak
Not too far from Nuejaegogae is a little trailhead area (also accessible by a small road) called Wolgok Ssalijae. From Wolgok Ssalijae, Siru Peak is 0.9km away and Yeonhwasan Peak is 0.5 km away.
There was nothing very interesting on the way up, just some large rocks a little before the peak.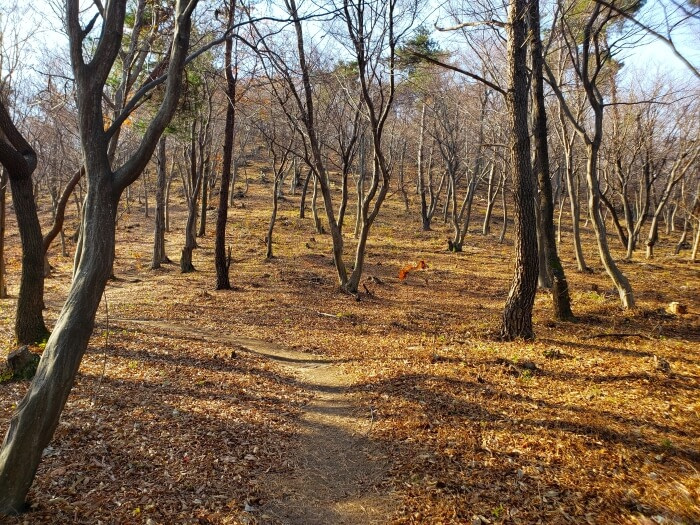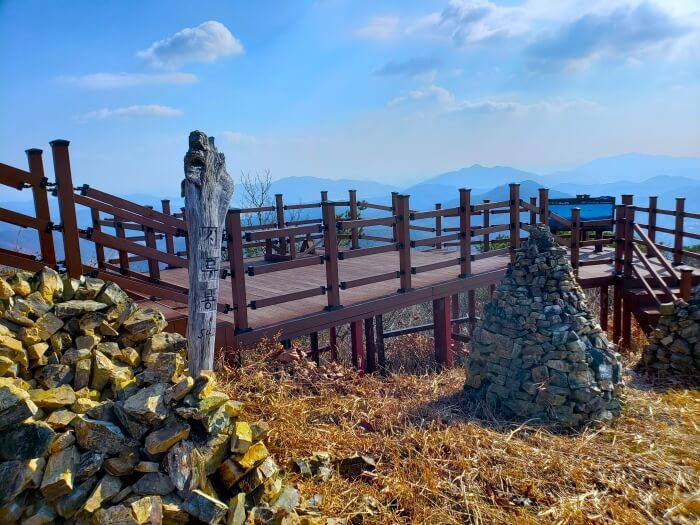 The reservoir at the bottom is another nice little area in Wolgok Village.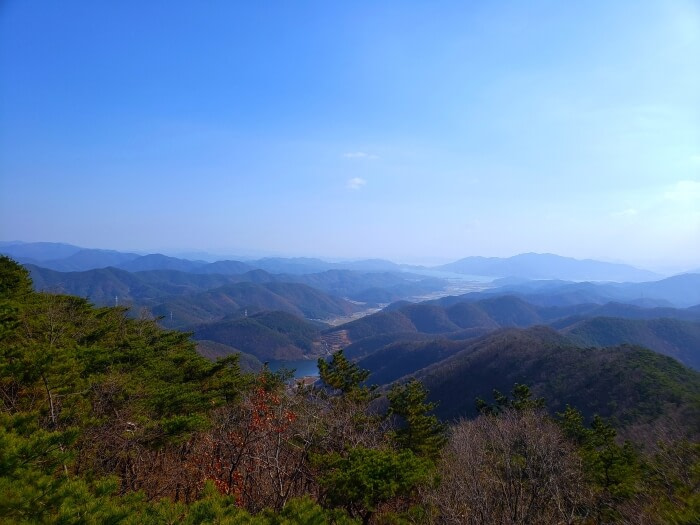 But the best part of Suri Peak was the little area beyond Suri Peak that sticks out like a smaller peak nearby.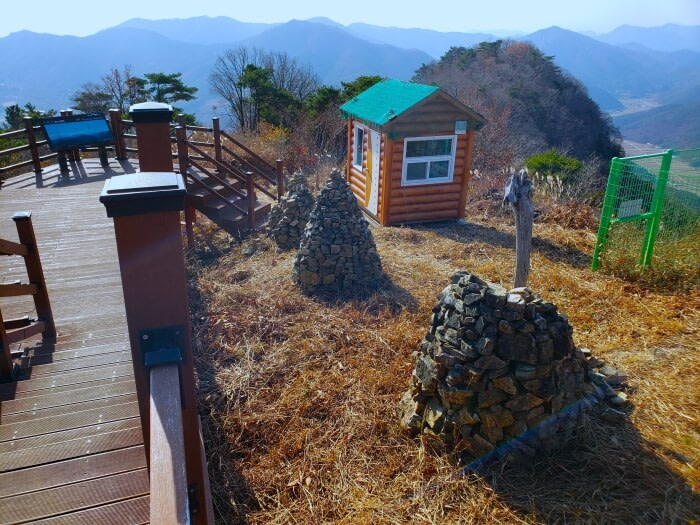 Here you find a cool rock sticking out.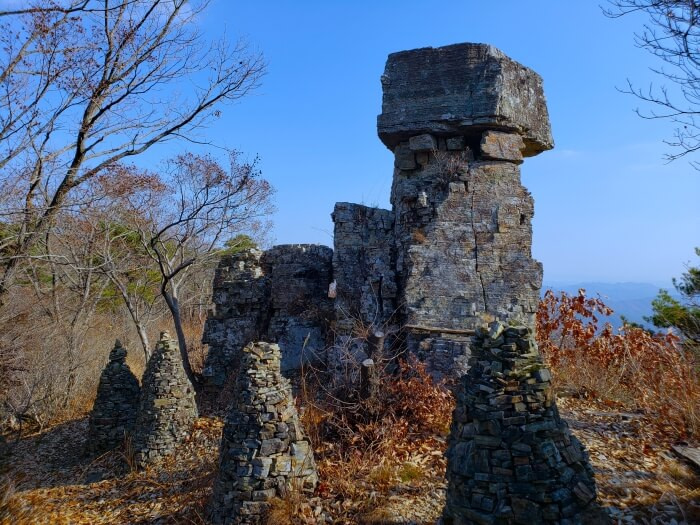 And this is looking back at Suri Peak from this rock.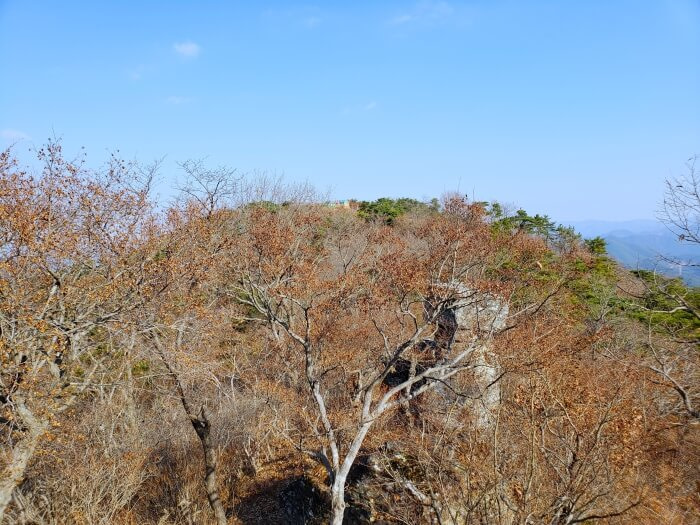 Okcheonsa Temple
I do not believe in Buddhism. I will just show a few pictures as a fact of what is here. Okcheonsa is a famous temple with a lot of history, so some people come to Yeonhwasan Provincial Park only for this.
The temple area was being renovated when I passed through. It was originally built in the year 676.
In more modern history, the temple was also a base for the independence movement in the Gyeongnam area in the 1920s.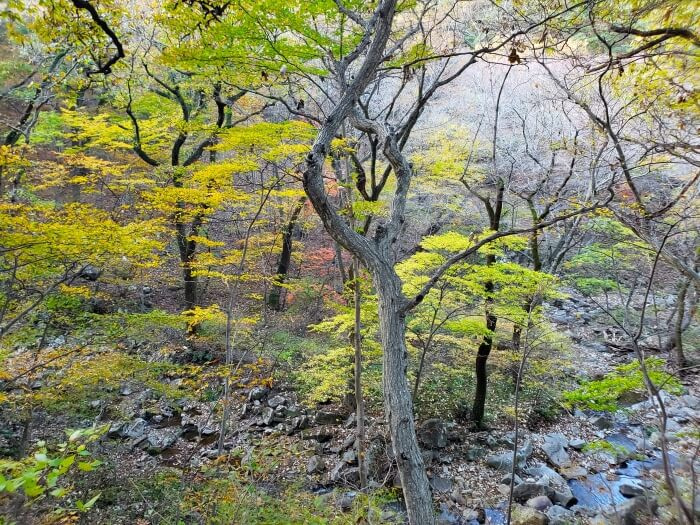 Just down the road from Okcheonsa Temple is another temple called Cheongyeonam.
I found a certain variety of soft persimmon "hongshi" 홍시 growing at both temples. It is strange see complete bare trees (no leaves) with a bunch of fruit.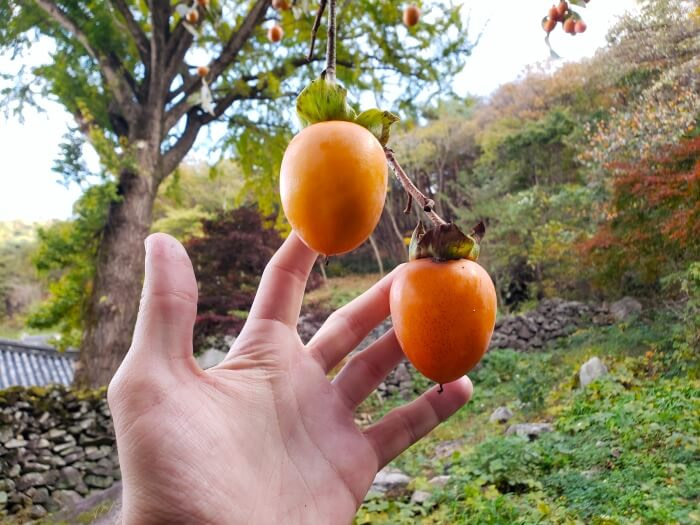 Dinosaur Footprints
Literally right up against the parking lot of Yeonhwasan Provincial Park is an area of dinosaur footprints by five sauropods. Sauropods are the largest dinosaurs that lived, and include characteristics of a long neck and tail.
The tracks are made in hornfels rock. The signs says that although the tracks appear to be random, their regularity can be observed by connecting the imprints with each other.
It is fun to imaging dinosaurs roaming around here while I am hiking. I never thought I would end up walking around a place where dinosaurs walked so long ago, with tracks exposed to the elements all these years still in good condition.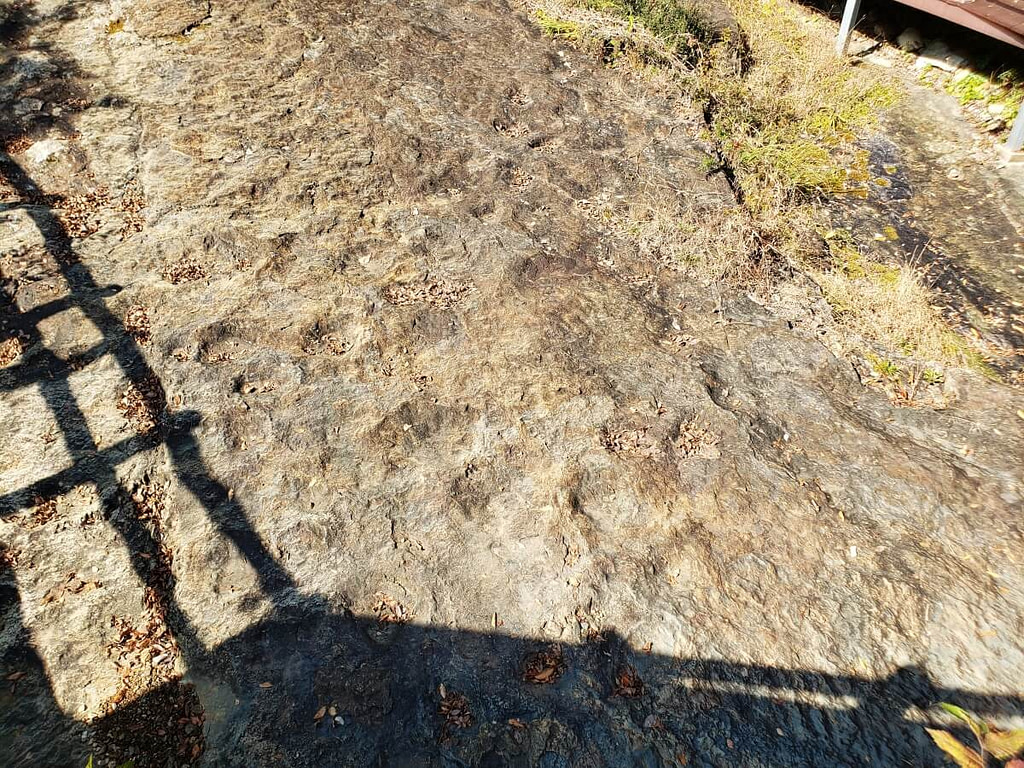 Some of the prints come right up to the walkway.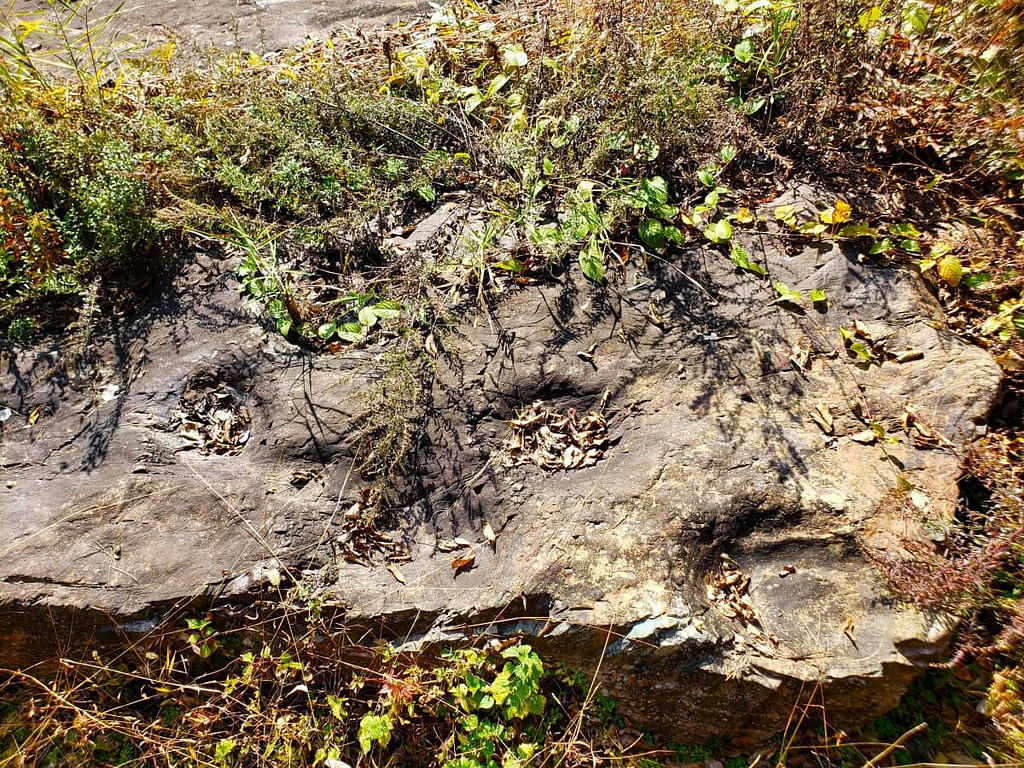 Some of the imprints have collected leaves, and their shadows can make spotting the tracks easier to recognize.
The trail leads to Yeonhwasan Peak 1. I did not take this route, but it is there.
Park Amenities
It is important to note that there is not much in the area as far as refreshments go. There are no convenience stores. I recommend to take snacks and drinks before you get into this rural area.
There are a cluster of buildings in the park, including a restaurant, dormitories, etc, but they are all locked up and appear abandoned. Maybe it is related to COVID, but I don't know.
Café / Restaurant
However, next to the entrance of Yeonhwasan Provincial Park's parking lot is a little café and restaurant. It was open before 8am the day I visited.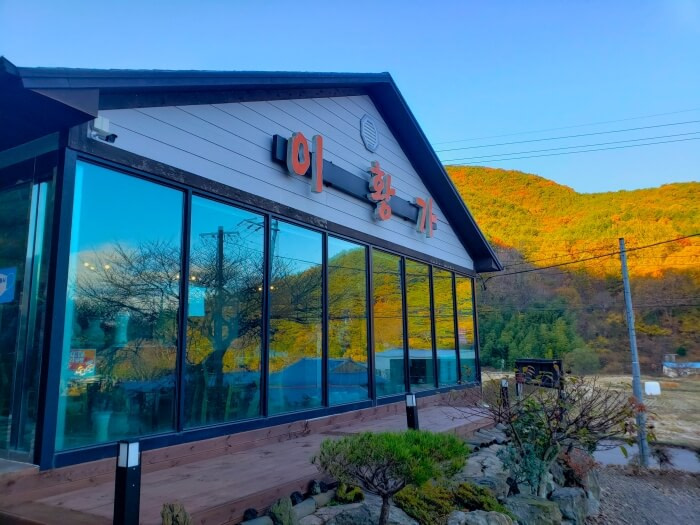 Transportation
| Bus Route of Operation | Time required | First train | Last train | Note |
| --- | --- | --- | --- | --- |
| Jinju->Geumgok->Okcheonsa | 50 mins | 9:00 | 13:25 | |
| Goseong->Okcheonsa | 35 mins | 9:35 | 12:15 | Baedun, transfer |
| KTX | | | | |
| Seoul – Jinju (3h 40m) -> Taxi (20min to Goseong) | | | | |