Address: 618, Jalanman-ro, Hai-myeon, Goseong-gun, Gyeongsangnam-do
The Goseong Dinosaur Museum is located in the beautiful Sangjogam Park along the coast where you can step into dinosaur footprints in their original locations!
Before coming to Goseong a few years ago, I had no idea that places like Goseong exist where you can just go to a park and see dinosaur footprints in their original location from perhaps millions of years ago (I am a Christian who is not yet firmly decided on Young or Old Earth Creationism), let alone in a museum full of various dinosaur fossils found all over the area.
I had grown up watching children's shows such as The Land Before Time, but it never crossed my mind that I would one day live next to parks and museums where you can just stick your foot into a dinosaur footprint from ages ago.
Goseong Dinosaur Museum
A dinosaur-shaped structure sits outside the museum.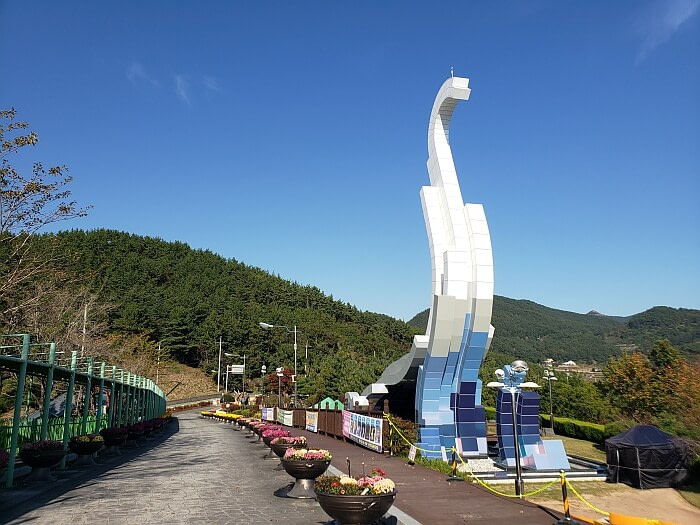 The area in front of the entrance is pretty nice too, actually. We came here with 20-month-old Noah, who found many pink flowers on the little observation deck and some nice seats in the shade.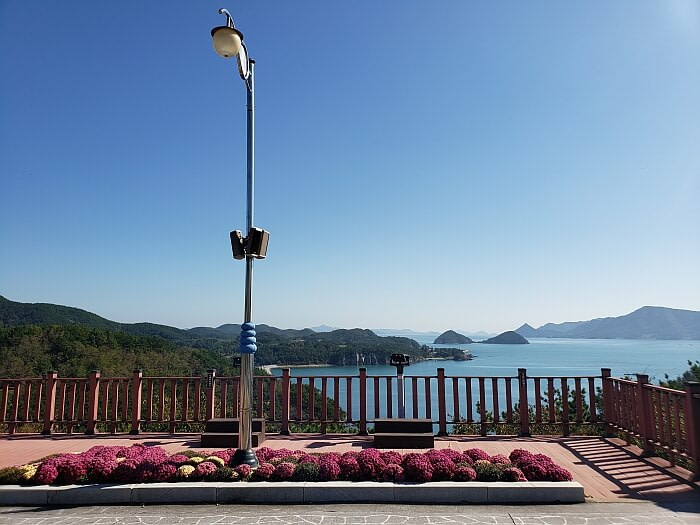 Inside the Goseong Dinosaur Museum, the first floor centers on opportunities to see, touch, hear, and experience dinosaurs.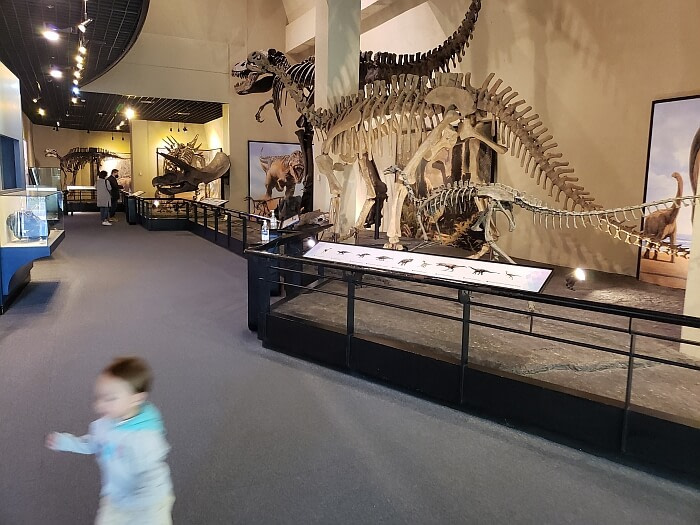 An impressive display of a long-necked dinosaur and some flying dinosaurs is centered in the museum. Noah was happy to find so many stairs here. Noah loves stairs.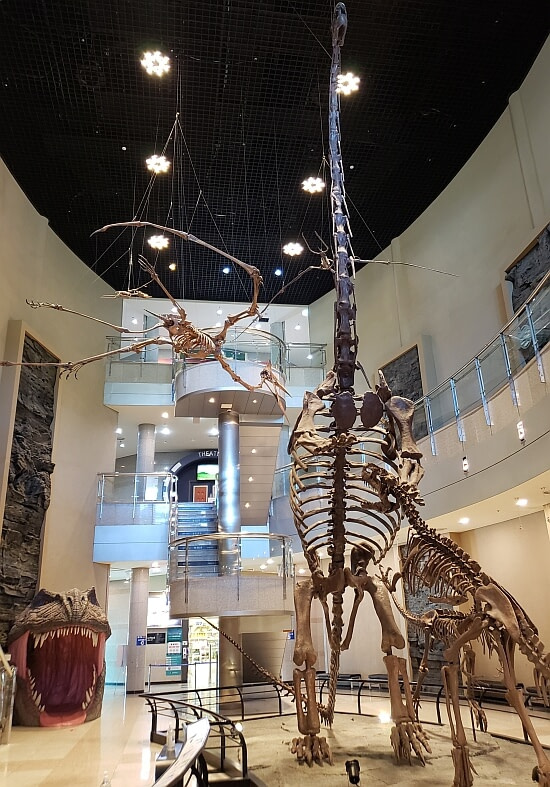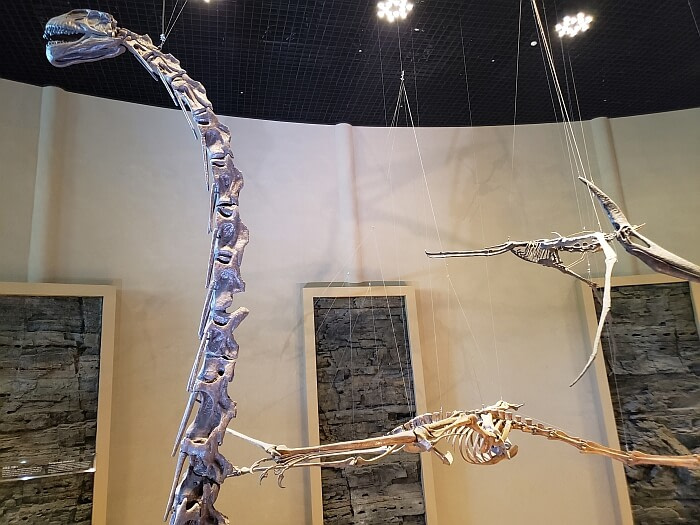 They also have real, genuine dinosaur skeletons. One is a Protoceratops on the first floor, and the other is an Obiraptor on the second floor. The second floor also has a 3D theater.
The third floor has a nice little observatory with a children's library with a nice view of the coast.
The third floor of the Goseong Dinosaur Museum also has a section of dinosaur fossils found in Goseong and surrounding areas.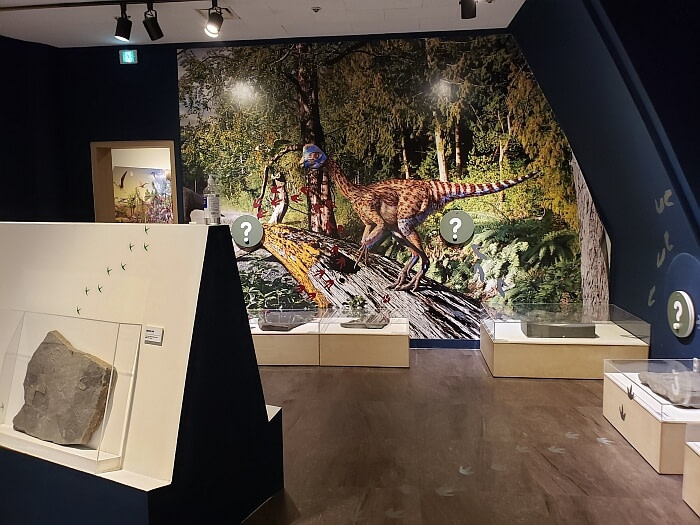 It is quite remarkable how well they can be seen. I keep thinking about what this area would have looked like ages ago with giant monsters roaming around, leaving footprints for us to find in the present day.
Given all the variety of dinosaurs that we can clearly see the footprints and fossils of, it really must have been like another world at that time.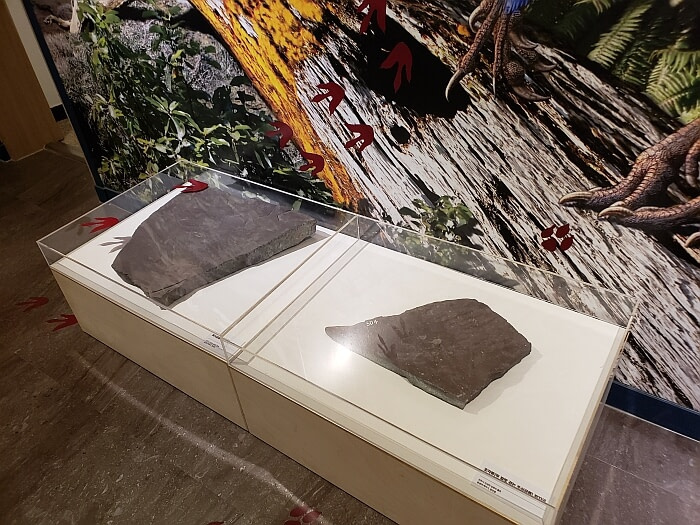 The third floor also has a special exhibit section and a trick art section, where it feels like the dinosaurs are amusingly active in your space.
As you exit through the other end of the museum next to the gift shop, you find yourself facing a few other buildings including the Tyrannosaurus Experience Center. This is where kids can get hands on with "dinosaur pizza and cookie" making. The first floor also has a restaurant and store.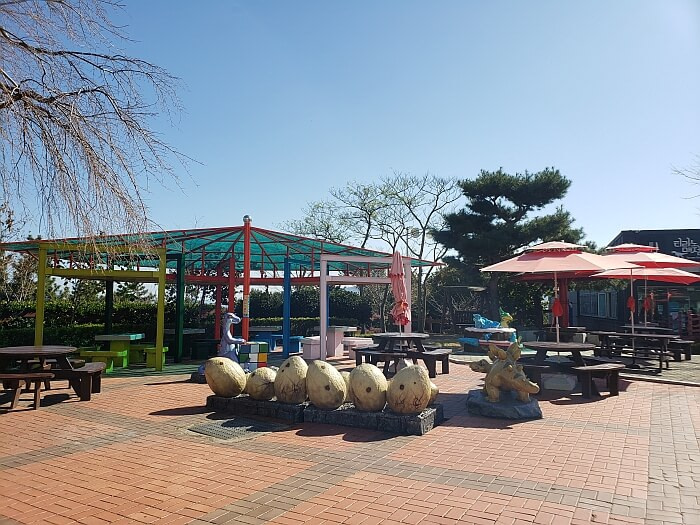 There is also a "Stego Café" in the shape of a stegosaurus where you can take a break with basic tea and drink refreshments.
Dinosaur Park & Playgrounds
After exiting the Goseong Dinosaur Museum, there are paved roads or walkways that lead to a bunch of playgrounds. There are around 200 dinosaur sculptures and models designed to feel like an open-air museum.
There are all kinds of places with a nice view to rest or set up a blanket and have lunch.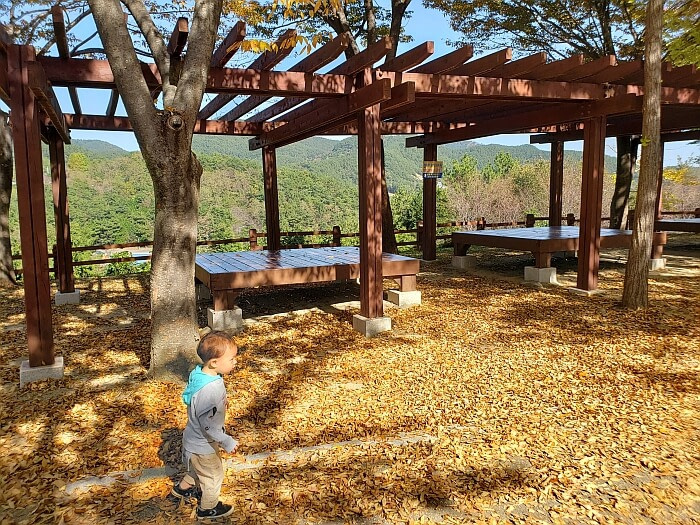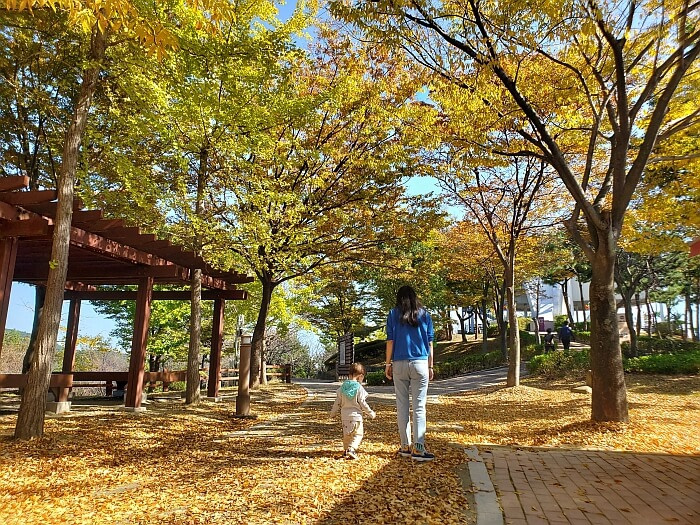 There is even a nursery building along the cliff, along with paths that we did not yet explore.
Other activities in this outdoor area include:
Maze of arborvitae – where kids can search for a dinosaur
Water fountain on the ground – to enjoy in the summer
"Sea Deer Park" – Feeding deer while enjoying a view of the cost (I have not done this or found this yet)
By the way, when it is time to leave, right before going down to the parking lot next to the escalator, you can take a fun little slide down which is made up of metal rollers. It is not quite as fun as the longer one at the Dinosaur Theme Park, which has colored sections of the rollers which go faster in those sections, but it is still more fun than stairs in my opinion (and maybe kids' opinions too)!
Dyunggali Observatory Café
Just beyond the playgrounds and outdoor decks is a white observatory building with a café and a beautiful view. The building's shape is inspired by the pterosaur.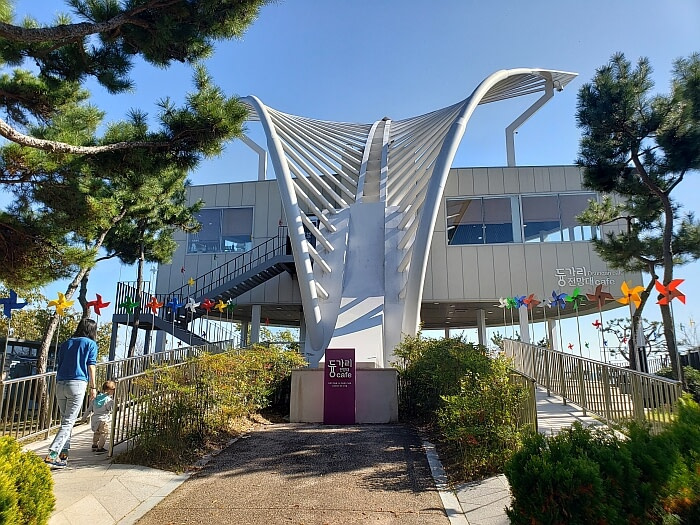 An elevator can take you to the indoor area on the second floor. This view faces the wide open ocean beyond the islands (and Japan which is probably out of sight).
As someone who frequents coastal cafés, this café at the Goseong Dinosaur Museum still feels to me like a sort of luxury lounge in an exotic location.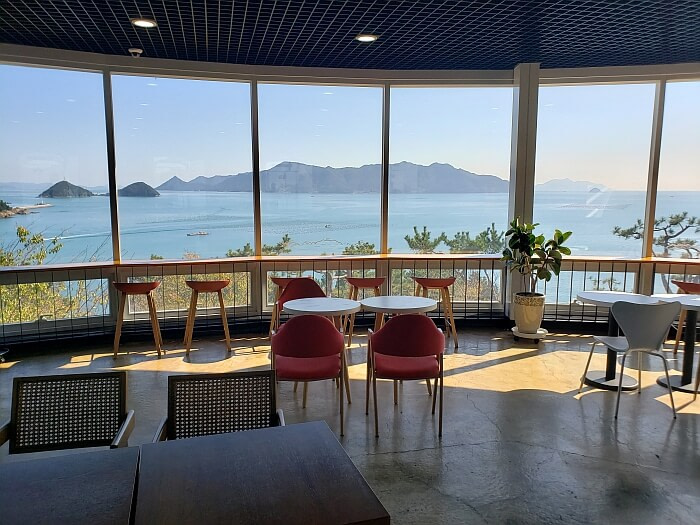 The seats are comfy too. We had a small but tasty waffle garnished with dinosaur cookies, cream, and strawberry jam and a few dinosaur gummies.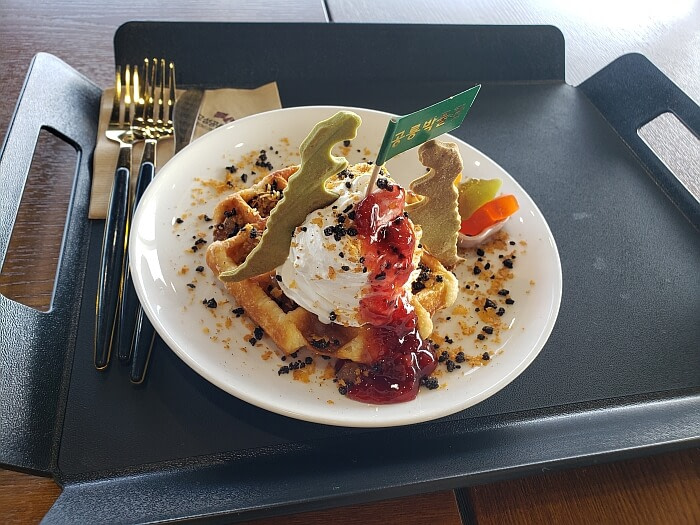 The first floor of the observatory has tables outside.
But let me also mention two other nice cafes next to Sangjogam Park. Both Repos and The Wave are just a minute down the road, and both with views of the cliffs or rocky shores of dinosaur footprint-laden Sangjogam Park.
Admission
Goseong Dinosaur Museum Pricing
| Division | Adult | Youth / Military | Children |
| --- | --- | --- | --- |
| Single | ₩3,000 | ₩2,000 | ₩1,500 |
| Group | ₩2,500 | ₩1,500 | ₩1,000 |
| Goseong Native | ₩1,000 | ₩500 | ₩500 |
Tickets for the Goseong Dinosaur Museum are ₩3,000 for adults and ₩1,500 for children. There are discounts for military service, and Goseong residents pay only ₩1,000.
Parking is as much as ₩3,000 for large vehicles and ₩2,000 for small vehicles, with discounts for light or low-emission vehicles, etc.
The Goseong Dinosaur Museum is closed on Mondays. If Monday is a national holiday, then it will be closed that Tuesday also.
Wrap-up
There are plenty of ways to enjoy special moments with your family at the Goseong Dinosaur Museum. It is also a nice way to learn something about the local environment and about science relating to dinosaurs. The café and observatory is beautiful with as good a view as any in Goseong. On top of all this, it is a fine place to have a picnic or to take a walk for some exercise.
Thanks for reading!