Address: 849-15, Jaranman-ro, Hai-myeon, Goseong-gun
The Wave is another seaside café across from world-class dinosaur footprint hotspot Sangjogam Park and the Dinosaur Museum. It's rather secluded on a countryside hill.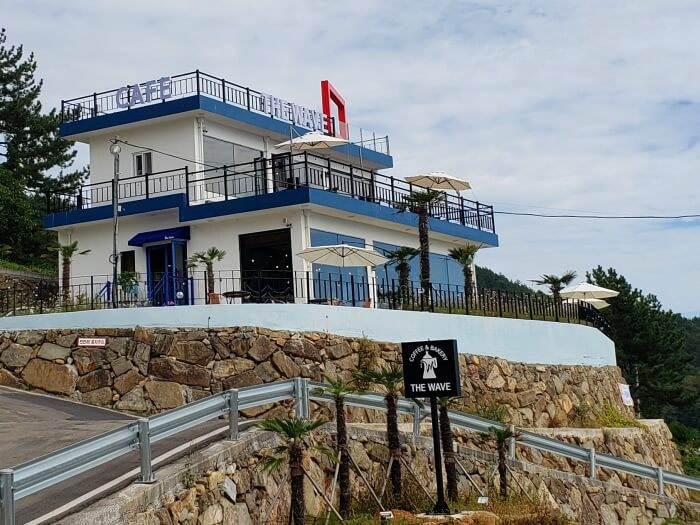 Just outside the first floor is a nice little patio with a few tables facing a nice view of the sea. In my visit in mid October of 2021, the patio area was surrounded by some very nice flowers.
The brunch here at The Wave Café was great, complete with sausage, bulgogi, bacon, egg, stir-fried veggies, strawberries, and a salad. Not a lot places in Goseong that I know of offer a brunch like this. Even the bread was soft and fresh.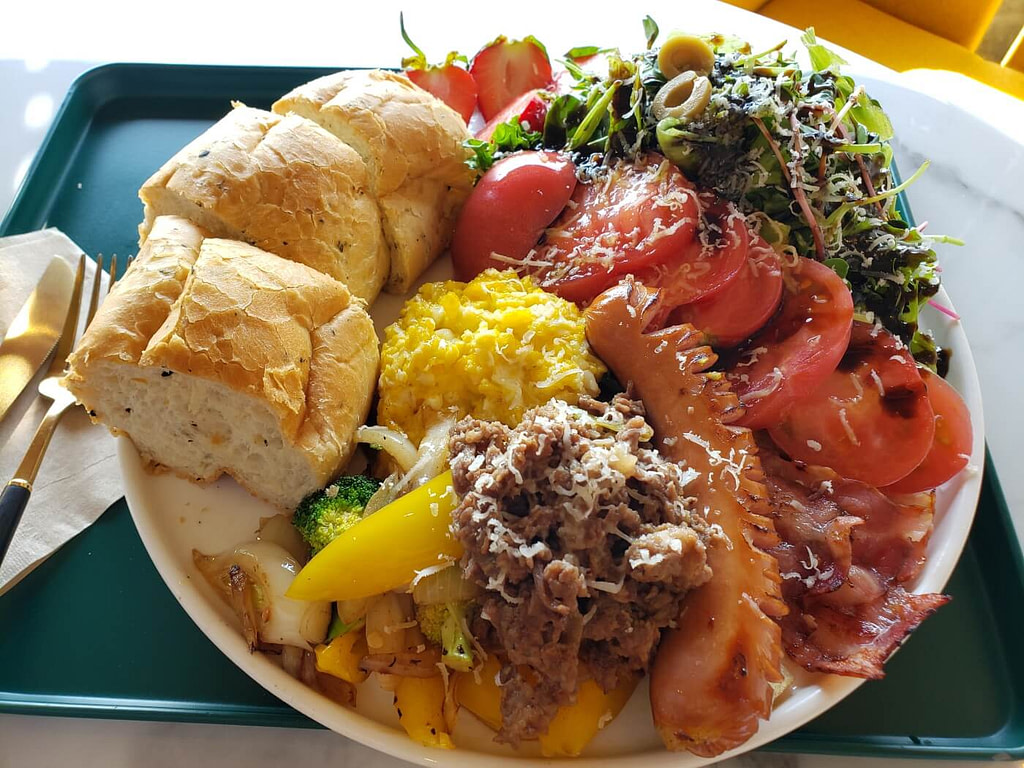 Inside the first floor were comfy seats including a sofa, with the same nice view . A piano was also there with an old American highway sign on top and next to a shelf of books. Perhaps the style of The Wave Café in Goseong could be appealing across both young and old generations.
As The Wave is also a bakery, there are a handful of interesting pastries to try, such as black bread stuffed with cream cheese, cakes, soufflé, etc. I tried a kind of thick, soft cookie with what seemed like melted marshmallows in the middle. I did not find it to be anything too great, but the coffee was very nice, not very acidic, and fairly balanced.
I took my tray up to the second floor which not only has more indoor seating, but also a nice terrace.
Although not shown in the photo below, by turning a bit to the right, you find yourself looking at the dinosaur footprint-laden rocky shores of Sangjogam Park just a minute or two down the road. The Goseong Dinosaur Museum is also within the park.
On a beautiful fall day before the weather got too cold, and with fresh sea air and a beautiful view with the place all to myself, it was a very comfortable and enjoyable afternoon. It's nice for sunset viewing too.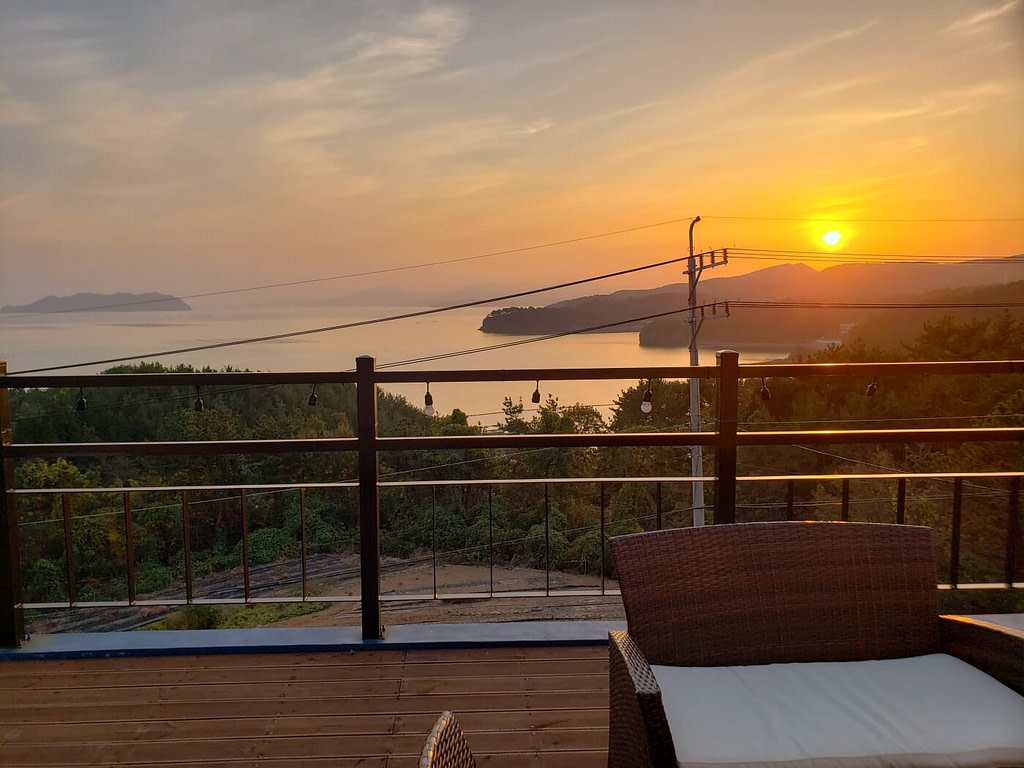 From the terrace you can see just how seriously this café is just plopped on the side of a road in the middle of nothing. In fact I think that is part of the charm of this place and the reason why it may attract people from nearby larger cities such as Jinju. Still, its proximity to Sangjogam and the sea make for a fine location.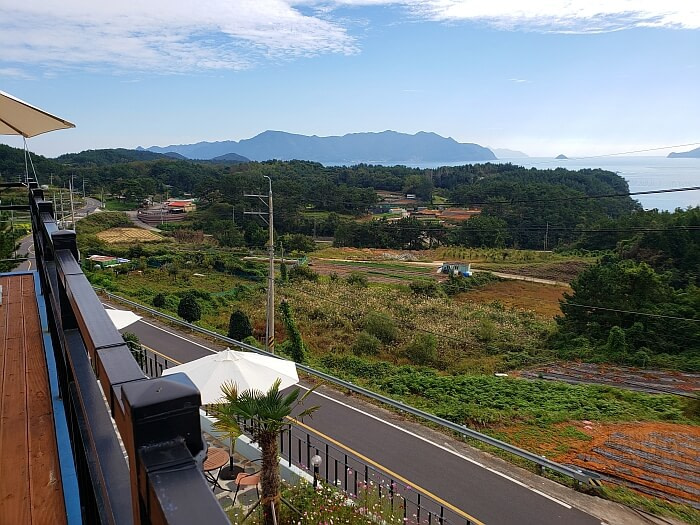 The rest of the second floor is comfortable and inviting, too.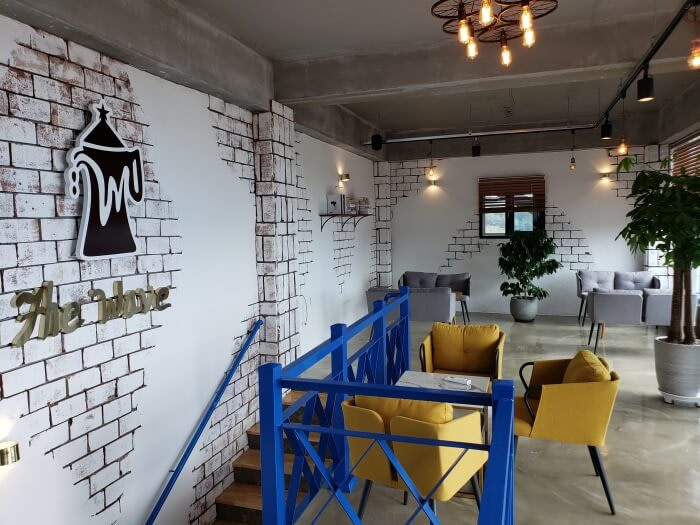 Finally, if you take stairs from the outdoor terrace, you can find this red photo frame on the rooftop.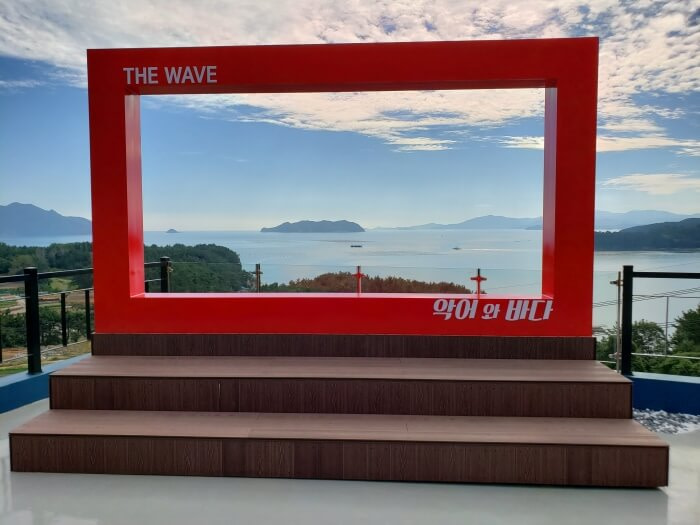 If you come to The Wave Café in Goseong, I do recommend pairing it with taking a walk at Sangjogam Park down the road! Thanks for reading!